Teen's rendition of The Sound of Music's 'Edelweiss' at London Underground station goes viral
2 September 2019, 14:26
When Elicia Palmer teamed up with a stranger to perform a beautiful rendition of the 1965 film classic, she probably had no idea she would become an Internet sensation...
A 16-year-old girl has gone viral on YouTube after singing an operatic version of 'Edelweiss' at a London Underground station.
Originally from Grimsby, Elicia Palmer had been travelling through Tottenham Court Road underground station when she spotted a musician playing the station's public piano.
Keen for a duet, the pianist approached the opera singer and cellist to make his musical request – but at the time, the teen was unaware it was Brendan Kavanagh, a well known concert pianist with a YouTube following of 844,000.
Also known as Dr K, the pianist, composer and former secondary school English teacher had left his day job in order to become a YouTube sensation by giving live Boogie Woogie style performances in unusual places.
Now, his videos have received millions of views online – and fans were quick to be impressed by his impromptu collaboration with Elicia (watch video above).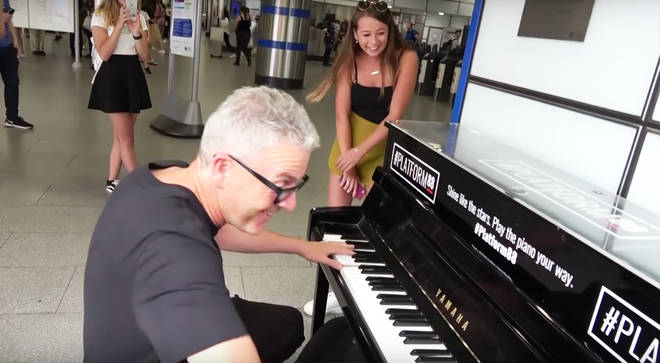 The talented teen, who is currently studying her A-Levels at Franklin College, Grimsby, is classically trained and chose to sing a moving rendition of 'Edelweiss', a film classic from The Sound of Music.
And ever since Kavanagh uploaded the recording of their performance, the video has been viewed more than 364,000 times.
Speaking about the experience, Elicia said: "It was very strange. I was just going to the shops with my friend and then we passed this guy playing the piano.
"We thought because we're musicians we'd listen to him and spend a bit of time there in the Tube station.
"Then this guy came up to me, asked if we were musicians, and I said I was a cellist. My friend told him I'm a singer as well so he asked me to join him. She pushed me into it a bit!
She continued: "It was crazy because I didn't know who he was at first, I didn't realise he was famous. Everyone had their cameras out. They must've known who he was but I didn't.
"It's crazy. I've had a lot of messages from around the world which has been really nice. People have been saying that I need to do more and they want me and Brendan to collaborate together."
Well, Elicia, Brendan – we're certainly keen to hear your next duet!