7 stunning classical duets that are guaranteed to lift your spirits
13 February 2019, 13:40 | Updated: 14 February 2019, 10:56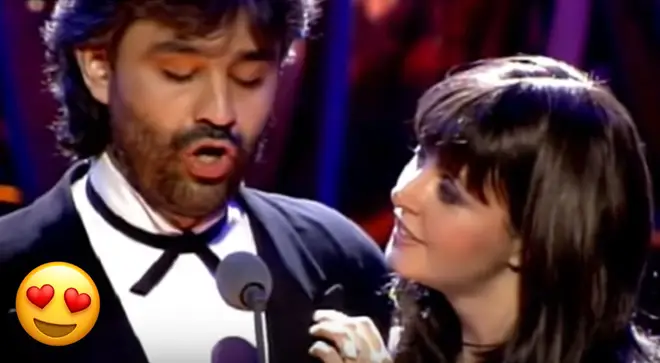 Feeling blue? Here are seven sweet-sounding classical duets that prove the world can be a lovely place…
1. 'Flower Duet' (Lakmé), Delibes
First performed in Paris in 1883, this beautiful duet written for soprano and mezzo-soprano is taken from Act One of Léo Delibes' opera Lakmé – and its mesmerising harmonies make it the perfect pick-me-up song. In this version, sung by Anna Netrebko and Elina Garanca, the pair sing lyrics that translate to 'Come, let us drift down together' as the opera's main character Lakmé and her servant Mallika gather flowers by a river.
Flower duet - Anna Netrebko & Elina Garanca (Lakmé de Delibes)
2. 'Time to Say Goodbye', Andrea Bocelli
As if we needed another reason to love Andrea Bocelli, this moving track is enough to warm even the coldest of hearts. It was originally released as a single in 1995 under the title 'Con te partirò', which means 'I'll leave with you'. His elegant duet with soprano Sarah Brightman became an instant hit with music fans after it was performed at boxer Henry Maske's final fight in 1996.
Sarah Brightman & Andrea Bocelli - Time to Say Goodbye (1997) [720p]
3. Petite Suite for piano, Debussy
Unlike many of Debussy's modernist works, this absolute showstopper of a piece written for one piano and four hands is far more simplistic in its nature. Debuting in 1889, it was originally performed by the composer himself and pianist-publisher Jacques Durand, so it certainly stands the test of time. Lang Lang and Eschenbach's impressive rendition of Petite Suite is a fine example of true camaraderie and is guaranteed to give anyone a boost.
Lang Lang & Eschenbach —— Debussy:Petite Suite
4. Five Pieces for Two Violins, Shostakovich
A far cry from some of Shostakovich's darker works, this enchanting series of pieces for two violins is defined by warm harmonies and Slavic charm. Performed by Dana Johnson and Giancarlo Latta, the delightful pieces include 'Prelude' (from The Gadfly), 'Gavotte' and 'Elegy' (from the 3rd Ballet Suite), 'Waltz' (from The Tale of the Priest and His Servant Balada) and 'Polka', from the 1st Ballet Suite.
Shostakovich: Five Pieces for Two Violins - Dana Johnson, Giancarlo Latta
5. 'Là Ci Darem La Mano', Mozart
Italian for 'There we will give each other our hands', the title of this charismatic song features in Act One of Mozart's 1787 opera Don Giovanni. It's sung by the characters Don Giovanni (baritone) and Zerlina (soprano) as he attempts to seduce her and take her to his castle. The lyrics can be translated as: 'Do you suppose an honourable man, a noble cavalier, as I believe myself to be, could permit such a lovely little face?'
Mozart - La Ci Darem La Mano (English Subtitles)
6. Six Duets for Two Flutes, Mozart
It might be smaller than other instruments, but the flute is full of surprises, and in Mozart's Six Duets for Two Flutes you can truly appreciate its gorgeous timbre. In this video, musicians Alyssa Schwartz and Mirim Lee show off the iconic composer's interweaving melodies perfectly, giving equal importance to each part. Mozart was also a fan of playing duets himself and often performed with his sister Marianne.
Six Duets for Two Flutes, No 1, K156 by Mozart, Alyssa Schwartz and Mirim Lee
7. 'Final Duet', (L'incoronazione di Poppea) Monteverdi
One of the first operas to use historical events and people, Monteverdi's epic work L'incoronazione di Poppea debuted in 1643 at the Teatro Santi Giovanni e Paolo in Venice – and there's no doubt about its charm. It tells the story of Poppea, mistress of the Roman emperor Nero, who succeeds in being crowned empress. The duet portrays the love between the main characters and as the opera draws to a close, they sing the words: "I gaze at you, I possess you".
Monteverdi - L'incoronazione di Poppea, Final Duet