Discover the Double Bass with Classic FM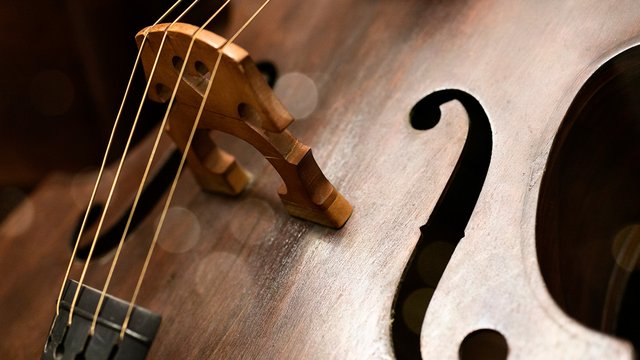 History
The double bass is generally regarded as a modern descendant of the string family of instruments that originated in Europe in the 15th century, and as such has been described as a bass Violin.[5] Before the 20th century many double basses had only three strings, in contrast to the five to six strings typical of instruments in the viol family or the four strings of instruments in the violin family. The double bass's proportions are dissimilar to those of the violin and cello; for example, it is deeper (the distance from front to back is proportionally much greater than the violin).

Range
The double bass is the only modern bowed string instrument that is tuned in fourths, like a viol, rather than fifths. The strings usually tuned to E1, A1, D2 and G2, however the double bass can extend downwards to C1 and reach as high as G5.

How to play
- Changing the length of the string by pressing down on it changes the frequency of the vibration - and so makes a different note.
- The double-bass is a much larger version of than a cello, and sounds vastly different as a result.
- The double bass bow comes in two distinct forms. The "French" or "overhand" bow is similar in shape and implementation to the bow used on the other members of the orchestral string instrument family, while the "German" or "Butler" bow is typically broader and shorter, and is held in a "hand shake" (or maybe "hacksaw") position.
- Classical bass students learn all of the different bow articulations used by other string section players (e.g., violin and cello), such as détaché, legato, staccato, sforzato, martelé ("hammered"-style), sul ponticello, sul tasto, tremolo, spiccato and sautillé. Some of these articulations can be combined; for example, the combination of sul ponticello and tremolo can produce eerie, ghostly sounds. Classical bass players do play pizzicato parts in orchestra, but these parts generally require simple notes (quarter notes, half notes, whole notes), rather than rapid passages.
- The tone is deeper and more menacing than that of the cello due to its thicker strings.

Did you know?
The double bass stands around 180 cm (six feet) from scroll to endpin.
View more