Double bassist devastated after airport staff threw his instrument 'from 4m of height' into truck
12 February 2020, 10:34 | Updated: 13 February 2020, 13:30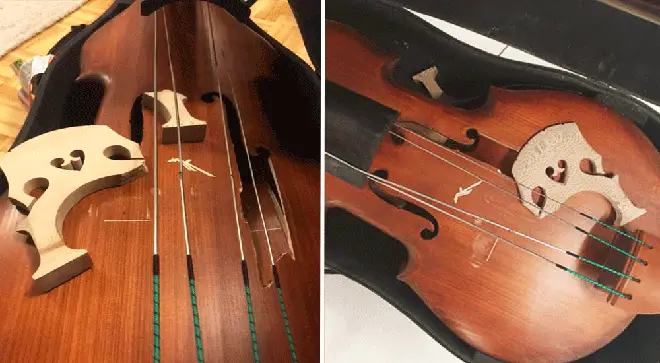 A double bass has been rendered unplayable, after suffering 'irrecoverable damage' on a Turkish Airlines flight.
Double bass player Tihomir Hojsak has shared his frustrations online, after his instrument was broken beyond repair on a Turkish Airlines flight.
On arriving at Franjo Tuđman airport in Zagreb, Croatia, Mr. Hojsak was horrified to find his double bass had arrived in pieces.
Along with fractures to the body and damage to the strings, the bridge was snapped off – rendering the instrument unplayable.
Since being reunited with his shattered double bass, Hojsak has shared the news online, accusing the airline of doing "irrecoverable and non-refundable damage" to his instrument.
Read more: An airline smashed her 1660 viola da gamba, and she's calling them out >
On Monday, he posted several photos to Facebook, along with the message: "Thank you Turkish Airlines for taking such a great care for my double bass. You have done irrecoverable and non-refundable damage.
"I was forced to sign a document at the Washington Dulles Airport in which you gave up any responsibility for any kind of damage or loss of my double bass.
"You have also charged me $195 for oversize baggage although your website clearly says: 'We transport your large instruments like contrabass in the aircraft hold as checked baggage... The instruments you delivered during check-in are not loaded onto the conveyor belt, and we take special care to transport them safely'."
Read more: Vote for your favourite pieces of music to win £1,000 >
In the post, Hojsak recalls that during his transfer at Istanbul, he and other passengers had seen workers throwing his double bass "from approximately 4m of height" into a truck.
Now, Mr. Hojsak wants to warn others about the risk of travelling with their instruments by air.
He wrote: "At the Zagreb airport I was told that I have no right to file a claim due to earlier signed document in Washington. Unfortunately, airlines don't care about customers, and often treat artists like criminals saying that they are just doing their job.
"Well, how are we supposed to do our job?"
Read more: 10 tips for flying with your musical instrument >
Classic FM has reached out to Turkish Airlines for comment.