30 beautiful pieces of classical music for your wedding ceremony
9 June 2023, 17:58 | Updated: 10 June 2023, 09:39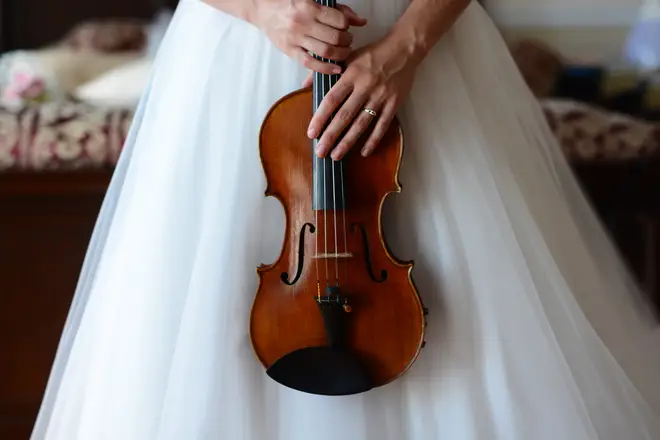 From bridal choruses to rousing hymns, soundtrack every moment of your special day with the classical greats.
Walking down the aisle, signing the register, the first dance – at every stage of your wedding or civil ceremony, there's an opportunity for sublime classical music to match.
Here are some pieces that have stood the test of time, peppered with a few more recent favourites, to help make the music on your special day as memorable and well-rehearsed as the speeches.
Read more: Singer's surprise marriage proposal brings the house down at San Francisco Opera's Tosca
Music before the ceremony
1. Bach – Wachet Auf

The perfect prelude to the wedding procession. If you're having a church ceremony, Bach's 'Wachet Auf' is a great organ favourite to have playing out as the guests arrive.

Bach - Wachet auf, ruft uns die Stimme BWV 645 - Zerer | Netherlands Bach Society

2. Vivaldi – 'Spring' (Four Seasons)

Keep up the tempo with some sprightly Vivaldi and 'Spring' from his eternal Four Seasons. Or, for a more modern take, try Max Richter's 'Recomposed' version.

Read more: 10 of Vivaldi's greatest pieces of music

Vivaldi Four Seasons: Spring (La Primavera) Full, original. Youssefian & Voices of Music RV 269 4K

3. Mozart – Ave Verum Corpus

You can't go wrong with Mozart and this sublime work for organ and choir. If you have a string quartet playing, try one of the lovely arrangements for strings.

Wolfgang Amadeus Mozart - Ave Verum Corpus

4. Howard Shore – 'Concerning Hobbits'

For something a touch more contemporary, Howard Shore's 'Concerning Hobbits' from The Lord of the Rings is becoming a 21st-century wedding favourite. Filled with sweeping string lines which give way to that main, lilting waltz theme, its chipper tone makes it the perfect musical match for a room of eager guests.

Read more: The 50 best film scores of all time

The Fellowship of the Ring Soundtrack-02-Concerning Hobbits

5. Édith Piaf/Marguerite Monnot – Hymne de l'amour

If you're after some schmaltz, this transcription of an Édith Piaf song is a wonderful choice.

HYMNE À L'AMOUR - Édith Piaf/Marguerite Monnot - Paris Tour Eiffel - Gautier Capuçon

6. Saint-Saëns – The Swan

It's popular for a reason; Saint-Saëns' 'The Swan' has the perfect serene pace and sweeping melody to set the scene for your ceremony to begin. There's a beautiful version out there for cello and harp duet.

Yo-Yo Ma, Kathryn Stott - The Swan (Saint-Saëns)

7. Handel – 'Alla Hornpipe' from Water Music Suites

If you're after that majestic, sound-the-trumpets Baroque sound, you can't go wrong with this timeless melody from Handel's Water Music Suites.

Handel Water Music: Hornpipe; FestspielOrchester Göttingen, Laurence Cummings, director 4K
Walking down the aisle
Hymns (for a church wedding)
If you're having a religious ceremony, hymns are a lovely way to break up the readings and exchanging of vows. Most church ceremonies will feature two to three hymns, to be sung by the congregation.
14. Parry – Jerusalem

Not everyone in the congregation will be familiar with less well-known hymns, so picking a lively song with a simple tune will ensure as many people sing as possible. 'Jerusalem' by Parry is always a reliable choice.

Jerusalem, from St Paul's Cathedral in London

15. Guide Me O Thou Great Redeemer

Suitably rousing, and with a wonderfully memorable descant-like interjection from the choir's bass section, this hymn featured at the wedding of the Prince and Princess of Wales, William and Catherine, in 2011.

Charlotte Church - Guide Me Oh Thou Great Redeemer (Live From Jerusalem 2001)

16. Love Divine, All Loves Excelling

With its uplifting lyrics and rising melody, this much-loved hymn is like a warm embrace.

Love Divine, All Loves Excelling | The Tabernacle Choir

17. How Great Thou Art

If you're having a church wedding, this would be a great choice right before the final blessing, reflecting the joyous mood of the congregation before the reception.

The Mission / How Great Thou Art - The Piano Guys (Wonder of The World 2 of 7)
Signing the register
As the guests walk out
23. Mendelssohn – Wedding March

Hooray! The betrothed are now officially wed, and now it's time to sound the King of instruments and celebrate the happy couple with the classic 'Wedding March' originally from A Midsummer Night's Dream.

Mendelssohn: Wedding March / Abbado · Berliner Philharmoniker

22. Widor – 'Toccata' from Organ Symphony No.5

If organ music is what you're after, send your guests out of the ceremony with the high-spirited 'Toccata' from Widor's Organ Symphony No.5.

WIDOR - TOCCATA - CAVAILLÉ-COLL ORGAN OF MANCHESTER TOWN HALL

24. Parry – I Was Glad

Also a good option for the earlier procession, Parry's 'I Was Glad' is all things regal and celebratory in its mood.
Reception music
25. Mozart – Divertimentos

The musical fun doesn't stop after the ceremony. While your guests eat, a bit of light music to accompany their meal will keep the atmosphere flowing. Mozart's Divertimentos for string quartet work well here – their simple tunes won't drown out the conversation.

W.A. Mozart: «Divertimento» KV 563 / Veronika Eberle / Amihai Grosz / Sol Gabetta

26. Gershwin – Summertime

A string quartet playing well-known tunes like Gershwin's 'Summertime' from his opera Porgy and Bess would be a hit as the evening progresses.

Gershwin: Summertime ∙ Adina Aaron ∙ Andrés Orozco-Estrada

27. The Entertainer – Scott Joplin

For something else a bit jazzy, try Scott Joplin's 'Maple Leaf Rag' or 'The Entertainer'.

Scott Joplin - The Entertainer

28. Delibes – The Flower Duet

The repeating refrains of this lovely soprano-mezzo duet, which has become a popular piece of incidental music over the years, will be familiar to most guests, without being a distraction from conversation. It would sound lovely played by a string quartet.

Johannesburg Opera singers perform incredible duet of Lakme on TikTok
First dance
29. Craig Armstrong – Glasgow Theme (Love Actually)

Some couples opt for a slow piece of romantic music, so why not take inspiration from film music, and the beautiful Glasgow Love Theme from Love Actually?

30. Tchaikovsky – The Sleeping Beauty Waltz

For something more upbeat, you can't go wrong with a waltz. Tchaikovsky's graceful 'Sleeping Beauty' Waltz or Strauss' 'Blue Danube' will both get everyone in a dancing mood.

Tchaikovsky - Sleeping Beauty Waltz