What music was played at the Royal Wedding?
19 May 2018, 09:58 | Updated: 12 October 2018, 11:21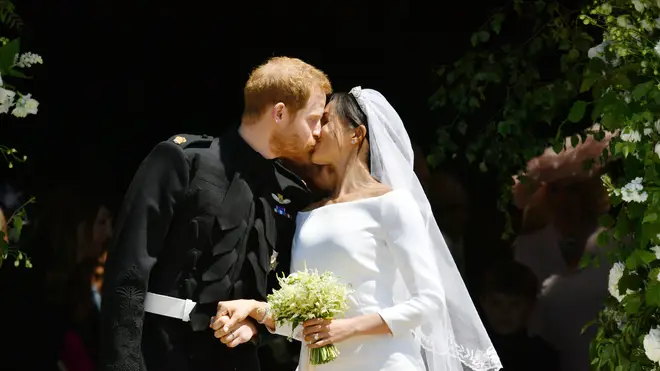 During the beautiful service that saw Prince Harry marry Meghan Markle, we heard some truly stunning music - but what was it?
Discover the music at Princess Eugenie and Jack Brooksbank's wedding here >
Before the service
In the prelude to the ceremony itself, it's no surprise to see a large quotient of British composers represented, including Elgar, Vaughan Williams and Peter Warlock. Pieces played by the assembled orchestra conducted by Christopher Warren Green include:
Elgar - Salut d'Amour, Serenade for Strings (first movement), Chanson de Matin
Vaughan Williams - Fantasia on Greensleeves
Warlock - Capriol Suite, movements 2, 3, & 5
Holst - St Paul's Suite, movement 4
Howells - Psalm-Prelude Set 1, No. 2
Bach - Prelude and Fugue in G Major, BWV 541
The entrance of the Bride:
Handel - Eternal Source of Light Divine
Handel originally composed this gorgeous song in 1713 to mark the birthday of Queen Anne and it's original title was, logically enough, 'Ode for the birthday of Queen Anne'. The opening line has come to be used as an alternative title over the intervening centuries and, as we watch Meghan Markle walk up the aisle at St. George's, Windsor, it seems a perfectly apt choice.
Eternal Source of Light Divine - Elin Manahan Thomas, Crispian Steele-Perkins, Armonico Consort
Lord Of All Hopefulness
With text by Jan Struther and a traditional folk tune as its indelible melody, this hymn is an absolute stalwart at weddings. Excellent first choice, H&M.
Tallis - If Ye Love Me
Thomas Tallis's motet 'If ye love me' is a relatively straightforward four-part, mostly homophonic motet (i.e. the harmony moves on every beat, like to a hymn).
It comes from the Anglican Reformation in England in the mid-16th century, where music was usually uncomplicated and the English text clear and audible. But listen to the way Tallis uses subtle moments of dissonance and movement to colour the words of the text and give it passion and depth of feeling.
During the signing of the register, performed by Sheku Kanneh-Mason
Paradis - Sicilienne
A favourite amongst cellists, this is a transcription of Maria Theresia von Paradis' most famous work.
Fauré - Après un rêve
It's described as 'a dream of romantic flight with a lover, away from the earth, and "towards the light"' - what could be more apt for a wedding?
Schubert - Ave Maria
One of Schubert's most enduring melodies, his Ave Maria is an ideal wedding piece - one of those pieces that you'll know as soon as that tune starts. And as Sheku Kanneh-Mason shows (what a year it's been for him btw), it suits the cello beautifully.
Leiber & Stoller - Stand By Me
Performed by Karen Gibson and The Kingdom Choir
This choral version of the Ben E. King classic is a quirky choice for a Royal Wedding but, given its sentiment and the American connections of the whole day, a suitably romantic choice. And perhaps the first time a Leiber & Stoller song has been performed in St George's, Windsor?
Stand By Me, Ben E King, 1961
Rutter - The Lord Bless You and Keep You
An instantly evocative Rutter classic. Again, you can't go wrong with these traditional choices, and the sentiment is bang-on.
The Lord Bless You and Keep You, John Rutter
John Hughes / William Williams - Guide Me O, Thou Great Redeemer
An absolute wedding classic. This hymn will no doubt be sung hundreds of times across the country on the same day as the Royal Wedding, and with such an uplifting melody, it's no surprise. What's more, it featured in Prince William's wedding to Kate Middleton in 2011.
the royal wedding- guide me O thou great redeemer
During the procession
Boyce - Symphony no. 1 in B-flat – Allegro
William Boyce's first symphony is another quintessentially British choice, from a former Master of the King's Music.
William Boyce Symphony No. 1 in B-flat major
Etta James - Amen/This little light of mine
A true gospel barnstormer to finish with, hinting again at the American influence on this whole day. Guaranteed to raise the roof!