Beethoven's 'Ode to Joy' tops UK singles download chart
3 February 2020, 12:33 | Updated: 3 February 2020, 12:46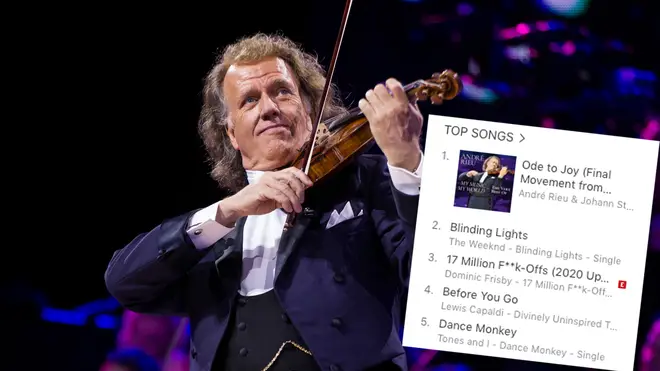 As well as coming out on top of downloads on 'Brexit Day', Beethoven's seminal work made it to No. 30 in the Official Singles Chart.
Classical music has made a rare appearance at the top of the UK Singles Downloads Chart in the form of Dutch violinist André Rieu's version of Beethoven's 'Ode to Joy'.
The final movement of Beethoven's seminal Symphony No. 9, 'Ode to Joy' was originally written for symphony orchestra and chorus – a rarity in symphonies written in the Romantic period (and still now). The version that topped the chart features Rieu leading the Johann Strauss Orchestra.
Rieu's No. 1 occurred as people on the Remain side of Brexit downloaded and streamed 'Ode to Joy' on iTunes and Amazon ahead of, and on, 'Brexit Day' on Friday.
A version of the piece is the organisational anthem of the European Union, and with it Remainers were sending a political message about the UK departing the EU.
The streaming and download activity around 'Ode to Joy' also saw it earn a new entry at No. 30 in the Official Singles chart.
People on the Leave side of Brexit similarly downloaded and streamed '17 Million F***-Offs' by Dominic Frisby to send a political message ahead of Friday, and the song made it to No.2 in the Official Downloads Chart, and No. 43 in the Official Singles Chart, just missing out on making it into the countdown.
Read more: Brexit Party MEPs turn their backs on Beethoven's 'Ode to Joy' in protest against EU >
Classical music rarely makes it into the iTunes or other popular music charts, such as the UK Official Singles and Album charts.
Rare exceptions include the cellist Sheku Kanneh-Mason, whose 'Elgar' album made history earlier this month when it jumped into the UK Official Album Chart Top 10, landing at No. 8 – just behind Ed Sheeran, Harry Styles, Billie Eilish and Easy Life, and ahead of Post Malone.
Other songs currently hovering around the top spots of last week's downloads charts included The Weeknd's 'Blinding Lights', Lewis Capaldi's 'Before You Go' and Tones and I's 'Dance Monkey.'