Andrea Bocelli's Sì tops the Classic FM Chart of the Year
1 January 2019, 18:55 | Updated: 1 January 2019, 18:56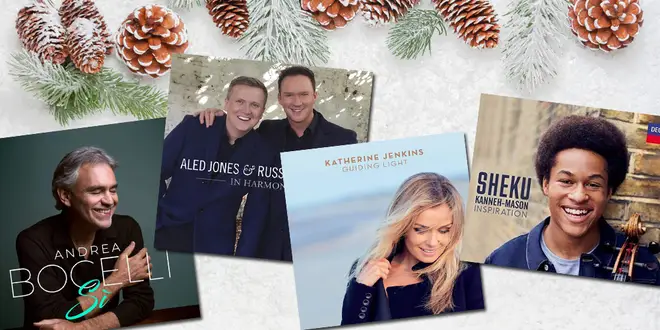 Aled Jones and Russell Watson take the Number 2 spot in our annual chart of the bestselling albums of the whole year
Today John Brunning revealed the top 30 bestselling classical albums of the past 12 months. And Andrea Bocelli topped the chart with his blockbuster album Sì.
The album includes duets with singers from the world of pop, including Ed Sheeran and Dua Lipa as well as a touching duet between Andrea and his son Matteo Bocelli.
At No.2 is Aled Jones and Russell Watson's album of duets, 'In Harmony', while Sheku Kanneh-Mason – the young cellist who shot to fame when he performed at the Duke and Duchess of Sussex's wedding in May 2018 – is at No.3 with his debut album 'Inspiration'.
At No.4 is Katherine Jenkins' album 'Guiding Light' which includes a cover of the grime artist Stormzy's song 'Blinded by Your Grace'.
The waltz king, André Rieu takes spots five and six with his albums 'Romantic Moments II' and 'Amore', while Einaudi's 2011 album 'Islands' is at No. 7.
'John Williams – A Life in Music', a record produced by Classic FM and Decca, is the ninth bestselling album of the year while pianist Alexis Ffrench is at No.10 with his album 'Evolution'.
The full Classic FM Chart of the Year
1 Sì – Andrea Bocelli
2 In Harmony – Aled Jones & Russell Watson
3 Inspiration – Sheku Kanneh-Mason
4 Guiding Light
5 Romantic Moments II – André Rieu and the Johann Strauss Orchestra
6 Amore – André Rieu
7 Islands – Essential Einaudi – Ludovico Einaudi
8 The Ultimate Classical Collection – various artists
9 John Williams – A Life in Music
10 Evolution – Alexis Ffrench
11 Dreams and Songs – Bryn Terfel
12 Carols from King's College Cambridge – King's College Choir/Willcocks
13 The 50 Greatest Pieces of Classical Music – LPO/Parry
14 The Little Mermaid, orchestral soundtrack – Alan Menken
15 The Glorious Garden – Alan Titchmarsh, National Symphony Orchestra/Debbie Wiseman
16 Sleep – Max Richter
17 The Lord of the Rings Trilogy, orchestra soundtrack – Howard Shore
18 Divenire – Ludovico Einaudi
19 Elements – Ludovico Einaudi
20 Star Wars: The Last Jedi, orchestral soundtrack – John Williams
21 The Blue Notebooks – Max Richter
22 Gladiator, orchestral soundtrack – Hans Zimmer and Lisa Gerrard
23 In a Time Lapse – Ludovico Einaudi
24 The Real Classical – various artists
25 The Lord of the Rings, orchestral soundtrack – Howard Shore
26 Score – 2Cellos
27 Music for Mindfulness – various artists
28 100 Years of Nine Lessons and Carols – King's College Choir/ Willcocks/Ledger
29 Ready Player One, orchestral soundtrack – Alan Silvestri
30 Avengers: Infinity War, orchestral soundtrack – Alan Silvestri
31 Solo: A Star Wars Story – John Williams/John Powell
32 The Royal Wedding, official album 2018 – various artists
33 Christmas at King's – King's College Choir
34 Cinema – Andrea Bocelli
35 Best of Christmas – André Rieu & the Johann Strauss Orchestra
36 Una Mattina – Ludovico Einaudi
37 The Armed Man: A Mass for Peace – Karl Jenkins
38 Game of Thrones: Seaons 6, orchestral soundtrack – Ramin Djawadi
39 Game of Thrones: Season 7, orchestral soundtrack – Ramin Djawadi
40 I Giorni – Ludovico Einaudi