Nine of the world's top 20 most performed living composers are women, new report finds
6 January 2023, 13:37 | Updated: 6 January 2023, 13:47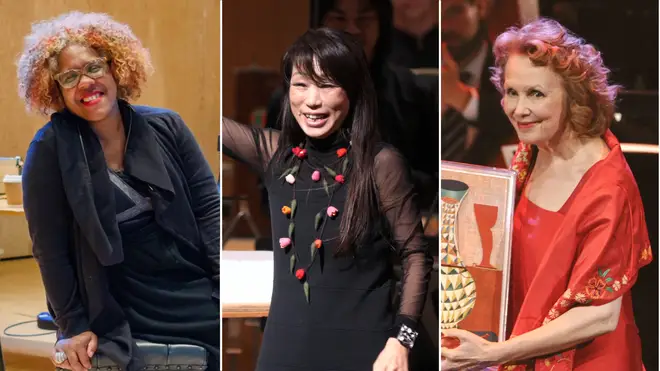 New research finds that almost half of the world's top 20 contemporary composers in 2022 were women.
An annual classical music statistics report has found that in 2022, nine of the top 20 most performed living composers were women.
Some of the women composers named in the top 20 include Anna Clyne, Kaija Saariaho, Olga Neuwirth, Unsuk Chin, Anna Thorvaldsdottir, Missy Mazzoli and Errollyn Wallen.
The report, carried out by online classical music magazine Bachtrack, is based on 27,124 listings for performances which took place in 2022.
On the report's full list of 106 most performed living composers, of 24 the British composers featured on the list, 12 were women, and of the 27 Americans named, 10 were women.
Bachtrack's 2022 statistics are starkly different from previous figures. In 2014, just one composer in the top 20 most performed living composers was a woman (Sofia Gubaidulina), while three John's made the cut (John Williams, John Adams, John Rutter).
Just one year earlier in 2013, there wasn't a single woman in the top 200 list.
Read more: 10 women who changed the classical music world forever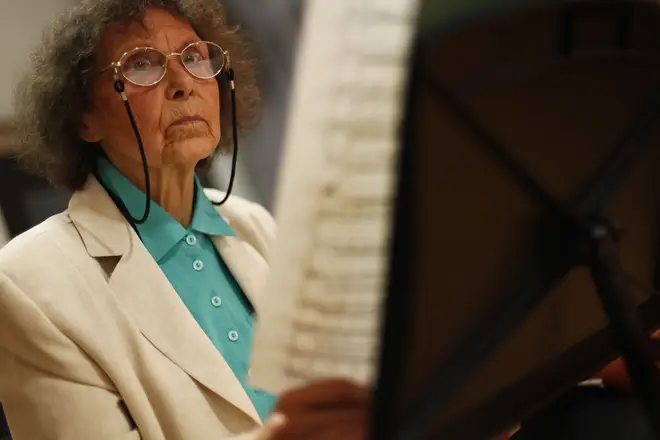 Gubaidulina, now age 91, also appears in the top 20 list for 2022 (the highest woman listed, at number seven) a feat particularly impressive due to her struggle to have her music widely performed during the 20th century.
Living in Soviet Russia, Gubaidulina fell out of favour with the authorities as part of the group, the Khrennikov Seven. These seven composers were condemned by the Soviet Composers Union for writing scores that were in their words, "pointlessness… noisy mud instead of real musical innovation".
In a 2013 interview with The Guardian however, Gubaidulina explained that being blacklisted and "so unperformed" gave her a sense of "artistic freedom, even if I couldn't earn much money.
"I could write what I wanted without compromise."
Read more: Women compose only 5 percent of the pieces scheduled in classical music concerts today (2021)
Sofia Gubaidulina "Serenade"(1969), Nataly Makovskaya-guitar
There's good news for women in the field of conducting, too. Out of the world's 100 busiest conductors, Bachtrack names 12 women; another stark difference to previous reports, as in 2013, just one conductor on the same list was a woman (Marin Alsop at No.70).
36-year-old Elim Chan is the highest ranking woman at no.29, and she is joined by Karina Canellakis, Nathalie Stutzmann, Mirga Gražinytė–Tyla, Marin Alsop, Dalia Stasevska, Xian Zhang, Gemma New, Simone Young, Joana Mallwitz, Kristiina Poska and Barbara Hannigan.
Read more: Marin Alsop reveals 10 things in a conductor's brain during a symphony concert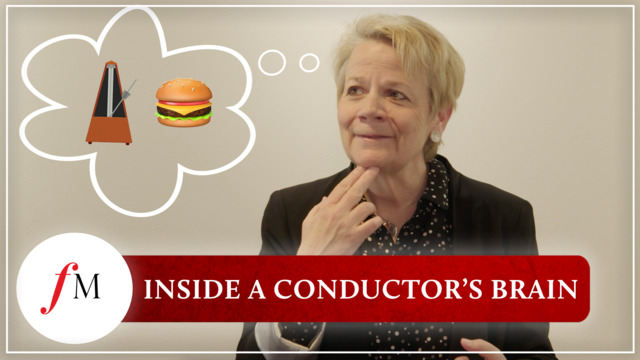 Marin Alsop reveals 10 things in a conductor's brain during a symphony concert
Conductors are also getting younger. 26-year-old Klaus Mäkelä, chief conductor of the Oslo Philharmonic Orchestra, is one of the world's top ten busiest maestros according to Bachtrack.
The Finnish musician comes in at number four on the list, and is the youngest of the conductors named.
Despite Mäkelä being the youngest, the average age of this list – which features names such as Sir Simon Rattle, Gustavo Dudamel, and Andris Nelsons – is still a pretty spry 46 years old.
In 2010, Bachtrack's list of the world's top ten busiest conductors was 61 years old.
Read more: Schools should offer at least 'one hour of music a week' – new music education plan revealed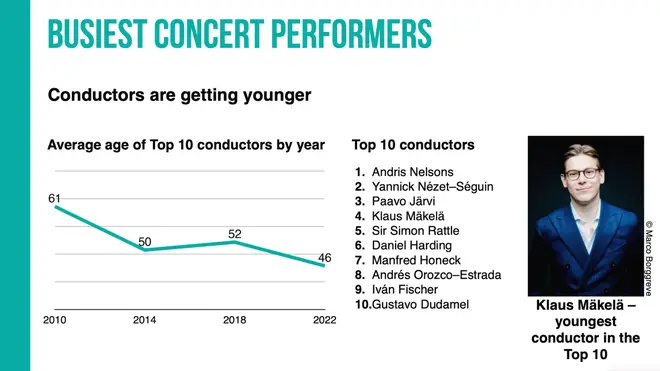 Over the last decade, a host of talented young conductors have experienced meteoric rises to fame.
In 2022, one of the pinnacle moments in classical music was the announced appointment of 29-year-old Jonathon Heyward as the new Music Director of the Baltimore Symphony Orchestra – a position previously held by trailblazing conductor, Marin Alsop. Taking over for the 2023/24 season, Heyward makes history as both the youngest, and as the first African-American music director for the orchestra.
"I think as a young conductor at the moment, everything that I've been doing is actually pretty much for the first time and it's often with seasoned players and seasoned orchestras who have probably played the pieces hundreds of times," Heyward told the Southbank Sinfonia in 2021.
"To work for ensembles also doing it for the first time, it's nice because it feels like we're exploring it together on a blank canvas, which is thrilling."
Read more: 13 Black conductors, past and present, who've inspired us from the podium
Announcing Jonathon Heyward as the BSO's Next Music Director