Quentin Tarantino movie soundtracks: Music from 'Inglourious Basterds' to 'Once Upon A Time In Hollywood'
30 July 2019, 17:28 | Updated: 1 August 2019, 13:21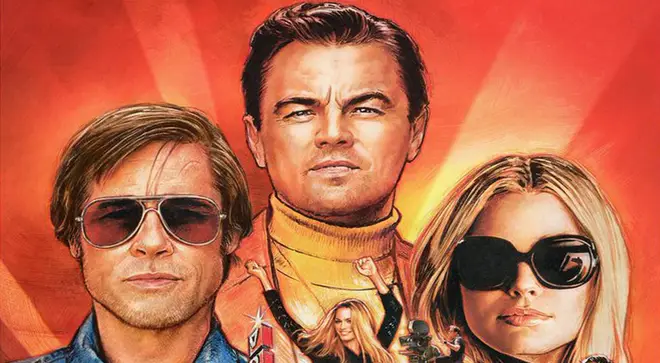 The premiere for Tarantino's latest movie takes place in London's Leicester Square today – here are some of our favourite soundtracks from the director's most iconic films.
Once Upon A Time In Hollywood
Set in 1969 Los Angeles, Quentin Tarantino's forthcoming comedy-drama, Once Upon A Time In Hollywood, follows the antics of seasoned TV star Rick Dalton (played by Leonardo DiCaprio) and his stunt double Cliff Booth (Brad Pitt), as they attempt to navigate the ever-changing film industry.
The soundtrack features several popular TV and film themes, including Batman – originally penned by American composer and jazz trumpeter, Neal Hefti. The tracklist also includes 'Miss Lily Langtry', a beautiful instrumental cue written by French composer Maurice Jarr for the 1972 western, The Life and Times of Judge Roy Bean. Its rich score includes tremolo strings and harp flourishes, while a soaring melody from the violins and a moving piano arrangement make it a memorable piece.
The stellar cast for Tarantino's ninth film also includes Margot Robbie, Emile Hirsch and Al Pacino.
Once Upon A Time In Hollywood is out in UK cinemas on 14 August.
Miss Lily Langtry (cue from The Life and Times of Judge Roy Bean)
The Hateful Eight
Starring Samuel L. Jackson, Channing Tatum and Kurt Russell, The Hateful Eight is a 2015 western thriller telling the story of eight strangers who seek refuge from a blizzard. Released by Decca Records, its original score was written by legendary Italian composer, Ennio Morricone, and the monumental work was his first complete western score in 34 years.
It was also the first time Tarantino had used an original score for one of his films, and the soundtrack was so popular with audiences that Morricone later won a Golden Globe and his first Academy Award for Best Original Score.
Listen to the full soundtrack >
[The Hateful Eight] - 01 - L'Ultima Diligenza Di Red Rock (Intro Vers.)
Inglourious Basterds
Released in 2009 and starring Brad Pitt, the revisionist war film, Inglourious Basterds, unravels two plots to assassinate Nazi Germany's political leaders.
Arranged by Hollywood composer Nick Perito, the opening theme of Inglourious Basterds is taken from the pseudo-folk ballad, 'The Green Leaves of Summer', originally composed by Dimitri Tiomkin and Paul Francis Webster for the 1960 film, The Alamo.
The movie's dramatic soundtrack also features eight pieces of music written by Ennio Morricone, including 'The Verdict', 'The Surrender (La Resa)', and the stunning 'Un Amico' (listen below), combining guitar, soaring strings and crashing cymbals to evoke the on-screen action.
Ennio Morricone - Un Amico (Inglorious Basterds OST)
Kill Bill
Tarantino's 2003 martial arts film, Kill Bill: Volume 1, follows the journey of fearless Bride (played by Uma Thurman), as she swears revenge on a team of assassins after they try to kill her and her unborn child.
As well as instrumental interludes from Japanese guitarist, Tomoyasu Hotei, the film's eclectic soundtrack also includes a piece by award-winning composer, Luis Bacalov, who once worked as an assistant to Morricone and has become popular with music fans in Europe after scoring a number of Italian movies. Titled 'The Grand Duel – Parte', the piece originally featured in the 1972 Spaghetti western, The Grand Duel.
Kill Bill Vol. 1 Soundtrack - Luis Bacalov - The Grand Duel - 03 - (Parte Prima)
Django Unchained
Starring Jamie Foxx, Leonardo DiCaprio and Christoph Waltz, Django Unchained (2012) uses revisionist history to pay tribute to a number of Spaghetti Westerns – in particular, the 1966 Italian film Django, directed by Sergio Corbucci.
Composers Ennio Morricone and Luis Bacalov both make an appearance on the soundtrack, which includes 'The Braying Mule' (listen below), 'Ancora Qui' and 'Sister Sara's Theme'. We also hear several classical pieces of music in the film, such as Beethoven's 'Für Elise' and 'Dies Irae' from Verdi's Requiem.
The Braying Mule (Ennio Morricone)