The 10 best pieces ever written for harp
21 August 2018, 10:10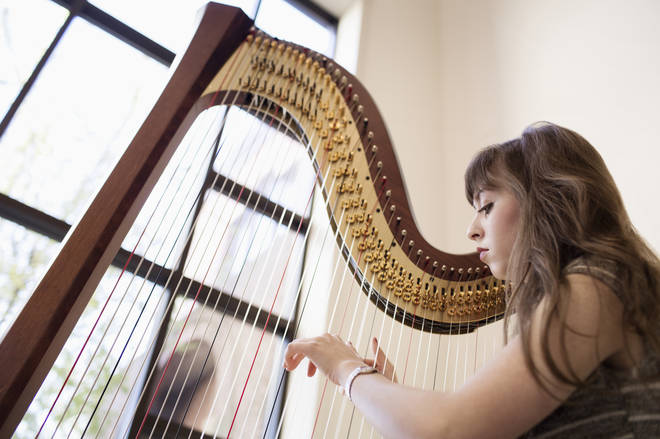 The harp is an instrument admired for its grandeur and beauty. We've put together a list of the most beautiful (and cool) pieces for harp. Yes, we said cool. Harps are cool.
From Handel to Albéniz, here are the best pieces of music written for harp.
Mozart – Concerto for Flute, Harp and Orchestra

This is the only piece written by Mozart for the harp, and unsurprisingly it's a masterpiece – an innovative exploration of the harp's potential as a solo instrument against the orchestra.

De Falla – 'Spanish Dance'

This short piece was originally from de Falla's opera La vida breve, but it's been arranged for all sorts of instruments – including harp. And this might be our favourite version:

Handel – Concerto for Harp and Orchestra

Originally believed to be a piece written by Handel for the organ, music scholars have since concluded that the intended solo instrument was the harp. This is a pillar in Handel's vast repertoire and should have a place on every harpist's to-play list.

Donizetti – Harp solo from 'Lucia di Lammermoor'

The harp solo from Donizetti's opera Lucia di Lammermoor steals the attention away from the stage for a short interlude of music. This is the ultimate piece for the underdog of the orchestra.

Glinka – Variations on a Theme of Mozart

Glinka builds on Mozart's ingenious melodic simplicity to create something really quite tricky here. It's a beautiful piece that allows the performer to explore different playing styles. Alternatively, you could just put your feet up and enjoy someone else playing when the variations get a bit tricky:

John Thomas – 'Watching the Wheat'

We couldn't celebrate the greatest music written for harp without going back to its Celtic roots with this beautiful rendition of the Welsh classic 'Watching the Wheat' ('Bugeilio'r Gwenith Gwyn'). If you're looking for a manageable piece that will impress, look no further.

Smetana – 'Vltava'

Smetana originally wrote this piece for orchestra, but the version scored for harp demonstrates the instrument's versatility and is enough to make us forget that this isn't the original. This is the second movement of Smetana's six symphonic poems celebrating his Czech homeland. This movement follows the Vltava river's journey through the Czech countryside and into Prague.

Mathias – Improvisations for Harp

Written in three movements, Improvisations for Harp by Mathias explores the harp's variety of tone and timbre. If you want some 20th-century action in your repertoire, this piece is definitely worth learning.

Handel – Passacaglia

This piece was originally written by Handel for the harpsichord. The 'Passacaglia' performed on the harp is a romantic spin on this iconic Baroque piece.

Jesús Guirdi – Viejo Zortzico

Composer Guirdi's Spanish-Basque roots are clearly present in this piece. Almost jazzy in its opening theme, this piece is another 20th-century showstopper well worth learning.