Giuseppe Verdi (1813–1901)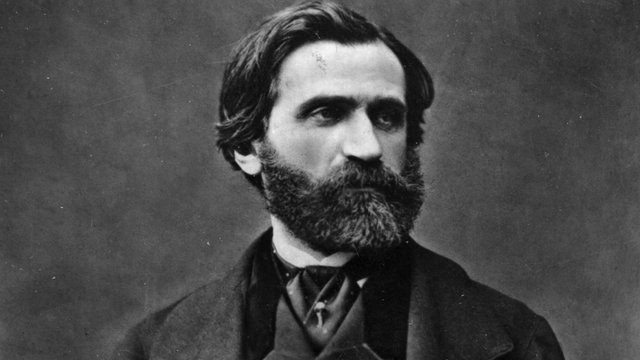 Biography
Life and Music
Giuseppe Verdi was born October 10th 1813 near Busseto.

By the age of seven he was organist at San Michele Arcangelo, the local church, and by 13, assistant conductor of the Busseto Orchestra.

The young Verdi failed the Milan Conservatory entrance exams in 1832. Private tuition and an appointment as a municipal music master in Busseto kept things bubbling along, but just as La Scala in Milan accepted his first surviving opera from 1839, Oberto, personal and professional disaster struck.

In less than two years he lost both of his young children and then his wife, Margherita, to illness. Then his second opera, Un Giorno di Regno (1840), bombed and all future performances were cancelled.

Choruses from Nabucco (1842) and the later I Lombardi alla Prima Crociata (1843) were adopted as anthems of Italian freedom-fighters.

In 1847 he fell in love with Giuseppina Strepponi, a soprano, who would remain his devoted companion until her death 50 years later.

At the height of his fame, despite having successfully produced only two operas during the 1860s - La Forza del Destino and Don Carlo - Verdi was commissioned to write an opera to mark the opening of Egyptian ruler Khedive Ismail's new opera house in Cairo. Verdi missed the deadline (Rigoletto was used instead), but a year later Aida was finished.

In February 1887 he triumphantly re-emerged with one of his very finest works, Otello.

His death on January 21st 1901 from a stroke was marked by the kind of national grief associated with the passing of royalty.

Did you know?
Verdi's relationship with Giuseppina Strepponi caused a scandal by their living together outside wedlock until they finally married in 1859.
View more
Most shared Verdi features