Ennio Morricone's tips for writing film music as iconic as Gabriel's Oboe
11 December 2015, 17:51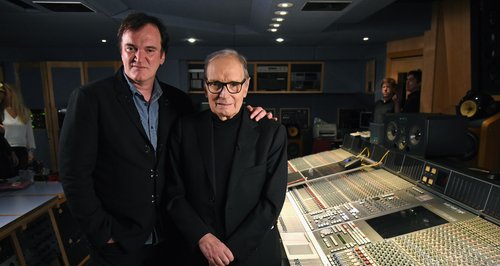 Everyone knows a piece by Morricone – even if they don't realise it. The theme from 'The Good, the Bad and the Ugly' and 'Gabriel's Oboe' are both his – and now there's one more film to add to his CV…
The legendary film composer Ennio Morricone has just written the music for Quentin Tarantino's new film The Hateful Eight.
Vote in the Classic FM Movie Music Hall of Fame and win a Sonos Playbar >
Ahead of the film premiere we spoke to the composing legend and asked him for some tips.
So who better to ask for advice on writing a film score than the man behind Gabriel's Oboe:
First things first, how do you go about starting a film score?
It all starts with an idea, Morricone explained:
What about melodies – where do you get your ideas from?
This gets into the nitty gritty – it turns out Morricone has a few basic rules for writing a tune. So notebooks out, class.
What piece of advice would you give to a budding film composer?
Number one: have a passion for the job. Number two: get a really really great teacher.
Which is Ennio Morricone's favourite Ennio Morricone film score?
We just had to ask because there are so many great ones and every time we're asked we basically can't choose. Much like the man himself, it turns out…
Ok and finally: Tarantino. How do you write the music for a Quentin T film?
Morricone told us about what it was like to work with the famous film director.
If you want to hear more, the soundtrack is available to pre-order on Amazon and iTunes