MILOŠ names his five all-time favourite guitar pieces
9 August 2019, 10:42 | Updated: 9 August 2019, 13:13
The classical guitarist names Rodrigo's Concerto de Aranjuez and The Beatles' 'Blackbird' among his diverse top choices.
Miloš Karadaglić, classical guitarist extraordinaire, has revealed his all-time five favourite works for guitar – and they're as brilliant, varied, and personal to Miloš as we could have hoped for.
In an exclusive interview (which you can watch in full above), Miloš tells Classic FM which five pieces have meant the most to him throughout his career so far.
If you already know a bit about Miloš, you might expect the choices to be varied – and they are.
There's Rodrigo and Albéniz, and after throwing right back to Bach, the guitarist chucks a Beatles curveball into the list.
Hear Miloš' top choices in the interview above, and read more below.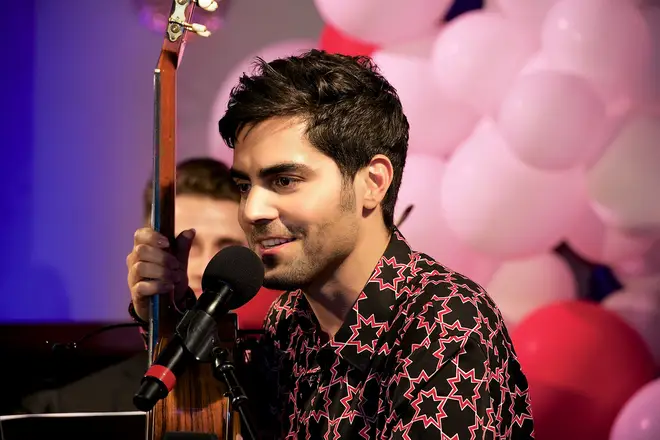 Asturias by Albéniz

"It was the very first classical guitar piece I ever heard," Miloš says.

Aged nine, he was getting tired of learning guitar at the music school he was attending and his father made him sit down and listen to Albéniz's sensational work.

"I am eternally grateful to him for that. He went into the room, picked up lots of LPs and records he had in his library, and one of the records he had was a guitar recital of Andrés Segovia.

The first piece I heard on there was Asturias by Albéniz and I was completely mesmerised, and that's when I changed my mind.

I thought 'I want to be able to play this piece one day', so I practiced hard and when I was able to play Asturias I remember feeling amazing."

Concerto de Aranjuez by Rodrigo

"When you're a guitarist it's a dream for everyone," Miloš explains. "It's one of the most-loved pieces of guitar repertoire and it's so loved beyond the guitar world.

"It exists in so many versions – in movies, in different arrangements – and it's just this incredible, incredible melody and piece."

Miloš goes on to describe the unique feeling of arriving at being ready to play such a piece – a big concerto – with an orchestra and in front of an audience.

And he also shares his experience recording it with Yannick Nézet-Séguin and the London Philharmonic Orchestra.

Just bliss.

Koyunbaba by Domeniconi

Miloš' next choice is less known outside the guitar world, but no less wonderful.

"It has this exotic charm to it, and it has this poetry in it.

Koyunbaba is a really substantial piece – it's about 12 minutes and it just flows from the first note to the last in this continuous whirlwind of sounds and emotions, and it's just amazing."

Miloš also loves the fact the piece was inspired by the composer's love for the sea, a thing the guitarist himself holds dear.

Lute Suite No. 2 in C minor by Bach

For Miloš, *anything* by Bach makes this list.

"I just love how, with Bach, every time you come to it you discover something new," he explains. "We are so lucky to have that music."

He singles out the Lute Suite No. 2 as a current favourite and something he tends to perform a lot.

'Blackbird' by The Beatles

"I love the music of The Beatles," Miloš says with a smile.

"The original song starts with a wonderful guitar riff, and I thought 'this would sound great on classical guitar".

"That opened the door to a completely different world of music for me, and I recorded a whole album of The Beatles' songs."
Who is MILOŠ?
Miloš Karadaglić – AKA MILOŠ – is a Montenegrin classical guitarist. He came from a family of music lovers, and started learning the guitar aged eight.
He went on to study at the Royal Academy of Music with Michael Lewin, and has performed in the best venues all over the world, including the Royal Albert Hall, Wigmore Hall and at the Lucerne Festival.
How old is MILOŠ?
Miloš was born on 23 April 1983 (36 years old).
How many recordings has MILOŠ released?
Miloš' discography includes Mediterráneo released in 2011, Aranjuez (2014), Blackbird: The Beatles Album (2016) and Latino, in 2012.
Miloš' new album, Sound of Silence – which features covers of Paul Simon, Leonard Cohen, Portishead and others, alongside classical works – will be released on 13 September 2019.
The Sound of Silence full track listing is as follows:
1. The Sound of Silence (Paul Simon)
2. Nights in White Satin, feat. Manu Delago (The Moody Blues)
3. Famous Blue Raincoat (Leonard Cohen)
4. Sour Times (Portishead)
5. Moving Mountains (Skylar Grey)
6. Street Spirit (Fade Out) (Radiohead)
7. Life for Rent (Dido)
8. The Book of Love (The Magnetic Fields)
9. Over the Rainbow (Arlen)
10. Solitude, feat. Jess Gillam (Jorge Calandrelli)
11. Cancion de cuna (Berceuse) (Brouwer)
12. Evocacion (José Luis Merlin)
13. Suite del Plata No.1: III Milonga (Pujol)
14. Nana, feat. Jess Gillam (Manuel de Falla)
15. Prelude in D minor, "Endecha" (Tárrega)
16. What are you doing the rest of your life? (Michel Legrand)
MILOŠ' Sound of Silence is out on 13 September 2019. Pre-order your copy here. His UK live tour 'The Voice of the Guitar' begins on 21 September – find out more here.
Watch our exclusive interview with MILOŠ at the top of this page or on the Classic FM Official YouTube Channel.