New York Met announces first new Music Director in 40 years
2 June 2016, 15:40 | Updated: 2 June 2016, 15:45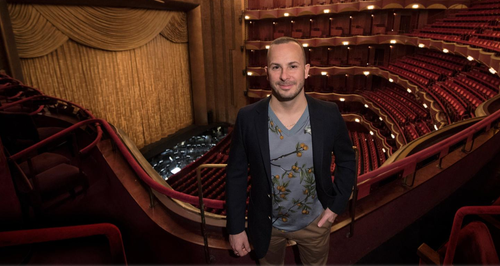 Metropolitan Opera names Yannick Nézet-Séguin as successor to James Levine.
Montreal-born conductor Yannick Nézet-Séguin – who is currently Music Director of the Philadelphia Orchestra – will fully take up the Met post for five years starting with the 2020-21 season. He will also continue in Philadelphia until the 2025-26 season.
The Metropolitan Opera made this announcement on Twitter:
We're delighted to announce that Yannick @nezetseguin will be our new Music Director. Tune in to https://t.co/1OOX9DTM5y at 10am for more.

— Metropolitan Opera (@MetOpera) June 2, 2016
The 41-year old conductor will take an active role at the Met almost immediately. Next season he takes on the title of Music Director Designate and will conduct two operas per season. When he officially becomes Music Director, he will be on the podium for five operas.
James Levine announced last month that he would be stepping down as music director at the Met at the end of the current season. He has been suffering ill health for some time, after spending four decades at the opera house, during which time he conducted more than 2,500 performances of 85 different operas.
"I offer my heartfelt congratulations to Yannick on taking the musical reins," Levine said, "and I look forward to seeing the good work continue under his watch."
The great American baritone Thomas Hampson also welcomed Nézet-Séguin to the post:
Congratulations, Yannick!! @nezetseguin @metopera https://t.co/vO4CelwDh9

— Thomas Hampson (@thomashampson) June 2, 2016
Nézet-Séguin says he would like to bring forgotten masterpieces to the Met stage as well as new works, including world premières.

"It's not a question of arriving as a leader and wanting to change completely the direction of the ship," he said. "It's more about my own personality coming through."
Nézet-Séguin was 16 when he attended his first performance – of Puccini's La bohème – at the Met, and first conducted there in 2009 in a production of Carmen. Next season, he'll conduct Wagner's The Flying Dutchman.
His first major appointment, in 2000, was as Director of the Orchestre Métropolitain in Montreal. He continues to conduct there but plans to step down from another post, as Music Director of the Rotterdam Philharmonic, after the 2017-18 season.
The Met has been plagued by financial troubles in recent years, forcing it to make cuts in its $300 million budget and negotiate concessions from trade unions. Only 72% of its seats are expected to be filled this season.
Photo: Jonathan Tichler/Metropolitan Opera