The best classical music and opera online streams available
30 November 2020, 15:58 | Updated: 1 December 2020, 15:49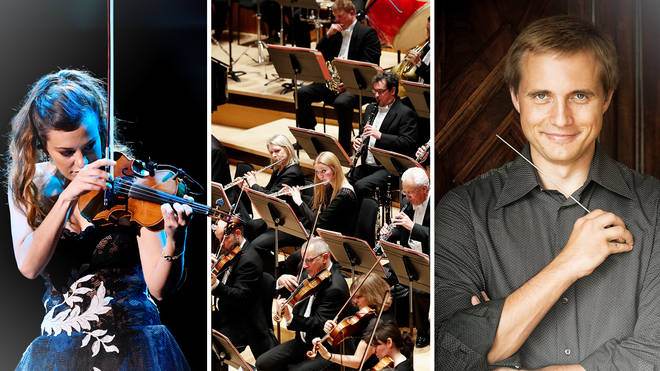 An updating list of the major classical concerts and events being streamed online as a result of the impact of coronavirus measures continuing around the world.
Measures taken worldwide to curb the spread of coronavirus have seen numerous classical concerts and events postponed and cancelled, and concert halls around the world closed for indefinite periods, since March.
Countries banned gatherings, tightened their borders, and many went into lockdown for weeks. Now things are only just starting to slowly open up, but seeing live music is still a rare treat.
As many of us are continuing to stay at home to work, self-isolate and look after the family, many major classical concerts and events are still being held without audiences and streamed live for us to see – for free in many cases – and to bring comfort, solidarity and some beautiful relief in trying times.
Click here for the latest coronavirus advice from the NHS >
Upcoming classical concerts and opera being live streamed
13 September - 22 December, 13:00 or 19:00 BST: Wigmore Hall has opened it's doors once more, and had the "huge joy" to use director John Gilhooly's words, of announcing a string of streamed lunchtime and evening concerts – over 100, featuring over 200 artists – for September to December. "Alongside the core chamber and song repertoire, I have encouraged artists to explore 20th and 21st century composers and a diversity of repertoire throughout the series," Gilhooly says. As well as being streamed online, the concerts are open to restricted audiences on a ballot system. Click here to find out more, and visit Wigmore Hall's website for full Autumn concert listings and timings.
Visit: www.youtube.com
30 September - 30 December, 20:00 GMT: After six months of absence, the London Philharmonic Orchestra returns to the Southbank Centre's Royal Festival Hall on 30 September to launch 'In the Stream of Life', a full Autumn season of 13 concerts streamed globally on Marquee TV – free for the first seven days. Vladimir Jurowski, Karina Canellakis and Edward Gardner will all be joining the orchestra.
Visit: www.marquee.tv
1 October - 10 December, 19:30 GMT: Academy of St Martin in the Fields presents its 're:connect' autumn series from St. Martin-in-the-Fields church online, with all performances available on a pay-to-view basis for 30 days. Enjoy the beautiful music of Pärt, Fauré, Bach and more, and guest appearances from the great Toby Spence, Huw Watkins and others.
Visit: www.asmf.org/reconnect
8 October – 17 December, 13:10/19:30 GMT: Scottish Chamber Orchestra is extending its online concert offering, and on Tuesday 8 October kicked the new set of online concerts off with chamber music by Schumann and Brahms. There are some great evening and lunchtime instalments coming up, including Ravel's Violin Sonata, Tchaikovsky's Variations on a Rococo Theme and Schubert's Symphony No 5 – all filmed at Edinburgh's beautiful Queen's Hall and the recently-opened Laidlaw Music Centre at the University of St Andrews.
Visit: facebook.com or youtube.com
9 October - 26 February 2021, 19:30 GMT: Royal Scottish National Orchestra (RSNO) presents a digital season of 10 wonderful orchestral concerts – celebrating 250 years of Ludwig van Beethoven, who said, "There is nothing more beautiful than distributing happiness to many people." Amen to that. Watch via RSNO's digital channels.
Visit: www.rsno.org.uk/digital-season
22 October - 14 December, various times: The Orchestra of the Age of Enlightenment (OAE) launches its new online platform, OAE Player, which features dazzling performances and enlightening (could resist) masterclasses with the likes of violinist Nicola Benedetti, tenor Mark Padmore and baritone Roderick Williams.
The OAE kicks things off on the 22nd with Telemann Fantasias for solo harpsichord, viola da gamba and flute, filmed in London's stunning Fitzrovia Chapel. That day, Mark Padmore's masterclass with OAE's 'Rising Stars' singers will also stream, as well as Nicola Benedetti's performance with the orchestra filmed at Snape Maltings. Performances available on the platform later in the year include Brahms' Violin Concerto with Alina Ibragimova, Mozart with pianist Steven Devine and Baroque songs with Roderick Williams and Rowan Pierce.
Visit: oae.co.uk/oaeplayer
18 November - 23 December 2020: The Sixteen, the Voices of Classic FM, presents a series of six online concerts featuring exquisite music set against a backdrop of splendid architecture. Presented by actor Sir Simon Russell Beale, and conducted by Harry Christophers, 'A Choral Odyssey' will see the choir sing at, and explore the history and architecture, of iconic locations around the country, including Shakespeare's Globe and Penhurst Place in Kent. The online series will have new episodes every Wednesday, and all episodes will be available to watch on demand until 31 January 2021.
Visit: thesixteen.com/a-choral-odyssey
1 December - 31 December: VOCES8's online festival returns with a snow-dusted selection of holiday music, filmed live from the choir's stunning church in the heart of London and from venues across the world. Live From London Christmas comprises 15 concerts in total.
Visit: voces8.foundation
3 December - 25 March: The Hallé presents the streamed edition of its 2021 Winter Season, with Sir Mark Elder and other Hallé conductors at the helm. Featuring nine concerts streamed from the Hallé's Manchester homes, The Bridgewater Hall and Hallé St Peter's in Ancoats, the series includes music by Shostakovich, Wagner, Beethoven and Strauss, a new staging of Stravinsky's The Soldier's Tale, and some newly commissioned works too – as well as some starry soloists.
Visit: www.halle.co.uk
3 December, 19:00: A live-streamed concert of Handel's Messiah is being performed at St George's, Hanover Square in London – Handel's own church. The performance blends 'live' and 'virtual' together. Laurence Cummings will lead four star soloists and the London Handel Orchestra with choruses prepared and pre-recorded by six choirs which will be integrated digitally into the overall performance.
Visit: Facebook or YouTube
4 December, 19:30: Classic FM's Orchestra on Tour, the Philharmonia, and its principal conductor Esa-Pekka Salonen present Beethoven's epic 1801 ballet Prometheus – narrated by Stephen Fry. Prometheus, according to ancient Greek myth, was a god who breathed life into lumps of clay to create human beings. And Fry retells the myth, and the story of the ballet, in a new script by Gerard McBurney – with an accompanying animation by Hillary Leben – in this, the orchestra's final instalment of the Philharmonia Sessions. The stream will be available for on-demand viewing indefinitely after the broadcast.
Visit: philharmonia.co.uk
4 December, 19:00 GMT The chamber choir's series 'Tenebrae Unlocked' continues with incredible works by Brahms, Bruckner, and Max Reger. These concerts are filmed by the same creative team who worked on Tenebrae's stunning viral video of Allegri's Miserere, and is available to stream via Tenebrae's website.
Visit: www.tenebrae-choir.com/shop
5 December, 15:00 GMT: Spitalfields Music Festival goes online for 2020 for one action-packed day only. Spitalifields Festival At Home will feature performances from Chineke! Junior Orchestra and the Dunedin Consort, world premiere performances of brand new music – and an informal late-night 'song club', featuring composer Errollyn Wallen, singer-songwriter Katie Melua, and friends.
Visit: spitalfieldsmusic.org.uk
6 December, 19:00 GMT: Israel Philharmonic Orchestra presents a celebration of legendary film composer Hans Zimmer. This gala concert will feature orchestral performances of Zimmer's most-loved works, behind-the-scenes interviews – and powerful messages of hope from the likes of actor and singer Bette Midler, actor Ronalee Shimon, and other special guests. The event will stream for free internationally, bringing people together all over the world.
Visit: afipo.org
6 December, 14:00 PT/17:00 ET: Pianist Simone Dinnerstein performs beautiful Bach transcriptions – by Richard Danielpour – of the 'Agnus Dei' from the Mass in B minor, as well as 'Wenn Ich einmal soll scheiden' and 'Epilogue Chorus: Wir setzen, uns mit Tränen nieder,' from St Matthew Passion. Dinnerstein also performs the world premiere of Danielpour's new piece An American Mosaic – a set of fifteen miniatures commemorating people affected by the COVID-19 pandemic.
Visit: oregonbachfestival.org/mosaic
12 December, 18:00 GMT: Bass-baritone supreme, Bryn Terfel, performs live from Wales' resplendent Brecon Cathedral as part of the 'Met Stars Live in Concert' pay-per-view series – expect appearances from fellow Welsh singers, soprano Natalya Romaniw and tenor Trystan Llŷr Griffiths, and Christmas favourites dispersed with opera highlights.
Visit: www.metopera.org
15 December, 19:30 GMT: The very first performance of Vaughan Williams' enduringly beloved The Lark Ascending took place at Bristol's Shirehampton Public Hall 100 years ago. And tonight it will be performed there once again as part of a shortened version of the original 1920 programme – which will also feature Vaughan Williams' Fantasia on Christmas Carols, Bach's Concerto for Two Violins and Parry's Jerusalem. Starring the brilliant violinist Jennifer Pike, and Bristol Ensemble and Exultate Singers. The concert will be free to watch online.
Visit: bristolbeacon.org
15 December, 19:00 ET: Simone Dinnerstein performs Philip Glass's Etude No. 2 for piano and Schubert's Piano Sonata in B-flat – both pieces from her latest album, A Character of Quiet, which she recorded at home at night in the quiet of the NYC shutdown this summer. The concert will remain online for on-demand viewing until December 31.
Visit: www.millertheatre.com
16 December: Pianist Yael Weiss performs 32 Bright Clouds: Beethoven Conversations Around the World – which is a programme combining Beethoven's 32 piano sonatas with 32 newly commissioned short works from 32 composers in 32 different countries where conflict and instability create challenges and obstacles for artists. A marathon of a performance to mark what would be the great composer's 250th birthday.
Visit: youtube.com
22 December: Christmas with The King's Singers streams online from today, and is available until 31 December. The choir sings from composer John Rutter's local church – and promises the warmth and comfort of all our favourite Christmas music.
Visit: www.kingssingers.com
31 December, 21:00: The Met Opera presents a glitzy, live-streamed New Year's Eve Gala, featuring performances by the starriest of opera stars Angel Blue, Javier Camarena, Matthew Polenzani, and Pretty Yende – coming from the Parktheater, a stunning neo-Baroque building in Augsburg, Germany. Expect everyone's favourite arias, from Donizetti to Puccini. Available on demand for 14 days afterwards.
Visit: www.metopera.org
January 2021: On 15 December 2020, English Sinfonia musicians celebrated the 100th anniversary of Vaughan Williams' The Lark Ascending with two live performances at St John's Smith Square – 100 years to the day since the work's first public performance on 15 December 1920. English Sinfonia's leader and artistic director, violinist Janice Graham, was the flying soloist – with Chris Hopkins on the piano. The St John's Smith Square event inviting limited audiences when it took place, but for those of us who were unable to attend, there's a digital version that can be enjoyed, on demand, from home via St John Smith Square's digital platform now.
Visit: sjss.org.uk
17 February 2021: Australian Chamber Orchestra premieres the first of its 'ACO Studiocast' online concerts. 'Rapture and Revolution' features Richard Tognetti performing Vaughan Williams' The Lark Ascending, and Tognetti's arrangement for string orchestra of Beethoven's Cavatina & Grosse Fuge – all filmed at Sydney's beautiful Town Hall. The concert will be available on demand after the premiere, and following instalments include 'Bach and the Beyond' (31 March) and Tchaikovsky Serenade (7 July).
Visit: www.aco.com.au
27 February 2021, 13:00 EST/19:00 CET: Star soprano Sonya Yoncheva performs operatic favourites and show-stoppers from Berlin, as part of the 'Met Stars Live' series of online concerts from the iconic opera company.
Visit: metstarslive.brightcove-services.com
Recent past live-streamed classical concerts
October - November: A Celebration of John Rutter's Music. The very first Paul Phoenix Academy (PPA) Online Music Festival marks the 75th birthday of one of the world's most loved composers. He says: "No matter where you are, you can share John Rutter's inspirational music and uplift spirits, to help one another combat loneliness and create hope and joy." Rutter himself will be adjudicating, and you can submit your own vocal entry here.
Visit: www.ppamusic.com
14 November, 19:30 GMT: The Self-Isolation Choir, founded during the COVID-19 pandemic, is joining virtual forces once again – this time for Mahler's epic Symphony No. 2 'Resurrection', a piece that communicates a much-needed message of hope and renewal. The piece will also feature the Orchestra for the Earth, conducted by John Warner.
Visit: www.theselfisolationchoir.com
19 November, 19:00 GMT: Star pianist Lang Lang performs Bach's Goldberg Variations at St Thomas Church in Leipzig – Bach's former place of work, final resting place, and a fittingly beautiful location for this stunning concert being streamed on Deutsche Grammophon's premiere 'DG Stage' platform.
Visit: dg-premium.com
20 November, 19:00 GMT Chamber choir Tenebrae releases the first in a new series of short concerts called, 'Musica Dei donum'. These concerts are filmed by the same creative team who worked on Tenebrae's stunning viral video of Allegri's Miserere, so it should be exceptionally beautiful. The first concert of 'Tenebrae Unlocked' features Renaissance gems from Tallis and Byrd and is available to stream via Tenebrae's website.
Visit: www.tenebrae-choir.com/shop
21 November, 18:00 GMT: Opera North streams the tense and entertaining opera, The Seven Deadly Sins. Brecht & Weill's opera is more of a 'sung ballet' and in this production mezzo-soprano Wallis Giunta and dancer Shelley Eva Haden perform the split personalities of protagonist Anna. Stream the sins of the city direct into your home live at 6pm on Saturday, and access on demand for 48 hours.
Visit: www.operanorth.co.uk
21 November, 20:00 ET: Clarinettist Anthony McGill performs Anthony Davis's powerful You Have the Right to Remain Silent – an orchestral work inspired poignantly by Davis's own experience of being pulled over by the police and held at gunpoint for 45 minutes because he "matched the description" of a suspect fleeing a robbery. McGill performs the work with the Cincinnati Symphony Orchestra and conductor Louis Langrée.
Visit: www.cincinnatisymphony.org
21-22 November, 19:00 ET: Ragas Live Festival 2020 streams across the weekend, featuring a 24-set celebration of "the Raga Renaissance, flowering in Brooklyn", as The New York Times has put it. Indian classical music will be showcased by over 70 musicians playing from all over the world.
Visit: live.pioneerworks.org/ragas
22 November, 16:00 GMT: Birmingham Contemporary Music Group premieres new works in its 'Words from Abroad' concert, live-streamed from the CBSO Centre this Sunday. The new works, by International Composition Competition in partnership with Ensemble o/modernt winners Francisco Jose Andreo Gázquez, Andrea Sordano and Caterina Di Cecca, commemorate the 100th anniversary of the birth of Romanian-born poet Paul Celan.
Visit: www.bcmg.org.uk
18 - 21 November: The 'Mozart Minifest' hosted by Bath Mozartfest is going ahead for 2020 – but as a virtual festival, streamed online, so that you can enjoy it safely at home amid the ongoing pandemic. "It's not the celebratory 30th anniversary festival we had planned, but given the devastating impact that COVID-19 has had upon the arts generally, and live music in particular, I am thrilled that we are able to present this delightful short programme," artistic director Amelia Freedman says. Expect wonderful performances of music by our main man Mozart, from pianists Melvyn Tan and Steven Osborn, and many other fine musicians and ensembles.
Visit: bathmozartfest.org.uk
26 October - 30 November, 19.30 GMT: Classic FM's Orchestra on Tour, the Philharmonia Orchestra, presents four online concerts, live from their Royal Festival Hall London home. The series opens on Monday 26 October with a programme of American music, including works by Copland, Reich and Florence Price – and continues with Britten's Les Illuminations starring soprano Julia Bullock on Sunday 29 October; Mendelssohn's Violin Concerto performed by Sergey Khachatryan and conducted by Elim Chan on Thursday 12 November; and violinist Nicola Benedetti and conductor Pablo Heras-Casado joining forces for Beethoven on Monday 30 November.
Visit: philharmonia.co.uk (UK) or app.idagio.com/live/category/concerts (worldwide)
27 November 2020: The King's Singers perform sublime works by Tallis, Debussy and many more in the third instalment of their Digital Tour. Like the choir's previous digital concerts, the event will be available to stream until 31 December, and will be followed on 22 December by the Singers' special online Christmas concert.
Visit: www.kingssingers.com
27 November, 18:00: Actor Hugh Bonneville joins the English Symphony Orchestra (ESO), and conductor Kenneth Woods, for the first in a series of brand-new works for narrator and orchestra that is part of the orchestra's 'Music from Wyastone' virtual concert series. Woods has set his own version of Hans Christian Andersen classic, The Ugly Duckling, and Bonneville narrates the new work on the ESO's digital portal, ESO Digital.
Visit: www.eso.co.uk/digital
29 November, 19:15 GMT: Sir John Eliot Gardiner conducts the Czech Philharmonic in a wonderful all-Czech programme – including Voříšek's Symphony in D major, Martinů's Sinfonietta La Jolla for Piano and Chamber Orchestra and Janáček's Capriccio for Piano Left-Hand and Wind Ensemble. Streamed live on the orchestra's Facebook Page as part of the 'Live from your living room' series.
Visit: facebook.com/ceskafilharmonie