Béla Bartók (1881-1945)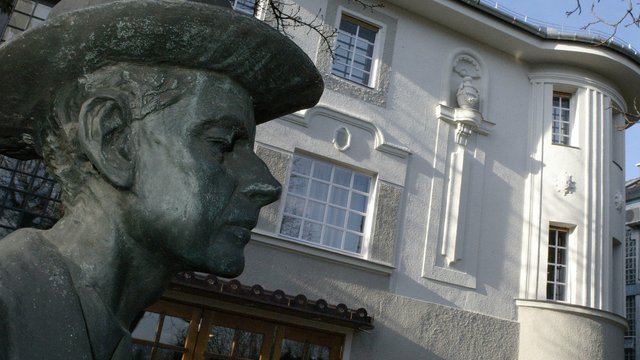 Biography
Life and Music
Béla Bartók was an infant prodigy.

He was performing on the piano in public by the age of 11 and by the time he had graduated from the Budapest Royal Academy in 1903 he was confidently composing in the Liszt-Richard Strauss mould.

Bartok formed a partnership with the composer Zoltan Kodaly and together they set about collecting Hungarian and Transylvanian folk songs. This formed the bedrock of Bartok's fast developing musical style.

During the decade between the late 1920s and 1930s the seemingly conflicting musical elements were fused, resulting in a stream of masterpieces, from the breathtaking rhythmic propulsion and ear-tweaking sonorities of the Sonata for Two Pianos and Percussion (1937) to the post-Romantic luxuriance of the Second Violin Concerto (1937).

Bartok escaped the horrors of war for New York, which brought with it a change of style.

He composed little for two years until a commission from the conductor Serge Koussevitzky opened the floodgates once more. This released works such as the Concerto for Orchestra, the Third Piano Concerto and the sadly incomplete Viola Concerto.

Bartok had one last surprise up his sleeve, however, with the uncompromising and enigmatic Sonata for Solo Violin (1944), written for Yehudi Menuhin.

Did you know?
Bartok and Zoltan Kodaly travelled around their homeland with a very early recording machine collecting folk tunes sung by local countrymen and women. Thanks to them, many Hungarian folksongs are still remembered today.
View more
Top Bartók pieces
1
Concerto for Orchestra (1)
Bela Bartok
2
Violin Concerto No. 2 (2)
Bela Bartok