Randall Goosby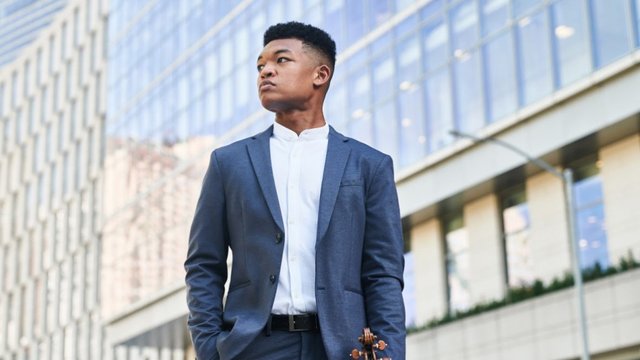 Biography
Goosby studied with violin legend Itzhak Perlman during his college years.

He was born in 1996 to an African American father and Korean mother. He began learning the violin at the age of seven, and by nine had made his debut performance with an orchestra, the Jacksonville Symphony.

At 13 he played with the New York Philharmonic at David Geffen Hall New York's Lincoln Center, The New York Times describing him as having "a masterly level of control" and "an exquisite tone".

He entered and won the Sphinx Organization's prestigious Concerto Competition in the US at just 13. Sphinx has also awarded him the Isaac Stern Award, and invited him to perform at Carnegie Hall as part of its Young Artist Development Program.

In 2018, he was a prize winner at the Young Concert Artists (YCA) International Auditions, and this led to him becoming a Young Classical Artists Trust (YCAT) artist in London in 2019.

In 2020, he signed to Decca Records, and released his debut album, 'Roots', on the label in June 2021. His album is a tribute to pioneering musicians who paved the way for Goosby and his generation of young artists, which also looks to the future with a specially commissioned work by New Jersey-based composer Xavier Dubois Foley.

Goosby told Classic FM: "I felt it was a great opportunity to express my thanks and pay homage to just a few artists of colour who in my mind really paved the way for me to do what I do."

"I also want to pave the way for other young musicians of colour to feel free and empowered to pursue a life and career in classical music without fear."

Did you know?

Randall Goosby plays a 1735 Guarneri del Gesù violin, loaned by the Stradivari Society. He's closely associated with the society, and has been honoured as a 'Rising Star of the Stradivari Society'.
View more
Randall Goosby news and features