Chevalier star Kelvin Harrison Jr. on 18th-century virtuoso Joseph Bologne: 'He could do everything!'
7 June 2023, 15:34 | Updated: 13 June 2023, 17:47
Chevalier star Kelvin Harrison Jr. on playing violin virtuoso Joseph Bologne | Classic FM
'Chevalier' star Kelvin Harrison Jr. reveals how the 18th-century composer won him over with his epic life story.
Joseph Bologne, Chevalier de Saint-Georges was a Caribbean-born composer, violinist, and master swordsman living in France during the 18th century.
More than two centuries later, the life of this monumental musician has been dramatised in a new musical biopic, Chevalier.
The actor chosen for the titular role was Kelvin Harrison Jr. A jazz musician in his own right, Harrison Jr. spent up to six hours a day learning and practising the violin in order to emulate the 18th-century maestro.
Despite not knowing who the composer was prior to the start of filming, Harrison Jr. became captivated by Joseph Bologne and his "ability to make everyone love him".
Speaking exclusively to Classic FM, Harrison Jr. explained, "Joseph knew what to say, he knew how to dress, he knew how to play, he could do everything. And he wasn't really afraid of the powers that be.
"I thought that was really exciting to see from a Black musician in the 18th century."
Read more: Chevalier: Kelvin Harrison Jr.'s on-set violin teacher reveals how he taught the actor in just two months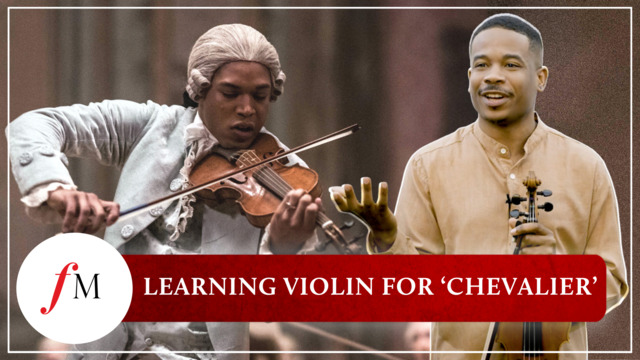 Chevalier on-set violin teacher reveals how he taught Kelvin Harrison Jr.
Learning how to act like a violin virtuoso
Harrison Jr. got well acquainted with Chevalier's music during filming, as he had to learn a number of different pieces which he would 'play' throughout the film. While his playing was mostly dubbed by other violinists on the soundtrack, the director (Stephen Williams) wanted Harrison Jr.'s hand positioning and technique to look realistic enough that the audience would think he was playing.
One particularly difficult section of the film is the opening 'violin duel' which takes place between the characters of Chevalier, and Wolfgang Amadeus Mozart (played by actor, Joseph Prowen).
Harrison Jr. went to his father, a saxophone teacher, for advice on preparing for this demanding scene. "My dad was really funny actually," Harrison Jr. told Classic FM. "He said, 'Listen. It takes me a whole six months or semester to teach one kid a concerto so I don't really know how you're gonna pull off this six-minute duel!"
But, his father's joking was followed by heartfelt advice, as the seasoned musician said to his son, "Trust what you're capable of and trust the work that you put in. That's the same for any musician."
Catch up with Classic FM's Saturday Night at the Movies, Jonathan Ross >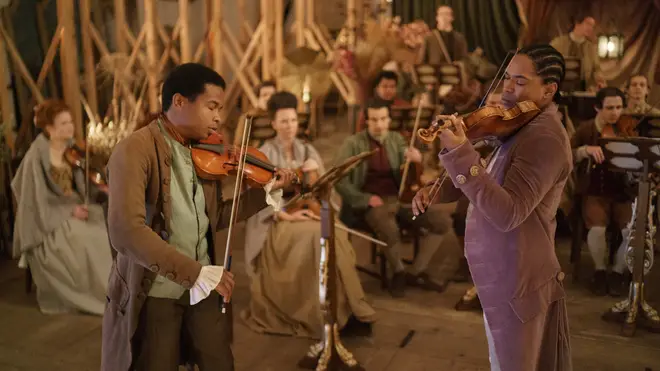 His on-set violin tutor, Ronald Long also taught the actor to "relax" and feel "comfortable" when playing the instrument.
"I think the thing about the violin is that everyone thinks it's so stiff and so strict," Harrison Jr. said.
"But really there's a softness to it. You have to be really delicate with the instrument at times, and learn how to breathe with the violin."
For the violin duel, Harrison Jr. worked alongside Prowen prior to filming their scene, to understand what each musician was trying to say to the other through music.
"It comes down to communication," Harrison Jr. explained. "What were we trying to say to each other, and to the audience, with each cadenza?"
Listen to the Classic FM at the Movies playlist on Global Player >
CHEVALIER | "Violin Battle" Clip | Searchlight Pictures
'If you don't have anything to say with music then don't say anything. Don't play.'
While the actor was taught the violin predominately by Chevalier's on-set violin teacher, Ronald Long, Harrison Jr. has been a musician since he was a child.
"I come from a jazz background," the actor who learned piano and trumpet as a child told Classic FM. "And Joseph, to me, feels like a jazz musician.
"In his music, you can tell he likes to flex. Some of the other artists at the time, like Mozart specifically, he's a man of harmonies. But Joseph feels more improvisational. His music is virtuosic, full of 'licks' and 'runs'."
Thanks to his musical practice, Harrison Jr. admits he already "knew how to practice". For the young actor, his main priority was instead understanding the character, his story, and his music all on a deeper level.
"I really understood that [when I learned how to play the character of Joseph Bologne] I had to put the storytelling at the forefront," Harrison Jr. explained. "From a young age, my dad would also say "If you don't have anything to say, with music then don't say anything. Don't play.
"And I wanted to really infuse that into how I attacked Joseph's artistry."
Violin Concerto in G Major, Op. 8, No. 2: I. Allegro (From "Chevalier"/Visualizer Video)
A continuing relationship with the Chevalier
While Harrison Jr. hadn't heard of Chevalier before filming the biopic, the classical composer found a way to stay in the actor's day-to-day life even after filming wrapped in 2021.
"I still listen to him," Harrison Jr. told Classic FM with a hint of familiarity. "Often I'll be at photoshoots, or at a fitting and I'll say, 'let's put some Joseph on'.
"I love listening to his music. Something about it gets me really excited. It feels really cinematic."
Harrison Jr. continued, "There's something so epic about stringed instruments. And Chevalier is such an epic story about [Joseph Bologne's] epic career.
"I think [some people] have this preconceived notion that classical music and films [about that genre] are kind of boring and stuffy, and pretentious.
"But this really isn't. And I think people really need to check it out."
Chevalier debuted in the US on 21 April 2023, and later arrived in UK cinemas on 9 June.