New releases: John Suchet's favourite albums of 2019 and 'Making Music' Carols
16 December 2019, 12:02 | Updated: 19 December 2019, 11:38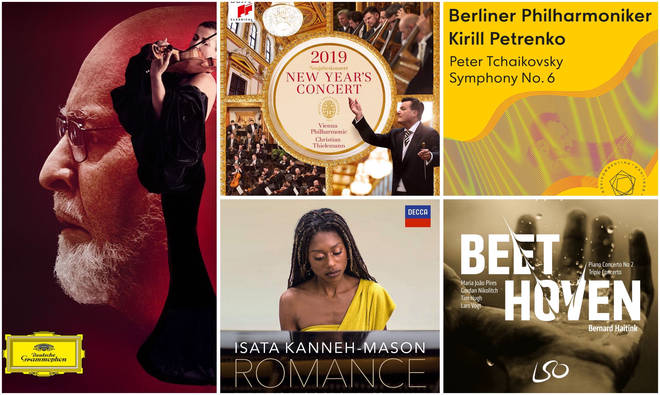 Throughout the week Classic FM's presenters bring you the best new recordings, including world exclusives and premiere broadcasts of latest releases. This week: John Suchet's top five albums from the past year, and five favourites from the 'Making Music' Carols competition.

John Suchet plays a track from his featured Album of the Week at 10.15am every weekday.
Best of 2019
With the end of 2019 swiftly approaching, John Suchet shares five of his favourite albums from the past year.
Every day this week, he'll be playing music from the albums he has chosen as the best of 2019.
John starts the week with the London Symphony Orchestra's Beethoven: Piano Concerto No 2, Triple Concerto. The album, released in March, was a celebration of conductor Bernard Haitink's 90th birthday. Read more about the album here.
On Tuesday, John will feature music from the album Tchaikovsky Symphony No. 6, by the Berliner Philharmoniker & Kirill Petrenko. This performance of Tchaikovsky's Sixth Symphony, nicknamed 'Pathétique', was released in May. Read more here.
John's third choice is Romance: The Piano Music of Clara Schumann – the debut album of 23-year-old pianist Isata Kanneh-Mason. Find out more about the album here, and join John on Wednesday to listen to music from the CD.
John Williams and Anne-Sophie Mutter's Across The Stars will be featured on Thursday, as another one of John's top selections. The album, released in September, is filled with reimagined versions of some of Williams' most memorable film scores. Read more here.
On Friday, John concludes with the New Year's Concert 2019. At the beginning of this year, Christian Thielemann took to the podium of Vienna's Musikverein for the first time to conduct the Vienna Philharmonic in the annual event. Find out more about the album here.

John Brunning plays a track from his featured Drive Discovery at 6.20pm every weekday.
'Making Music' Carols
For this week's Drive Discovery, we've selected five favourites from the Classic FM carol competition over at Making Music – a competition run by the charity where amateur groups send in recordings of carols, which we then play on Classic FM.
Throughout the week we'll be playing the carols we've chosen, starting on Monday with a recording from Sheffield Philharmonic Chorus & Black Dyke Band, conducted by Darius Battiwalla, of 'O Holy Night'. The recording was arranged by Darius Baattiwalla, and recorded at the Sheffield City Hall where they are the resident chorus.
Tuesday will feature a recording of 'I Saw Three Ships Come Sailing In' (Trad) by St George's Singers of Poynton, Cheshire.
Read more: Most people can't remember the iconic lyrics in this Christmas carols quiz
On Wednesday, John Brunning will play Michael Praetorius' 'Es Ist Ein Ros' entsprungen', performed by Octovoce – an eight-part a cappella ensemble based in Edinburgh, originally formed at Aberdeen University.
Join us on Thursday to hear a recording of Philip Stopford's 'Lully Lulla Lullay' from the Edinburgh Police Choir, conducted by Michael Longden.
On Friday we conclude with a festive performance of James Pierpont's 'Jingle Bells', arranged by Simon Arnott, by the Meantime Chorus – an all-male a cappella chorus formed in Greenwich in 2015.