Can Seth Rogen really sing as Pumbaa in 'The Lion King' live-action remake?
5 July 2019, 12:01
Seth Rogen sings 'Hakuna Matata' alongside Donald Glover in a new featurette for 'The Lion King'… but how does his singing voice stand up?
The enduring story of Disney's The Lion King returns to cinemas this month, with a new live-action look.
Directed by Jon Favreau (The Jungle Book), the musical film will star Donald Glover as Simba, Beyoncé as Nala and Chiwetel Ejiofor as Scar.
A featurette has just been released (watch above), giving us a behind-the-scenes glimpse at the actors' recording sessions. But up against seasoned musicians like Beyoncé and Glover, how does Seth Rogen fare as Pumbaa?
"Getting to relive it in a new way is really exciting," the US actor says in the video above.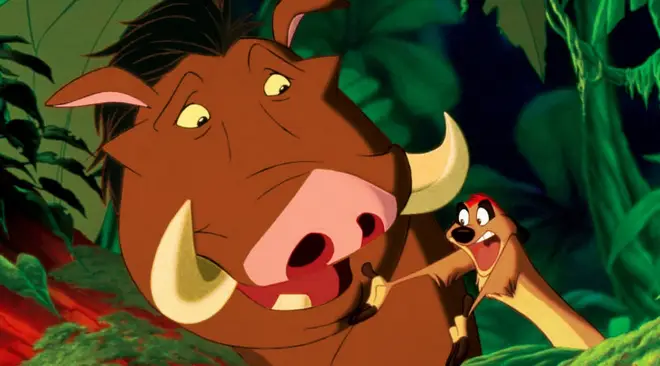 Sure, but can he sing?
In the featurette, Rogen and Billy Eichner (as Timon) sing one of the best loved songs from The Lion King, 'Hakuna Matata', with a lovely bit of vibrato in their voices. Their trio with Glover (Simba), as they teach him the song, is uplifting and singalong – just as it should be.
We don't think it sounds half bad considering Rogen isn't a pro singer. Rogen himself (poor guy) described the experience as "horrible".
"It turned out well, but for me personally, it was a nightmare," Rogen told James Corden on The Late Late Show.
"It was really scary and intimidating. I had to sing in the same room as Donald Glover, like face to face with him. He's a professional musician.
"And then Beyoncé! In my head I was like, 'I'm funnier than she is, I'm funnier than she is.' But I don't even know if that's true!"
But brilliant comedy actors like Rogen don't need to prove themselves as a 'singer'. The movie already has Beyoncé for that.
At the end of the featurette, Favreau says: "We wanted to capture what people's memory was of this with both the music and the imagery. And I think when you can capture the spirit, but show them something new and surprising, that's sort of the best combo."
The Lion King is out in cinemas on 19 July 2019.