7 weird, wonderful and incredibly interesting ways of conducting an orchestra
2 August 2019, 15:53 | Updated: 2 August 2019, 15:56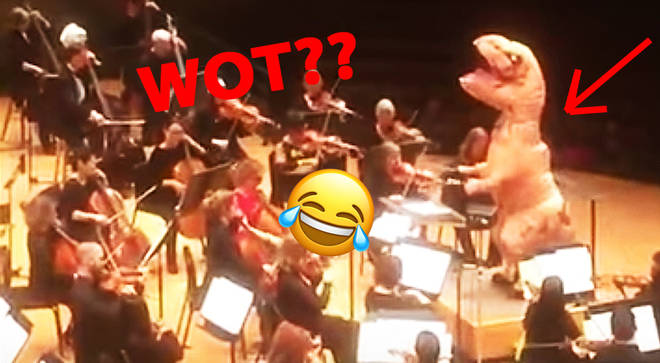 From leading an orchestra with lightsabers to performing in fancy dress, here's our pick of bizarre conducting clips. You're welcome.
1. Musical... toothpick??
Who knew that a tiny toothpick could lead an entire orchestra? Well, for Russian maestro, Valery Gergiev, it's just part of the job. Here he is using the small wooden stick to conduct a performance of Ravel's Boléro with the London Symphony Orchestra. Orchestral precision is perfect (and not a stray speck of spinach in sight).
2. Darth Vader's lightsaber
You might not think that Star Wars icons are classical music fans, but this *rather unusual* performance (see below) could change your mind. In this concert, Darth Vader (yes, we're convinced he's real) steps out on stage to conduct the BachUs Classic Orchestra with a neon red lightsaber, as they perform John Williams' popular film theme. And if you look closely, even the string players have transformed their bows to look like lightsabers. May the force be with you...
3. Elgar's enormous baton
Not every conductor is partial to using a tiny toothpick like Gergiev – Edward Elgar much preferred to guide an orchestra with a significantly larger baton (pictured below). Rumour has it that he would also keep a spare baton nearby during every performance, as his batons were so big they would often break in half.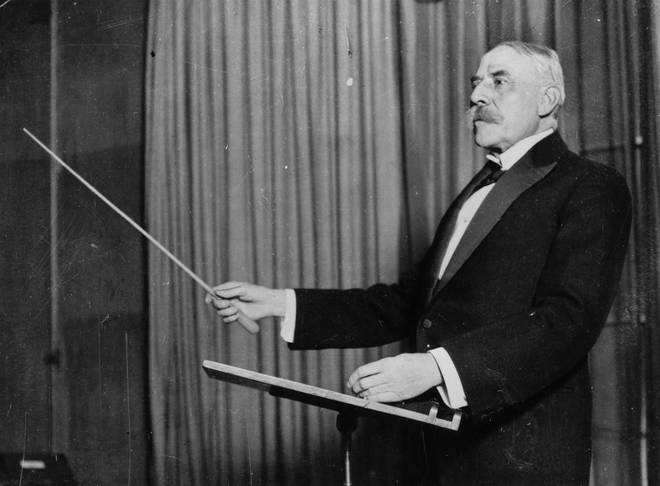 4. Bernstein's brows
For the legend that is Leonard Bernstein, keeping musicians in sync starts with your eyebrows. From adjusting rhythm and switching up emotion to taking charge of the tempo, the West Side Story composer loved nothing more than using his facial expressions and bushy brows to direct an ensemble. And if you watch the video below, featuring Haydn's Symphony No. 88, you'll see he did it with total flair.
5. Choir baby
It's not just orchestras that can be guided by unusual objects – singers like getting in on the action too. In this video of The Kingdom Choir, performing a stunning arrangement of the Christmas favourite, 'Hark! The Herald Angels Sing', choir director Karen Gibson takes multi-tasking to the next level by teaching gospel with her sleeping baby. Simply adorable.
Conducting with a baby ❤️ The Kingdom Choir rehearses 'Hark! The Herald Angels Sing' with their conductor Karen Gibson... who just happens to be rocking a baby to sleep. Multi-tasking at its best.

Posted by Classic FM on Monday, 19 November 2018
6. T-Rex leads the way
For fans of film music, and especially those sat in this particular audience, hearing John Williams' sublime score to Jurassic Park couldn't get any weirder better than this. As The Colorado Symphony plays a stunning rendition of the 1993 score, conductor Christopher Dragon takes to the stage in some rather unusual concert attire...
7. Wacky yellow inflatable arm man...
We'll let the picture do the talking here...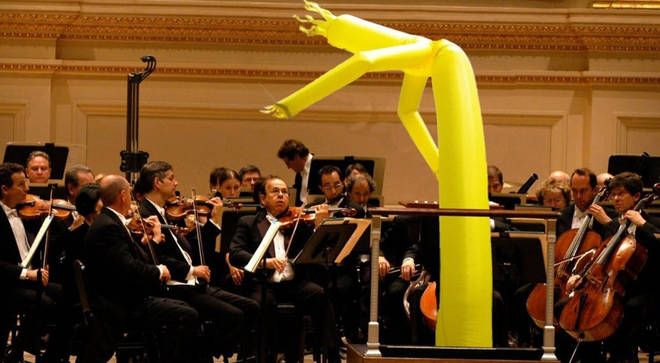 And for no apparent reason at all, here's a version of Strauss II's famous Blue Danube Waltz conducted by a member of The Muppets.