Outdoor concerts and theatre can resume on Saturday with social distancing
10 July 2020, 10:20 | Updated: 10 July 2020, 10:28
Pilot indoor performances are also slated to take place, in preparation for theatres and concert halls to reopen.
Outdoor performances can take place in England from Saturday 11 July.
Concerts, gigs and theatre shows will be permitted with "a limited and socially distanced audience", culture secretary Oliver Dowden said in yesterday's announcement.
Some indoor testing is also taking place, in preparation for how theatres and concert halls can open their doors again. Pilot performances are planned for the London Symphony Orchestra at St Luke's Church, along with shows at the London Palladium and Butlin's.
"This is an important milestone for our performing artists, who have been waiting patiently in the wings since March," Dowden added.
Glyndebourne opera house and Cornwall's Minack theatre were cited as venues that can reopen. Regent's Park Open Air Theatre has since said it might be able to open later this summer under the new regulations.
Read more: UK arts venues to receive £1.57bn in emergency government funding >
"Of course, we won't see crowds flooding into their venues, but from 11 July our theatres, operas, dance and music shows can start putting on outdoor performances to socially distant audiences," the culture secretary continued.
"That means theatregoers can experience a live play for the first time in months at places like the stunning Minack Theatre in Cornwall, and music lovers can attend Glyndebourne this summer."
The culture secretary said safety measures for outdoor performances will include reduced venue capacity, and electronic ticketing systems to help test and trace ticket-holders.
Read more: Will theatre and concerts be cheaper after lockdown, as VAT is slashed? >
He encouraged the public to start buying tickets for shows again and supporting local businesses, adding: "Our performing artists deserve an audience, and now they will be getting one."
Dowden said the government is working with public health experts on indoor performance testing, in a bid to usher in audiences as soon as possible.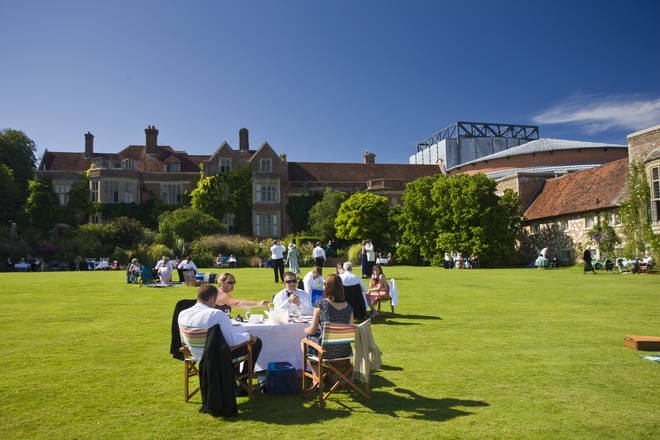 New guidelines for performances in England have also been published, with recommendations including reduced capacities in audiences, casts and orchestras; socially distanced performers; and increased deep cleaning of venues.
Added distancing (three metres) is recommended for singers and wind and brass players, in the new regulations.
In yesterday's press conference, Dowden said further scientific study will now take place to understand the transmission risks around singing and wind and brass instruments.
Read more: Simon Rattle urges government to reduce 3-metre woodwind distancing >
Outdoor performances mark the third step in the government's 'five-stage roadmap'. There is no timeline yet for when venues can move to Stages Four (indoor performances with a limited audience) and Five (indoors, with a fuller audience)