'I didn't base the character of Lydia Tár on anyone' – Cate Blanchett in conversation with Classic FM
19 January 2023, 09:48 | Updated: 10 February 2023, 17:57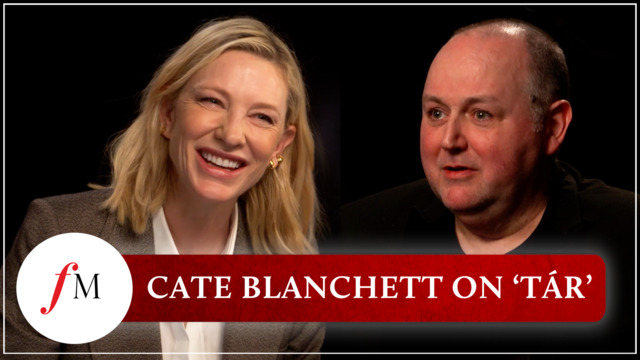 Cate Blanchett on preparing to play fictional orchestral conductor Lydia 'Tár'
Cate Blanchett sat down with Classic FM presenter, Tim Lihoreau, to discuss her Golden Globe-winning performance in Tár.
"I didn't base the character of Lydia Tár on anyone," Cate Blanchett told Classic FM breakfast presenter Tim Lihoreau in an exclusive interview this week.
"I thought about [American writer, philosopher, and political activist] Susan Sontag as a public intellectual, as much as I thought about Alma Mahler, as much as I did about any contemporary conductor."
Blanchett plays the powerful fictional maestro of the Berlin Philharmonic in the film, Tár, which was released in cinemas in the UK last Friday. As the first major film about a woman conductor, her portrayal has drawn interest and critique from the classical music world, though Blanchett points out, the film as a whole, is a very nuanced adult examination of the world in which we live.
Listen on Global Player: Classic FM at the Movies live playlist
"It's not a film about conducting," Blanchett told Lihoreau. "It's not a film even really about classical music. The character could just have easily been a master architect or a head of a major banking corporation.
"I think it's a very provocative film, but it really is an examination on the corrupting nature of institutional power. That affects everybody, no matter what your sexual orientation or your gender."
Read more: Cate Blanchett wins Best Actress Golden Globe for her lead role in 'Tár' as fictional conductor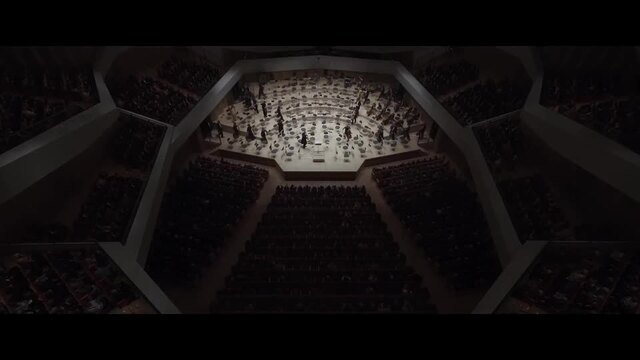 Watch the trailer for TÁR
While Blanchett spent her childhood in piano lessons, and at one time sang in a choir, she had never conducted before.
Learning to conduct is no mean feat on its own, but Blanchett also had to learn to conduct Mahler's Fifth Symphony, a work which takes a central role in the film.
"Todd Field, the director," Blanchett explained, "he's very big on authenticity, as are the orchestral musicians we worked with from the Dresden Philharmonic [who posed as the Berlin Philharmonic]. If you stand up there and you're inauthentic as a conductor, they're like 'get off the podium!', so I had the privilege of actually conducting the orchestra for the time of the film."
Prior to the production, Blanchett was working in Budapest, a place where Mahler wrote a lot of his music. Blanchett formed a relationship with concert pianist, Emese Virág, a teacher at the Budapest Liszt Ferenc Academy of Music.
"She talked to me a lot about the history of this music, which was incredibly valuable. And it was a very, very important relationship, I struck up with her."
Read more: Tár: who is Lydia Tár, what's the music and how did Cate Blanchett learn to conduct?
TÁR - "You Cannot Start Without Me" Official Clip - Now In Select Theaters, Everywhere October 28
During the interview, Blanchett recalled her childhood years learning to play the piano, when her teacher told her, "I don't think you're a pianist. I think you're an actor".
She continued, "So, I could read music… but nothing could have prepared me for standing on the podium and giving the downbeat and having that sound come back at me [from the Dresden Philharmonic]".
As well as learning the music, Blanchett also tried to learn and replicate the mannerisms of some of the world's greatest conductors.
"I'd heard that Simon Rattle, had talked about hearing music all the time," Blanchett continued, "and he realised quite quickly that that wasn't, 'normal' – not everybody heard that music in their head all the time.
Another musical characteristic embedded in the storyline is Tár's misophonia, which in Blanchett's words, means her character, "becomes very haunted by sounds that not don't bother other people.
"And in speaking to various different conductors, they also had it; it's what makes them genius listeners," the actor added. "However, to have this acute connection to acoustics can also be, on a social level, a massive impediment".
The learnings of Leonard Bernstein also feature heavily in the film, as Blanchett's character, Lydia Tár, is a fictional protégé of the American maestro.
To brush up on her Bernstein knowledge, Blanchett worked with conductor's real-life associate, John Mauceri, who advised on the film. It is clear from her performance, that the American conductor's learnings deeply influenced Blanchett's interpretation of Lydia Tár.
"Bernstein says," Blanchett continued, "that when you breathe in, that is the inspiration. And the exhalation is the music.
"When you're frightened, you forget to breathe. So when I was working with my friend, conductor Natalie Murray Beale, she said 'just remember to breathe, and breathe with the orchestra'."
As for Blanchett's future in conducting, while she told Lihoreau, "I certainly wouldn't call myself a conductor" she did say that if any orchestra was 'crazy enough' to ask her to conduct them, "I would give it a good Aussie go!".