From masked audiences to drive-in concerts: what classical music could be like in a post-lockdown world.
21 May 2020, 11:16 | Updated: 21 May 2020, 11:19
Concert halls are showing signs of reopening – but things won't be "back to normal" for a long time to come. Here's how various orchestras and organisations are adapting to a post-pandemic world.
As coronavirus lockdowns show signs of lifting around the world, life outside the home has hopes of resuming – albeit still far from 'normal' (whatever that may mean for each of us).
After shutting down in large swathes, the classical music world is tentatively preparing to come offline and back into concert halls, but with the social distancing measures that are our 'new normal' kept very much in place.
From members of audiences in masks, to musicians staying a certain distance apart, there are already concert hall contingencies being used to ensure concerts can go ahead safely IRL. Here are some examples that hint at how concerts of the future might look as we come out of coronavirus lockdown.
Latest coronavirus advice from the NHS >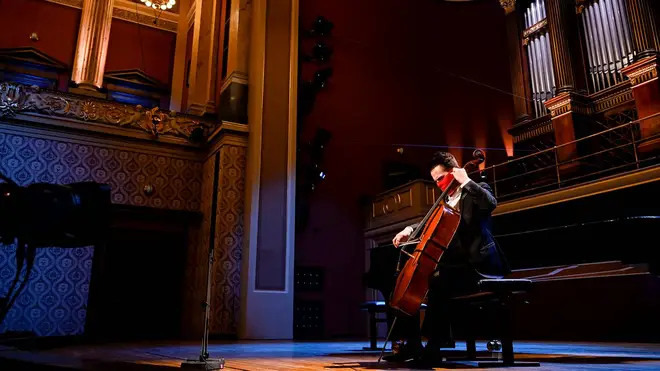 Concerts without an audience
At the beginning of May, the Berlin Philharmonic announced it would be returning to its home concert hall, the Philharmonie, for a special live concert – the first since venues in Germany closed in March and confined musicians to the safety of their homes.
The live orchestral concert, featuring music by Arvo Pärt, Ligeti and Mahler – as well as Barber's enduringly popular Adagio for Strings – was broadcast live on Saturday 2 May on the Berlin Phil's online concert platform, the Digital Concert Hall.
The Czech Philharmonic has also hosted concerts with no audiences – and observing strict social distancing measures (see images above, and video below) – during the coronavirus pandemic.
Read more: We're now getting a glimpse of what live music looks like post-lockdown >
Concerts with a small audience
As concert halls start to invite audiences to return, which Germany's Wiesbaden State Theatre already has, they are asking patrons to sit significant distances apart – something top performers, including soprano Anna Netrebko and baritone Michael Volle, have already called out and lamented on social media for being more extreme than in other areas of public life.
Reposting a photo of Volle's taken at Wiesbaden theatre (see below), soprano Sonya Yoncheva criticised the discrepancies seen between COVID-19 measures seen on flights and those seen in concert halls, saying "Culture is of high existential necessity! Bring it back to people!"
Read more: Opera stars say 'break quarantine', citing packed flights but near-empty concert halls >
I want that @WHO, as well as all our presidents and ministers explain us this! In my next flight I am going to stand up and sing in front of the passengers, because there YES isn't any risk of contamination? Culture is of high existential necessity! Bring it back to people! pic.twitter.com/Tx7qXnPViB

— SONYA YONCHEVA (@sonyayoncheva) May 19, 2020
Socially-distant performers
While opera singers have been going viral with performances from their balconies all over the world during lockdown, one company is taking tentative steps towards staging performances in public spaces again.
Victorian Opera in Australia has rejigged its rehearsal space in Melbourne's Horticultural Hall (Horti Hall, to locals) for opera performed in front of the camera for virtual school workshops, by singers observing social distancing.
Recently, three singers performed the 'trio' from Massenet's Cinderella featuring Cinderella and her two stepsisters, moving just enough to generate some action for the story – but never enough to come close to each other and endanger anyone's health. "It almost feels like a recital, but you're trying to keep it interesting at the same time," one of the singers, soprano Rebecca Rashleigh, recently told The Age. "It's a fine balance. You have to think more creatively: how can you interact without physically touching?"
Wiesbaden State Theatre was one of the first concert halls to reopen in Germany (see 'Concerts with a small audience' above), and it has been staging excerpts from operas with socially-distanced singers and only select instrumentalists accompanying, with Wagner's Tristan und Isolde – featuring tenor Andrea Schager and soprano Catherine Foster – slated for tonight (Thursday 21 May).
And performers at the Deutsches Schauspielhaus in Hamburg have been returning to dance rehearsals – albeit wearing foam contraptions (below) to ensure they stay a safe distance apart!
Read more: How has the coronavirus pandemic changed classical music? >
Deutsches Schauspielhaus in Hamburg - hier finden wieder Proben statt. Doch auch dort gilt die Abstandsregelung. Darsteller und Darstellerinnen helfen sich mit Pool-Nudeln. #corona #coronavirus

Posted by NDR Hamburg on Sunday, 17 May 2020
Audience-in-a-box
This year's Rossini Opera Festival, due to take place in Pesaro on Italy's coast from 8 to 20 August, is going ahead unlike festival counterparts that have already been cancelled this year due to the coronavirus pandemic – but with strict distancing measures put in place to protect audiences and performers as the threat from COVID-19 still hangs in the air.
The orchestra will play from the stalls of Pesaro's Teatro Rossini while an onlooking audience will be confined to the hall's boxes (we could think of worse things). Performances will also take place at the town's outdoor Piazza del Popolo. The final performance of the festival will remain quarantine-friendly as it will be streamed online to at-home audiences.
Drive-in opera
Drive-ins are starting to pop up all over the world, as popular alternatives to cramped concert halls and packed public spaces.
English National Opera is among the first art institutions to join the growing trend, with drive-in showings of Puccini's La bohéme and Mozart's The Magic Flute due to take place at London's Alexandra Palace in September.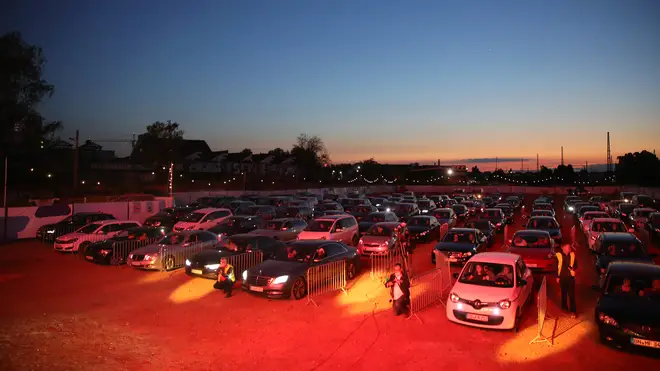 Masked audiences
Russia's iconic Bolshoi Ballet is looking tentatively towards re-opening this September. General director of the Bolshoi, Vladimir Urin, has said rehearsals could begin again in late July in an "optimistic scenario", but that while audiences could wear masks and stay apart, it would be more difficult to enforce similar social distancing rules in the ballet on stage.
Italy's government recently set out conditions that must be met by the pubic and public spaces as the country enters Phase 2 of its response to the pandemic, and events commence from 15 June. Like other venues, concert halls must pre-assign and space apart seats, with distances of at least one metre for both spectators and staff; and ask them to wear masks and other personal protective equipment (PPE).
The Italian government has also called for a maximum of 1,000 people allowed at outdoor events, and 200 for shows indoors, with different regions establishing different dates to end lockdown, depending on the progress of the epidemic in that region.
It'll be interesting to see what measures are announced for concert halls at home in the next few weeks as the UK enters its next stage in tackling the coronavirus pandemic...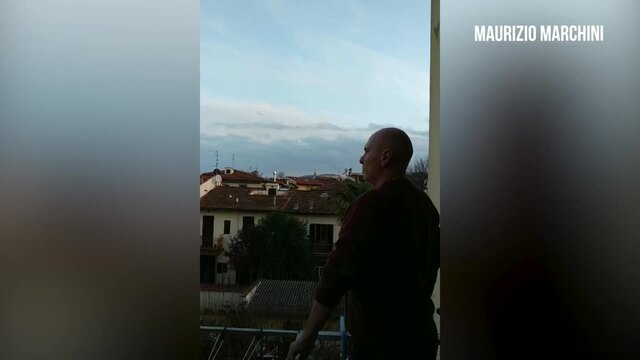 Quarantined Italian tenor passionately sings 'Nessun Dorma'
Temperatures taken
Part of Italy's measures for coming out of lockdown (see 'Masked Audiences' above) include the provision of venues to take staff and visitor's body temperatures, and only admit those with that of below 37.5 ° C.
The same measure has been in place in South Korea throughout lockdown, where theatres actually remained open and operated based on South Korea's 'test, track and trace' COVID-19 effort – something Andrew Lloyd Webber has recently urged other governments to look at as a method for theatres and other venues to reopen elsewhere in the world. Barber Sure on this Shining Night
00:02:17
Self-playing pianos
For piano-accompanied recitals, a post-lockdown solution could be found in self-playing pianos. Soprano Rachel Gordon recently posted her performance of Samuel Barber's 'Sure on This Shining Night' with a pre-programmed player piano – with playing by Victoria Royce – and the resulting video is as haunting and isolated as any concert without an audience we've seen so far (watch above).