Live orchestral concerts to begin again – Berlin Phil schedules first post-lockdown performance for this Saturday
27 April 2020, 12:48 | Updated: 1 May 2020, 16:38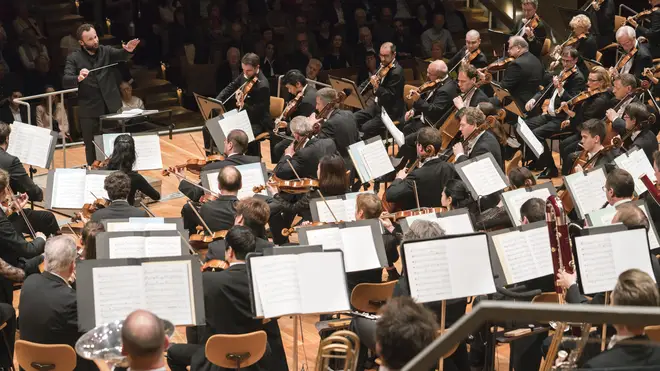 The legendary orchestra and chief conductor Kirill Petrenko will perform Arvo Pärt and Mahler in the resumption of music at the Berlin Philharmonie.
Across the world, measures to slow the spread of coronavirus have meant an abrupt halt to live music performances and in-person gatherings of musicians. Music festivals and concert performances have been cancelled as musicians have stayed at home.

It has been a time of striking solidarity and inventiveness in music, as players have created thousands of social distanced live performances and collaborations from their individual quarantine. However, as part of Europe has flattened the curve of COVID-19 cases, some governments have eased social distancing guidelines, allowing people to once again gather and make music together.
Click here for the latest coronavirus advice from the NHS >

Public performances by the Berlin Philharmonic were suspended from 11 March as the German capital entered lockdown. But now it has been announced that Saturday 2 May will make a significant moment, as members will come together on stage again and play as an orchestra for the first time in weeks.
Friday's concert will strictly adhere to current social distancing guidelines in Germany, with players forming a chamber orchestra, spaced apart from one another on stage. The programme includes Arvo Pärt's Fratres, music by Ligeti, Barber's Adagio for Strings and a chamber version of Mahler's Symphony No. 4 with soprano Christiane Karg.
There will be no audience present in the Philharmonie, but the performances will be live-streamed for free via the orchestra's Digital Concert Hall.
On 15 April, German Chancellor Angela Merkel announced plans to ease restrictions brought in to tackle the pandemic, amid signs the spread was slowing.
The orchestra said "In light of the coronavirus crisis, it was hardly to be expected that the Berlin Philharmonic's European Concert would take place at all this year. But now the concert will still happen – in a different form. Instead of a planned guest appearance in Tel Aviv, the Berlin Phil will perform in the empty Philharmonie in chamber orchestra formation, under strict health guidelines."
Lockdown, isolation and social distancing has been difficult for everyone, and this is just another step on a long journey. But this concert is a moment when, ever so slowly, we're coming together again. And the music will sound so good because of it.
Watch the Berlin Phil's concert live from Philharmonie at 18:00 BST on Saturday 2 May via the Digital Concert Hall.