Blind pianist Lucy's sublime Debussy Arabesque crowned winning performance in The Piano finale
15 March 2023, 22:53 | Updated: 16 March 2023, 09:26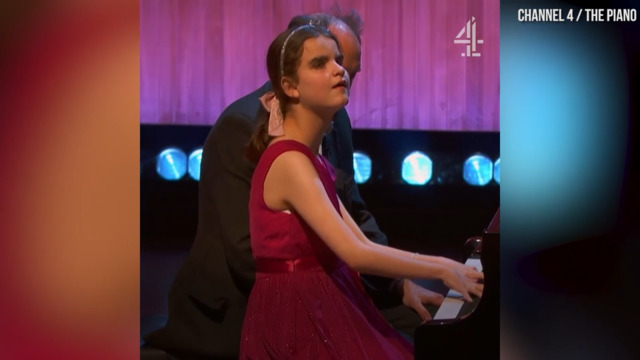 Lucy plays Debussy's Arabesque on Channel 4's The Piano
Young pianist Lucy gave a captivating performance of a Debussy Arabesque, in the finale of Channel 4's 'The Piano' at the Royal Festival Hall.
The Piano, which has celebrated the UK's very best amateur pianists with viral performances at train station pianos across the nation, has been the heartwarming musical TV talent show everyone needed.
And crowned for delivering the winning performance in Wednesday's show finale, was Lucy – a 13-year-old pianist who is blind and neurodivergent, and whose stunning Debussy captivating the judges and audience at London's Royal Festival Hall.
Lucy, from West Yorkshire, played alongside three other finalists, 25-year-old Jay from the Isle of Wight, 27-year-old Sean from Edinburgh and 26-year-old Danny from Manchester, in a concert broadcast on Channel 4 on Wednesday 15 March.
Ultimately, judge and pop singer Mika said, as Lucy's performance of Debussy's dreamlike Arabesque No.1 was announced as the winning performance, "It was about just highlighting if something extraordinary was to happen. Something that no-one could forget… and that happened."
Fellow judge and superstar pianist Lang Lang, who was captivated by Lucy's described the young pianist as a "real genius".
Read more: Blind 13-year-old pianist's stunning Chopin nocturne performance leaves Lang Lang speechless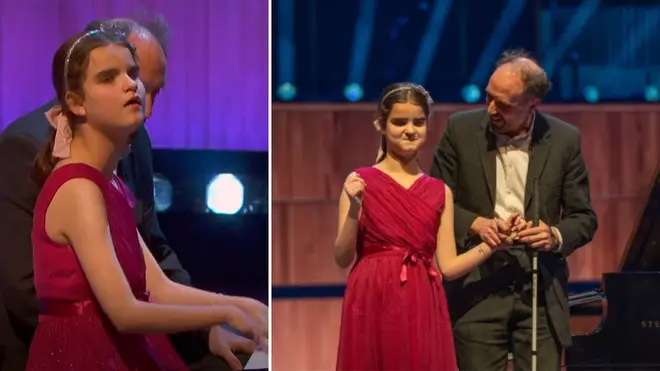 Lang Lang compared Lucy's musical choice to her performance of Chopin's Nocturne in B flat minor, given in Leeds railway station (watch below), in an interview ahead of the final concert,
"This piece is slightly harder," Lang Lang said of the Arabesque No.1. "Because the Chopin nocturne, it's easier to control the speed. This piece has to be... like you're opening a treasure.
"This is a challenge, this piece. But no challenge, no fun, right?"
Lucy's mother Candice previously told PA of the experience of Lucy, who developed her musical abilities with the help of the charity The Amber Trust, taking part in The Piano: "It's a once in a lifetime experience that neither of us will ever forget."
After the final, the charity tweeted about Lucy's performance saying it had been "a privilege to support Lucy over the last eight years by funding piano lessons with her wonderful teacher, Daniel".
Read more: Lang Lang astonished by 94-year-old pianist's 'powerful' concerto at Glasgow station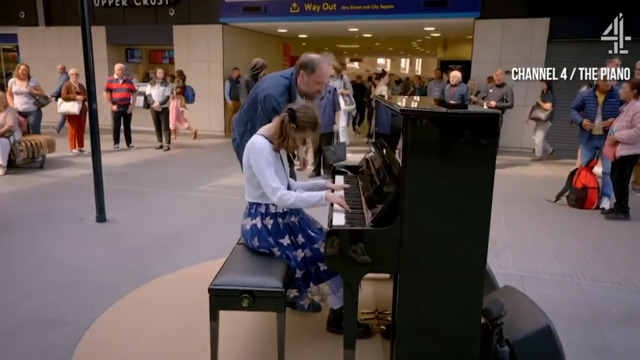 13-year-old blind and neurodivergent girl wows Lang Lang with Chopin piece on Channel 4 show
Hosted by Claudia Winkleman, The Piano saw piano-lovers from across the UK perform classical music, original songs and hip-hop ballads at train station pianos in London, Birmingham, Glasgow, and Leeds.
While the musicians played, Lang Lang and Mika watched behind the scenes and gave their verdict, eventually choosing a winner from each city to play in the final.
Read more: Lang Lang stuns London train station with impromptu piano duet with wife Gina Alice
After Lucy's playing was named the winning performance, the judges revealed that all finalists would be going home with the gift of a piano, to practise on at home.
It felt a fitting finale to a TV talent show quite different from all others.
For more beautiful Debussy and relaxing piano music, join Margherita Taylor for Smooth Classics every weeknight on Classic FM, from 10pm-1am.