Lang Lang astonished by 94-year-old pianist's 'powerful' concerto at Glasgow station
3 March 2023, 12:39 | Updated: 3 March 2023, 14:54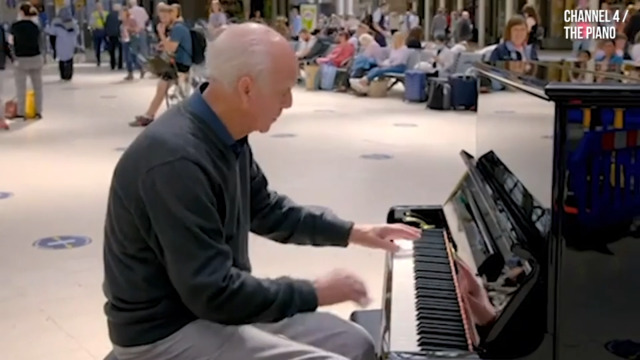 94-year-old man wows with showtimes medley on Channel 4's The Piano
George, a seasoned pianist and contestant on 'The Piano', captured the imagination of Lang Lang, who couldn't believe his age and dexterity at the keys: 'His condition is like… 60!'
A 94-year-old pianist who appeared on the third episode of Channel 4's The Piano has touched hearts across the nation with his romantic pianism.
George, who was the final pianist of the day at Glasgow Central Station, told TV host Claudia Winkleman before taking his seat at the piano stool: "I've been playing off and on now for about 85 years."
Every performance in The Piano is observed in secret on a TV screen by two superstar judges, internationally acclaimed concert pianist, Lang Lang, and pop singer, Mika.
Placing his fingers on the 88 keys, George serenaded the station concourse with Richard Addinsell's eternal Warsaw Concerto, which despite sounding like a soaring Romantic piano concerto, was composed in England during the Second World War for the British film Dangerous Moonlight (1941), about a Polish pianist forced to take refuge in England.
With an anticipating scale up the piano, George transitioned out of the Concerto into a few familiar melodies, including the best-loved 'That's All I Ask of You' from The Phantom of the Opera.
Watching behind the scenes, Lang Lang described George's piano-playing as "powerful", adding that he could barely believe the pianist's age. "His condition is like… 60!"
Read more: Blind 13-year-old pianist's stunning Chopin nocturne performance leaves Lang Lang speechless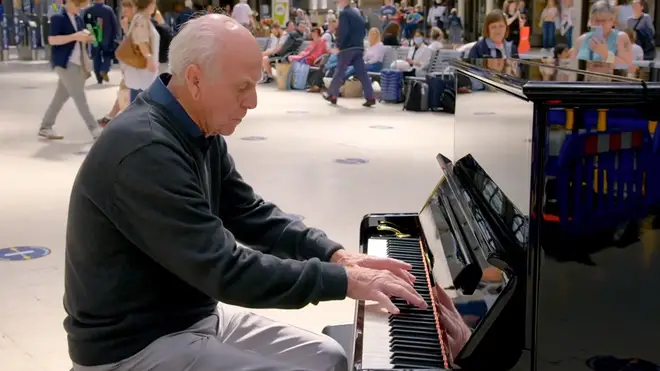 "Wow! Very good! Very romantic…" the Chinese virtuoso added, in his live reaction to George's playing. "He plays with this open heart."
Read more: Lang Lang and Gina Alice play a stunning husband and wife piano duet
Mika nodded, saying: "It's him, and it's completely credible."
In his interview with Winkleman, George explained that he often plays on the public piano, and that in his loneliness since his wife passed away, he has loved meeting new people, and playing for them.
"My wife's name was Mary and my oldest daughter is Janice," said George. "My wife died in 2010.
"I could spend a couple of hours up there in the station playing and made some friends, I didn't think I was all that good to be honest with you."
At the end of the third episode, while George impressed the judges, it was Sean, a 26-year-old pianist with Asperger's syndrome, who was chosen to perform at the show's Royal Festival Hall finale.
Read more: The Piano on Channel 4: what is the talent contest, who are the judges and when is it on?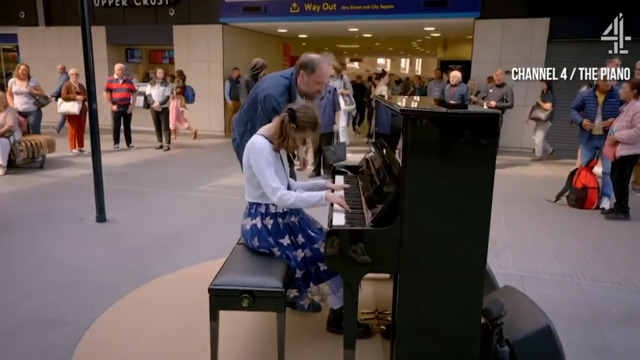 13-year-old blind and neurodivergent girl wows Lang Lang with Chopin piece on Channel 4 show
But that hasn't stopped his performance touching the hearts of the nation, who have been "crying their eyes out" at his performance and story, which speaks to the power and pure joy of making music.
"Aww George, you have my heart," one Twitter user said.
Another commented: "George, the last gentleman playing, put a tear in my eye. Very moving and so beautiful."
One user described his playing as "marvellous", saying: "Go George. Making and enjoying music into his 90s, and it's doing him so well."
Another said his playing reminded him of his grandad: "Just a wee 94yr old Glaswegian guy and his talent for playing the piano. Reminded me of my grandad."
The Piano has been filled with unexpected, joyous moments of music-making – including the moment 13-year-old Lucy, a blind, neurodivergent pianist, rendered Lang Lang speechless with her sublime performance of a Chopin nocturne (watch above).
For blissful piano music in the evenings, join Margherita Taylor and Myleene Klass for Smooth Classics on Classic FM, every night from 10pm–1am. Listen on Global Player.