Lang Lang stuns London train station with impromptu piano duet with wife Gina Alice
13 March 2023, 12:24 | Updated: 16 March 2023, 09:13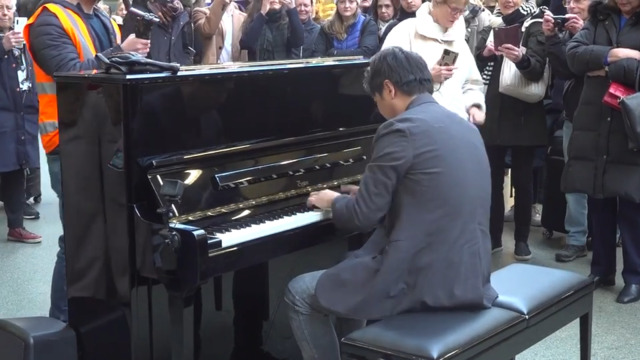 Pianist Lang Lang performs for the audience in St Pancras station
A train station piano concert was something Lang Lang had "never done before" – but was inspired by his time as a judge on Channel 4's The Piano.
Superstar pianist and now judge on Channel 4's The Piano, Lang Lang, took to the famous station piano at London's St Pancras to perform an impromptu concert for an unsuspecting crowd, in celebration of the hit TV talent show.
"It's my favourite show! It's not only [because] I'm in it… I really love it," the pianist joked while speaking to the crowd.
It was a relaxed recital of showstopper hits for the instrument, including Rimsky-Korsakov's rapid Flight of the Bumblebee, in a test of agility and pace for upright piano and player alike.
The Chinese virtuoso followed with an extract from Liszt's Liebesträume, before he was joined by his wife, German-Korean pianist Gina Alice Redlinger for a burst of Brahms' piano showstopper, the Hungarian Dance No.5.
The husband-and-wife duo went viral last year with a breathless rendition of the work, which they recorded exclusively at Steinway Hall for Classic FM.
Lang Lang told the Guardian after their station performance: "I didn't expect the train announcements, and also when the train stops, you can hear the sound, ssssss."
Read more: Blind pianist Lucy's sublime Debussy Arabesque crowned winning performance in The Piano finale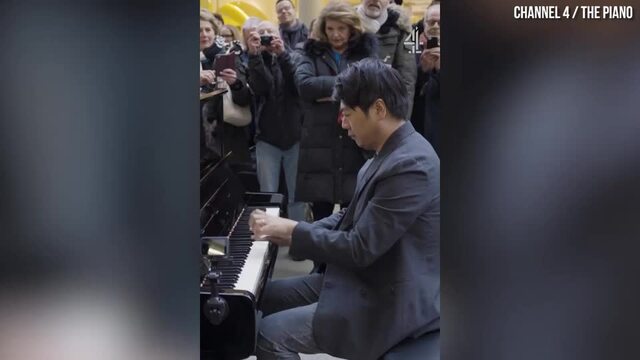 Lang Lang teases performance on Channel 4's The Piano
Lang Lang played at the St Pancras piano to mark the final episode of The Piano, a grand finale at the Royal Festival Hall which airs on Wednesday 15 March at 9pm.
"For me it was such a great privilege to be the judge on The Piano," Lang Lang told press. "[It] brings every background of amateur pianist […] into the train station to perform."
Read more: Lang Lang and Gina Alice play a stunning husband and wife piano duet
Speaking about his own experience sitting down at the station piano stool, the pianist said: "I always wanted to play [...] but as a judge I didn't have a chance, I was just listening in the back.
"Today finally, I'm having this opportunity to perform. So it's made me really excited and also a bit nervous, because this is my first time. When you perform there's a lot of unexpected things happening… you have to really concentrate, you still need to draw people in, and this is a great challenge.
"Every day people are coming through train stations, bus stations, airport… this is a moving world, and to be in the middle of this, and to bring music into their life, this is… the best."
Read more: Blind 13-year-old pianist's stunning Chopin performance leaves Lang Lang speechless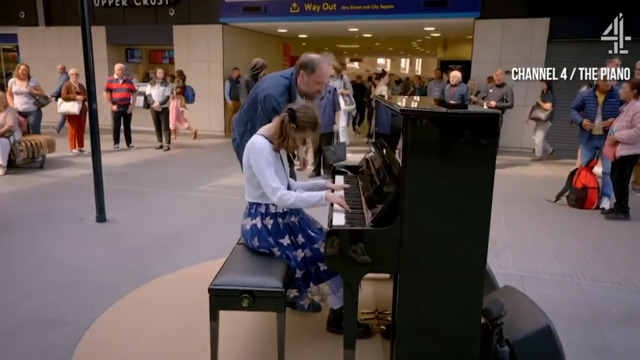 13-year-old blind and neurodivergent girl wows Lang Lang with Chopin piece on Channel 4 show
Lang Lang also praised his fellow judge Mika, for helping to introduce him to new genres of music that can live so naturally on the piano. "I'm really grateful to Mika… there's a lot of pop music on the piano, electronic music, I'm not so used to that. So he was explaining to me how it works combined with piano… it was fantastic."
"We even also performed together in the concert hall," Lang Lang added, appearing to hint at a duet between the two judges at the Royal Festival Hall finale.
The talent show has been a hit with viewers, with several clips going viral on social media – including this wonderful performance from Lucy, a 13-year-old blind and neurodivergent pianist, who stunned with a gorgeous Chopin nocturne, and this standout moment from George, a 94-year-old who touched hearts across the nation with his romantic pianism.