AGT's Detroit Youth Choir and Emanne Beasha stun audience with their pop music covers
11 September 2019, 12:57 | Updated: 11 September 2019, 13:07
The charismatic young choir and opera singer blew away the show's audience and panel of judges with spectacular renditions of two pop-rock classics.
Last night, America's Got Talent's Detroit Youth Choir moved their audience and panel of judges to tears with another standout performance at Hollywood's Dolby Theatre.
Teamed with colourful visuals and energetic choreography, the schoolchildren delivered a powerful cover of 'High Hopes' (see video above), a track originally released in 2018 by pop-rock band, Panic! At The Disco.
The young choir was part of the second group of semi-finalists to feature on the episode, along with singer Luke Islam, acrobatic dance group, V. Unbeatable, and opera singer Emanne Beasha.
Joining this week's panel of judges was American rapper, singer, songwriter and actress, Queen Latifah – set to play Ursula in Disney's forthcoming live event for The Little Mermaid – who told the 11 acts to "leave it on the floor" if they wanted to make it to the final five.
And the Detroit Youth Choir certainly achieved just that, stepping out on stage with a strong vocal performance that included beautiful harmonies sung in a joyful gospel style – and there was even a rapping interlude (scoring instant points with Queen Latifah).
But the chart-topping star wasn't the only one to be impressed by the young choir – Gabrielle Union was also moved to tears by their moving rendition: "I started off crying and then I couldn't stop!
"[You] took us to church, took us to praise and worship … took us to a step show."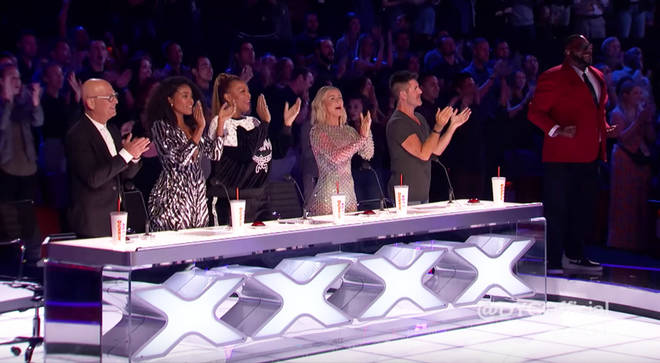 Simon Cowell added: "This is as good as your first audition."
Led by choirmaster Mr. White, the Detroit Youth Choir was set up in 1996 in the Detroit Metropolitan area to teach students aged 8-18 the value of music education, dance, and theatrical arts.
They have performed at several key events in Detroit, including at the Michigan Outdoor Adventure Centre's ribbon cutting ceremony before Governor Rick Snyder and Mayor Mike Duggan, and at the Rhythm & Blues Hall of Fame Induction Ceremony.
Also performing a pop rock cover on this week's episode was young opera singer, Emmane Beasha, who sang a stunning version of Bryan Adam's 90s hit, 'Everything I Do' (watch video above).
Mesmerising everyone with her high notes and crystal clear voice, the 10-year-old American-Jordanian soprano made the song her own.
And with competition this fierce, we're all left wondering which contestants will reach the finals.
America's Got Talent continues on NBC tonight at 8pm.