Blind AGT pianist Kodi Lee blows audience away with moving performance of 'Bridge Over Troubled Water'
14 August 2019, 13:40
Kodi Lee is blind and autistic, but that doesn't stop him from doing what he loves best – and this video of him performing 'Bridge Over Troubled Water' on America's Got Talent is totally inspiring.
A blind and autistic contestant on America's Got Talent has blown the judges and audiences away after his moving performance of Simon and Garfunkel's 'Bridge Over Troubled Water'.
In the clip (watch above), we see 22-year-old Kodi Lee showcase his impressive vocal range and piano skills on Tuesday's episode of the show, kicking off the first quarterfinal round.
Born with optic nerve hypoplasia, a visual disorder, Lee had to undergo life-saving surgery aged just five, and was later diagnosed with autism – but this has never held him back from pursuing his ambitions as a musician.
And as he sings and plays the piano chords to the 1970 pop classic, live from Hollywood's Dolby Theatre, his musical talent is clear to anyone watching.
During the show, AGT judge, Gabrielle Union, said that Lee had "changed the world" with his first audition, and had achieved the same result again with this latest performance.
She continued: "Who you are, what you stand for and what you continue to do makes the world become so much of a more beautiful place."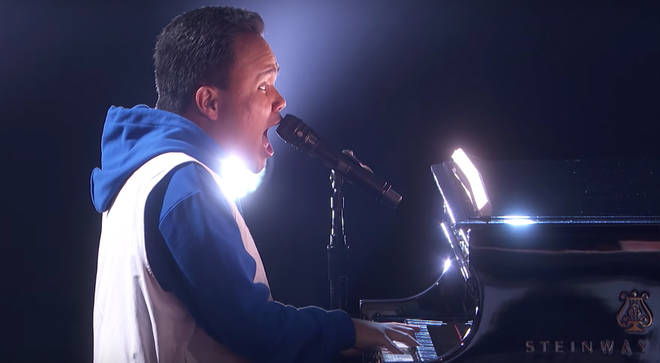 Simon Cowell also commented that Paul Simon, who originally wrote the song, had granted Lee special permission to perform the song "because he saw your audition," which has had more than 42 million YouTube views.
He added: "I want to thank Paul Simon, who never really gives permission for anyone to sing ('Bridge Over Troubled Water') because it's very precious to him, and he gave (Lee) clearance within 30 minutes."
"You are genuinely one of most extraordinary people and talents we've had the great fortune to have on any show we've ever made. God bless you."
And Kodi isn't the only young contestant to impress the judges lately – 12-year-old singer Luke Islam has also become popular with fans, following his powerful rendition of the Broadway hit, 'You Will Be Found'.
The heartwarming song is taken from the award-winning 2015 musical, Dear Evan Hansen, featuring music and lyrics by American songwriting duo, Benj Pasek and Justin Paul.
Through his musical performances, Lee hopes to raise awareness about autism and encourage others to pursue music.
His online bio states: 'He is one of only approximately 25 in the world today who possess his extraordinary abilities. Kodi's amazing gift lies within his musical expression, perfect pitch, and passion for all forms of music.'