These incredible 'vibrating vests' are changing live music for deaf audiences – watch how it works
20 July 2023, 09:51
This transformative tech uses vibrations to help improve the live music experience for deaf and hard-of-hearing audiences around the world.
A wearable vibrating vest is helping deaf and hard-of-hearing audiences experience live music across the world, from concert halls to silent discos.
The Vibrotextile™ wearable technology, developed by Not Impossible Labs, allows its user to feel live or pre-recorded music via 24 vibrating touch points within the vest's design.
The vests are "a fully accessible experience for people of all hearing levels", Daniel Belquer, the CVO (Chief Vibrational Officer) of Music: Not Impossible (M:NI), told Classic FM.
Belquer, who has worked with the Not Impossible Labs on this project for over a decade, has put on concerts involving these suits across the UK, US, Brazil, Japan and Australia.
The concerts range from outdoor orchestral performances organised by the Lincoln Center to a closed session for the Los Angeles Philharmonic, playing music by Borodin, Prokofiev and Dvořák.
Each vest includes 24 separate touch points, meaning up to 24 instruments can be transmitted to every vest. This allows even large orchestral scores to be translated directly onto the audience's skin. Watch a video of a vest wearer experiencing the vibrations of an orchestra below.
Read more: Braille music notation: what does it look like, how does it work and who invented it?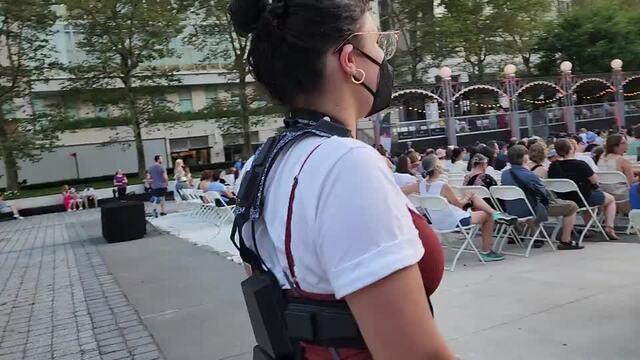 An audience member watches an orchestra perform while wearing Music: Not Imossible technology
How does a vibrating vest help deaf people experience live music?
Music isn't necessarily a completely auditory experience, it can be experienced via touch too. Whilst deaf people may not be able to hear music, they have found workarounds to experience live music. These can include standing near bass speakers, or holding onto items like balloons, so they can easily feel the vibrations created by the music.
Beethoven famously used bone conduction to continue composing music after becoming deaf. He would attach a rod to his piano, and clench that rod in his teeth, so he could feel the vibration of each note.
Unsurprisingly, the technology has moved on a little since the 19th century. The Music: Not Impossible tech is able to immediately translate musical instruments into vibrations, which are then distributed to the audience's bodies via the so-called, 'haptic suits'.
A 'VibroDJ' assigns which instrument appears on which of the 24 touchpads, using years of experience to inform where the violins or piano feel the best on the skin. The vest can produce an extraordinary 3,900 different frequencies across five octaves of microtones (between G1 and G6).
Read more: If Beethoven was completely deaf, how did he compose music?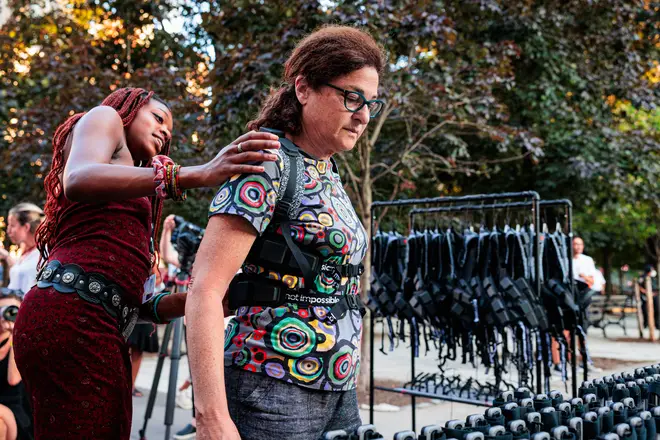 Translating an orchestra... onto a vest
In June 2022, the Mostly Mozart Festival Orchestra became the first live orchestra to use the M:NI technology in the USA.
"We present a number of orchestra concerts, and thought it would be a great opportunity to expand access to deaf and hard-of-hearing audience members not just for recorded music, but for them to also be able to experience the subtleties and nuances of a live orchestral experience," Miranda Hoffner, head of accessibility at Lincoln Center told Classic FM.
Two free performances by the Mostly Mozart Festival Orchestra at the Lincoln Center's 'Summer for the City' festival saw deaf and hard-of-hearing audience members offered M:NI haptic suits to wear during the concerts.
"One of Lincoln Center's top priorities is to make the arts accessible to the widest possible audience," Hoffner continued.
"We partnered with M:NI to rent the haptic suits and provide vibrational engineers to customise the haptic experience for each event, and we received such great feedback after the events last summer that we knew we had to bring them back again.
"It provides an extra level of access that is unique and gives audiences a new way to experience music."
This Saturday 22 July 2023, the Mostly Mozart Festival Orchestra will perform a free outdoor concert in New York featuring Korean music alongside works by Mozart and Beethoven, all offered alongside the option to wear M:NI technology.
Read more: Meet BSO Resound, the ensemble of disabled musicians changing the classical music world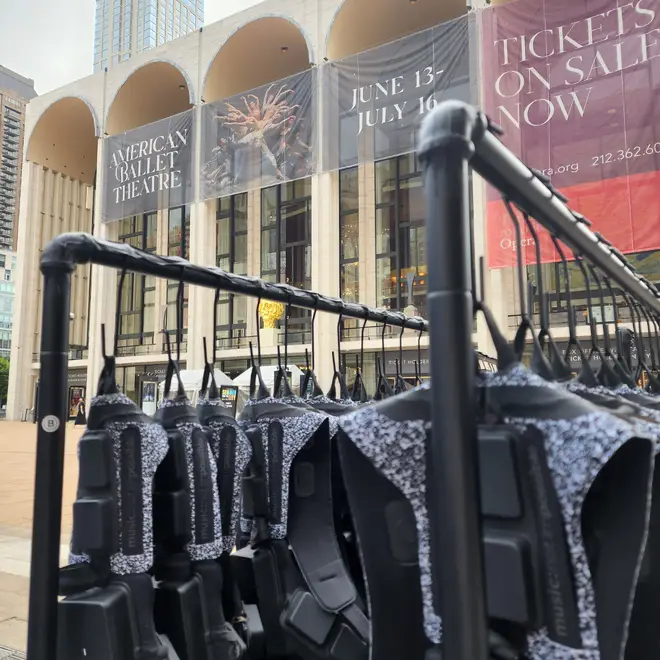 Belquer explained to Classic FM that the only setup needed for this transformative tech was a small box connected to a computer's USB port.
As the vests are wireless and battery-powered, they are able to work up to a whopping 40 miles away from their connecter, meaning they can be used at festivals and other large-scale events.
"This is the world's first-ever wireless, wearable, 24-voice, polyphonic vibration synthesizer," Belquer told Classic FM.
"We think it's fair to say that the experience we provide is unique and has never been done before.  This is truly a quality experience and beyond what other available technologies are able to do."
To enhance the concert experience for the deaf and hard-of-hearing community, the Lincoln Center added ASL interpreters to their performances, in order to sign not only the spoken words but also the music.
Last year, Alberto Madiero, one of the concert's ASL translators, told organisers that the vests "brought tears" to his eyes and "moved his soul".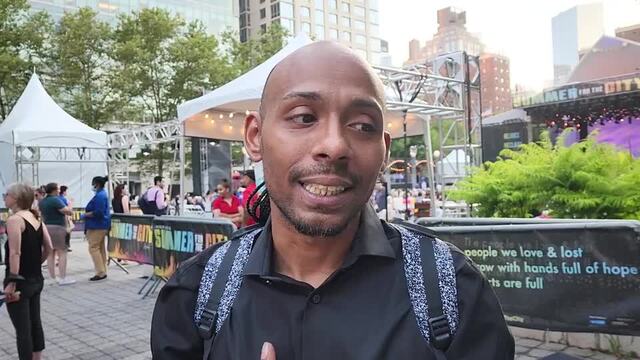 Alberto Madiero, an ASL Translator, explains how Music: Not Imossible technology helps deaf audiences experience music
From the orchestra to the opera stage
Opera Philadelphia was one of the first classical music venues to trial the M:NI technology in May 2022.
Taking the form of two relaxed performances titled, Resonant Philly, the programme included a premiere of a work by Belquer called, MISUPUNTUS (A Magnetic Introduction to a Parallel Universe Previously Unknown To Us).
Recorded by the Opera Philadelphia Women's Chorus, the work was composed for an acapella chorus and vibrations created by the suit.
"I consider this an important piece, because it was the first ever where I composed primarily for the vibrations and included the music after the initial layout of the haptic composition, therefore reversing the usual process," Belquer told Classic FM.
Belquer is due to start teaching a class at Drexel University in Philadelphia in autumn 2023 teaching sixteen music industry students how to use and compose for this technology.
Read more: The game-changing instruments disabled musicians can play using just their eyes
The Philly opera house making music accessible | Just Might Work
Describing the technology as "a truly unique musical experience", the vice president of community initiatives at Opera Philadelphia, Veronica Chapman-Smith, told Classic FM that the opera company will stage two more concerts involving the M:NI vests.
These are programmed for September 2023 and will include existing music by Florence Price and Margaret Bonds.
Chapman-Smith explained that the haptic suit "offers a glimpse of a future where every audience member can find a sense of welcoming and belonging."
Read more: Deaf hip-hop dancer uses Beethoven to make a powerful point about music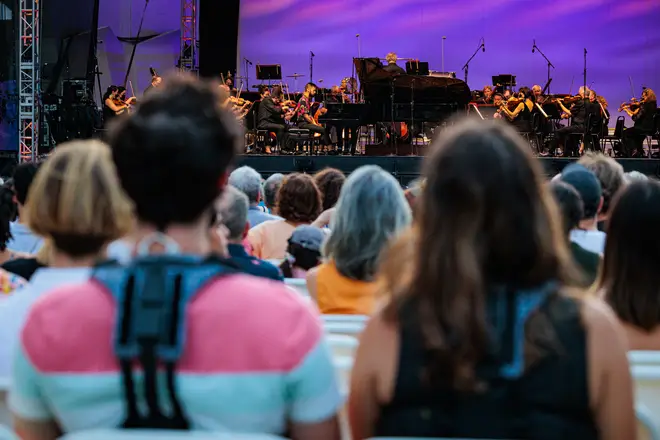 The reaction from deaf audiences to this new technology
"When we were at a concert in London last year, one of the deaf participants told us that even though music was a very big part of his partner's life (who was hearing), he couldn't share in it because he didn't enjoy himself at all at shows and concerts," Belquer told Classic FM.
"When he tried on the M:NI suit, he said to us, 'Now I can not only accompany my partner to music events, but I can enjoy it too!'.
"This was very important for us because although we initially set out to create a better experience for the deaf and hard-of-hearing, the technology went beyond that."
Belquer concluded, "It brings people together through the sense of touch. Using the skin as a canvas for togetherness. It's all about the human connection."