Best anime music: 10 pieces from the world of anime TV and film
29 December 2021, 09:38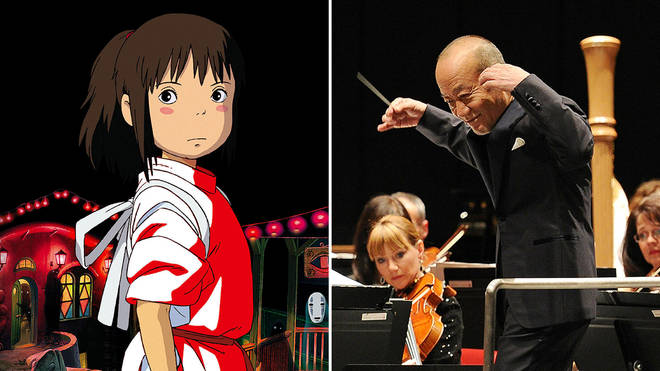 Big anime TV and film productions are often coupled with powerful scores. Here are some of the best ever composed – from Studio Ghibli and beyond.
Anime is the Japanese word for 'animated', and outside Japan it has come to refer specifically to Japanese animated film and TV series, often inspired by manga, which is Japan's answer to comic books.
Anime has many different genres and styles, and is dominated by a few big production houses, including Studio Ghibli, Sunrise, and Toei Animation.
And big TV and film productions call for big soundtracks. Many of from Japan's leading composers, including Joe Hisaishi, 'The John Williams of Japan', Ryuichi Sakamoto, who wrote the Oscar-winning score for The Last Emperor, and Naoki Satō, who wrote the Victory Ceremony music for the Tokyo 2020 Olympic Games.
Here is some of the best anime music ever written.
Read more: The 20 best animated film scores
Joe Hisaishi: Spirited Away

Spirited Away quickly became the highest-grossing film of all time in Japan when it was released in 2001. The accompanying soundtrack was written by Joe Hisaishi, a film composer known especially for his distinctive piano scores, who has been associated with filmmaker Hayao Miyazaki and his Studio Ghibli since the 1980s. Highlights from the Spirited Away soundtrack include the pretty piano-led 'One Summer's Day' and 'The Sixth Station', which is all yearning strings and uncertain harmonies.

Read more: Pre-order Joe Hisaishi's new album 'Songs of Hope' here

Joe Hisaishi: Howl's Moving Castle

The soundtrack to Howl's Moving Castle (2004) is by Hisaishi as well. We love the main theme, especially when it transitions into a lilting waltz. The magical score sets us up for a tale where we meet Sophie working away in the hat shop owned by her late father and encounter the development of her unlikely friendship with the Wizard, Howl. What ensures is a wonderous adventure featuring a castles, curses, demons and dimensions.

Listen on Global Player: Classic FM Video Game Music playlist

Ryuichi Sakamoto: Royal Space Force

Ryuichi Sakamoto is known for scoring historical dramas like Merry Christmas, Mr. Lawrence (1983) and The Last Emperor (1987), but he's also been called on to write and direct music for anime productions. He was the music director for the 1987 anime film Royal Space Force: The Wings of Honnêamise, about a disillusioned man who volunteers to be an astronaut.

Hayato Matsuo: JoJo's Bizarre Adventure

JoJo's Bizarre Adventure is a TV series based on the manga of the same name, which tells of the mysterious adventures of the Joestar family across generations – from the 19th century to modern times. Composer and orchestrator Hayato Matsuo wrote gripping orchestral music to bring the on-screen action vividly to life.

Read more: The best video game music

Kōhei Tanaka: One Piece

For the whacky manga-turned-anime series about the pirate escapades of a boy, Monkey D. Luffy, whose body has rubberlike properties, Toei Animation called in Japanese composer Kōhei Tanaka. Tanaka studied at Berklee College of Music in the US, and has scored numerous other anime series and films, including Gunbuster and Sakura Wars. as well as video games and life action features.

Joe Hisaishi: My Neighbour Totoro

Hisaishi's music for Hayao Miyazaki's 1988 My Neighbour Totoro is light-hearted and child-like, accompanying as it does the young Satsuke and Mei's adventures with spirits of the forest. We love 'The Path of the Wind', which starts with light pizzicato strings and progresses through varied lyrical string passages.

Joe Hisaishi: Princess Mononoke

Tokyo City Philharmonic Orchestra performed the soundtrack to Miyazaki's 1997 Princess Mononoke, which tells of the breakdown of harmony between humans, animals and gods. The main theme features a beautiful sweeping piano melody scored with lush, soaring strings, that's picked up by various members of the orchestra: it's Hisaishi orchestral scoring at its best.

Hiroyuki Sawano: Attack on Titan

Another anime inspired by manga, the Attack on Titan series features music by Hiroyuki Sawano. The post-apocalyptic plot centres the small remains of humanity as they forge a life behind walls that protect them from giant humanoid Titans. Sawano's soundtrack is packed with tension, drama and a bold mix of instrumental and vocal genres.

Joe Hisaishi: The Wind Rises

Studio Ghibli's 2013 The Wind Rises is an animated biopic of the life of Jiro Horikoshi, the pilot and chief engineer behind some of Japan's fighter aircraft used during the Second World War. Scoring the film, Hisaishi opts for warm jangly guitars and accordion over his more usual choice of piano and orchestral strings.

Naoki Satō: Sword of the Stranger

Leading Japanese composer Naoki Satō composed a ravishing orchestral score for the 2007 anime film Sword of the Stranger. The open, soaring strings heard in the 'Ihojin No Yaiba' battle theme are a real highlight, and the film's main theme features a beautiful, evocative flute melody answered by full orchestral strings. Enchanting.