Violinist Anne-Sophie Mutter stops mid-concerto as audience member starts filming
30 September 2019, 16:42 | Updated: 1 October 2019, 10:07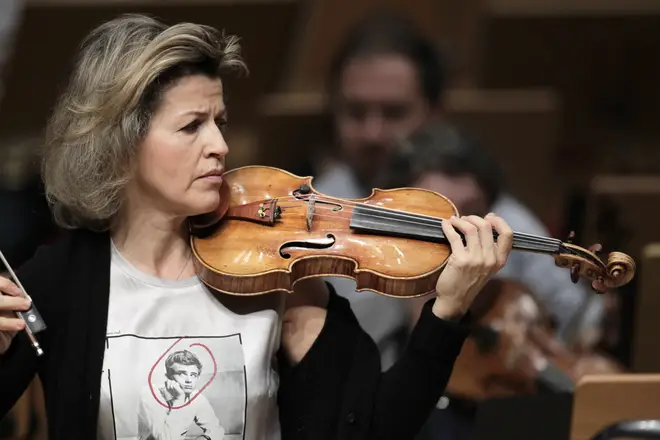 The smartphones that dominate our lives are becoming an increasing presence – and for many, a problem – at live music events. Does Anne-Sophie Mutter's experience indicate that classical music is the latest frontier in our current 'capture-the-moment' madness?
Violinist Anne-Sophie Mutter was in the middle of performing Beethoven's Violin Concerto last night when the glare of a smartphone stopped her mid-movement.
Mutter was performing the slow, middle movement of the concerto, when she suddenly stopped and confronted a member of the audience in the front row – because they had their phone out and were filming her performance.
The violinist used the pause in her playing to ask the audience member to stop recording and, during an exchange of apparently a few minutes, is reported to have said: "Either I will leave, or you will put away your phone and recording device."
Read more: Anne-Sophie Mutter and John Williams release new collaboration, 'Across the Stars' >
After the disruption, the audience member was escorted out of the concert hall. Mutter, and conductor Eun Sun Kim, began the slow movement of the concerto again.
Austin Larson was there, and has taken to social media to describe the incident.
Larson wrote in a Facebook post: "Respect the Art Form: Tonight in Cincinnati the CSO and our patrons were witness to a surreal mid-Beethoven violin concerto spectacle when soloist Anne-Sophie Mutter stopped cold halfway through the 2nd mvt to confront a millennial-looking audience member who was video recording the performance from the 2nd or 3rd row.
"When the offender had the gall to stand up(!) and talk back an argument ensued and was only defused when the CSO's president got up from his seat to eject her from the hall before the 2nd mvt was replayed.
"Apologies Maestro Beethoven for the hideous desecration of your music and an extra apology on behalf of millennials for such a poor representation of our generation. Unbelievable!"
Several people have commented on the post, sharing their opinions of the incident – "unbelievable" writes one user – while also detailing similar incidents they've experienced in classical music:
"I walked out onstage for a solo performance in another country a few years back to the sight of over one hundred people holding up their phones to video my playing rather than really listening," writes horn player Bill VerMeulen.
"I was shocked. Music is best live, period. Turn your phones off. Listen. Experience. Feel. Know."
Read more: Is it OK to use your mobile phone during a concert? >
While smartphone intrusions remain relatively rare in live classical music concerts, they are an increasingly recognised problem in pop and rock gigs.
Back in June, pop sensation Billie Eilish used her Pyramid Stage spot to call out how people use their smartphones at gigs while suggesting they "live in the moment" rather than looking through their phone screens:
"All I ask is that we all try to live in the moment," the 17-year-old American singer said. "And a lot of the time I would say, 'Put your phones away,' but if you wanna film, that's okay, just put it next to your face."
She joined a long list of artists, including Guns N' Roses, Jarvis Cocker, Alicia Keys, Kendrick Lamar and Adele, who have previously called out how smartphones are used at gigs.
While ringtones have been known to disrupt many a concert – here are four of the most noteworthy times captured on video, – ironically, we've so far managed to stay relatively at arms length of the smartphone, moment-capturing craze in classical music.
Last year, though, it was revealed that one in five teenagers claimed they would actually engage more with classical music if they could use their phones to capture moments and share them on social media during concerts.
Read more: One in five teenagers want to use their phones at orchestral concerts >
Artist and orchestras have different approaches to phones in concerts, and that's fine. Classical music has a bright future in the age of 5G, live-streaming and instant messaging – we just hope for complete concertos alongside the Instagram sharing...