Braimah Kanneh-Mason performs deeply moving 'Schindler's List' theme 30 years on from the film's release
10 February 2023, 17:06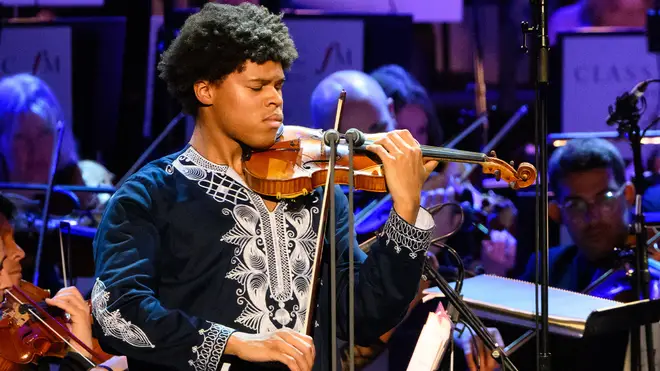 Watch the young violinist play the timeless emotive theme from the 1993 film, on stage at the Royal Albert Hall.
30 years ago this November, Steven Spielberg's multi-award winning movie Schindler's List was released in cinemas.
The film is a landmark in the history of Holocaust media, not only putting the horrific events of the mid-20th century on the big screen, but also being a catalyst that inspired many survivors to share their stories.
One reason for the film's worldwide acclaim comes in the form of its soul-stirring soundtrack, written by legendary composer, John Williams. Williams is the most Oscar-nominated man alive, and won his fifth 'Best Original Score' award for Schindler's List. The film's main theme, a weeping solo violin line accompanied by orchestra, has become one of the world's most recognisable soundtracks.
Violinist Braimah Kanneh-Mason, the second-eldest of the musical Kanneh-Mason family, performed the impassioned theme at Classic FM Live last October at the Royal Albert Hall with the Bournemouth Symphony Orchestra, conducted by Kirill Karabits. Watch the deeply moving rendition below.
Read more: Organist Anna Lapwood plays epic 'Star Wars' in fireworks-filled finale at Royal Albert Hall
Deeply moving 'Schindler's List' violin solo by Braimah Kanneh-Mason | Classic FM Live
For the film's soundtrack, the heartbreaking main theme was played by the Jewish violinist, Itzhak Perlman.
The violinist was reportedly amazed by Williams' authenticity when it came to the sound world of his score, as the composer used motifs inspired by the traditional Jewish music of central Europe.
Williams was in fact however, not confident that he was the best man for the job when he was asked to write the score by Spielberg, despite his many awards and accomplishments to date.
After watching the film for the first time, Williams said to Spielberg, "You need a better composer than I am for this film," to which Spielberg responded, "I know. But they're all dead!".