Organist Anna Lapwood plays epic 'Star Wars' in fireworks-filled finale at Royal Albert Hall
7 February 2023, 13:48 | Updated: 25 August 2023, 15:35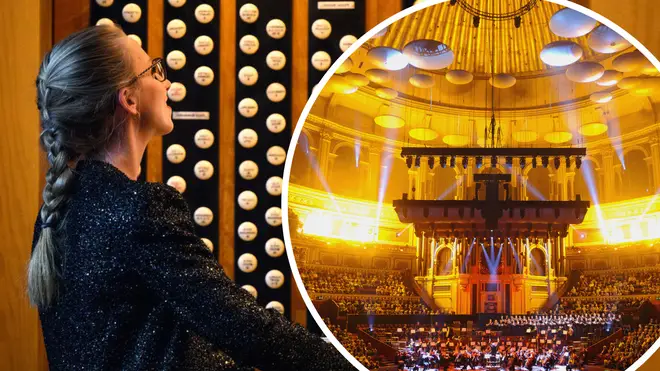 This inspirational music has us feeling like we could take on the whole empire right now…
The music of Star Wars is synonymous with the grandeur, exploration, and triumph of the story told by the series' extensive cinematic universe.
Written by John Williams and first recorded in 1977 by the London Symphony Orchestra, the over four decades-old score requires 100 players to bring this at times bombastic, and others gentle, musical storytelling to fruition.
In October 2022, the Bournemouth Symphony Orchestra (BSO) graced the stage of the Royal Albert Hall at Classic FM Live to perform a selection of legendary film soundtracks, including musical themes from A long time ago in a galaxy far, far away.
The orchestra was joined by the exuberant organist Anna Lapwood who brought an extra jolt of jubilation to this starry-eyed performance of 'The Throne Room' and 'End Title' from Star Wars: A New Hope (watch below).
Read more: Cellist HAUSER plays 'Phantom of the Opera' on Lloyd Webber musical's 35th anniversary
Star Wars Finale! Orchestra plays with organist Anna Lapwood | Classic FM Live
While Williams didn't include an organ part in his original score, Lapwood wrote her own part for the Royal Albert Hall's giant instrument, boosting the strong brass section of the BSO, Classic FM's Orchestra in the South of England, under the baton of Ukrainian conductor Kirill Karabits.
Lapwood is a Royal Albert Hall Associate Artist, and as part of her tenure, has been given access to practice inside the 152-year-old concert hall during the early hours of the morning.
Her late night practice sessions have gained her thousands of followers on social media – in particular TikTok, and her videos have been bolstered by the high-profile interactions she has found herself a party to.
In May 2022, Lapwood joined British musician and DJ Bonobo in a concert at the Royal Albert Hall after his band heard her practising while they were setting up; in October later that year, Lapwood taught the Italian composer, Ludovico Einaudi to play the organ after he interrupted her late night practise session; and later that same month, Lapwood was invited by actor Benedict Cumberbatch, to play after his performance at 'Letters Live'.
How to Train your Dragon... on the ORGAN! | Anna Lapwood
As demonstrated by her writing for the Classic FM Live Star Wars performance, Lapwood has a knack for arranging film music for organ, and has gone viral for her interpretations of film soundtracks including How to Train your Dragon, and Interstellar.
On 21 April 2023, Lapwood released her first solo organ EP with Sony Classical, Midnight Sessions at the Royal Albert Hall, with music from How to Train your Dragon, Pirates of the Caribbean, The Da Vinci Code, and two tracks from Interstellar.
Join us at 9am on Monday 28 August as we count down your Top 100 favourite film scores in the Classic FM Movie Music Hall of Fame 2023.