12-year-old Ukrainian refugee lands a place studying piano at the Junior Royal Academy of Music
2 February 2023, 16:45 | Updated: 3 February 2023, 10:37
After fleeing her home country last year, Ukrainian refugee Kateryna Pyshniuk is now studying on a full scholarship at the UK's oldest conservatoire.
A 12-year-old Ukrainian refugee has said that getting a scholarship to the Royal Academy of Music was "like the best birthday present I could ever imagine".
Kateryna Pyshniuk fled her home country with her mother, Anna, in April last year. At the time, she was a student at the Kyiv Lysenko State Music Lyceum, one of Ukraine's top specialist music schools, studying piano.
But when the war broke out, she stopped practising due to everything going on around her.
"In Ukraine, it was so hard to forget for even two minutes about all the bad and dangerous things going on around me," Kateryna told Classic FM.
After spending some time in Slovakia, Kateryna and her mother were able to acquire UK visas. And within three weeks of arriving, the talented young pianist had secured a full scholarship place at the prestigious Royal Academy of Music's junior department.
Read more: Pianist plays beautiful melody in the ruins of Kharkiv, in a scene reminiscent of 'The Pianist'
"She is jaw-droppingly good"
After attaining her place at the Academy, Kateryna also successfully auditioned for a full scholarship to Bristol private school, Clifton College.
The school's head of music, Daniel Robson, told Classic FM that Kateryna is "jaw-droppingly good" and "absolutely amazing for her age".
After listening to her play her first audition piece, in the summer of 2022, Robson left the audition room to fetch the school's headmaster, telling them, "you have to hear this musician".
The young pianist now also receives piano lessons at school, plays in a school string trio, and has vocal lessons with the head of music.
Alongside her studies at Clifton College and the Academy, Kateryna does a virtual Ukrainian school in the evenings, and finds time to practise between three and four hours a day on weekdays, and five hours on a Sunday.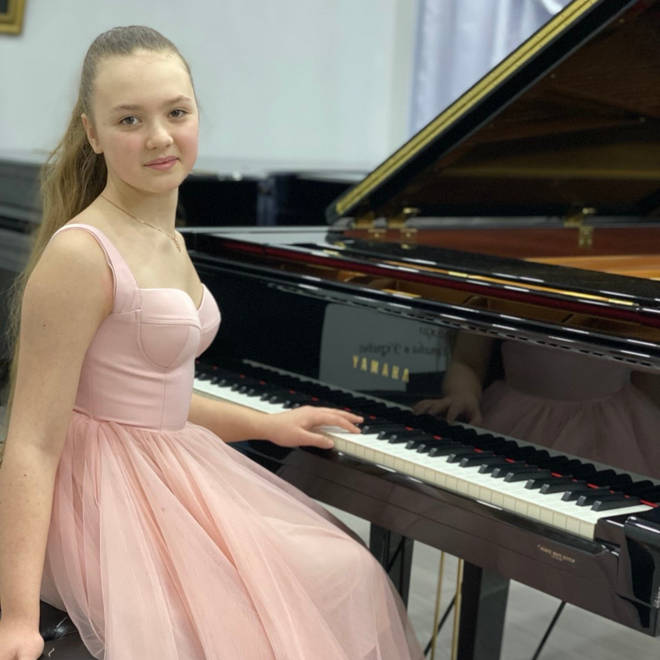 "When she started playing, the room just fell silent"
When Kateryna arrived in the UK, her host family at the time suggested she audition for the prestigious junior programme.
While it is usually highly unlikely that junior conservatoire programmes in the UK will take on new pupils during the school year, Kateryna had an exception made for her due to the circumstances.
John Hutchins, director of the Junior Academy, recalled the day Kateryna came down for her audition – coincidentally, the day of the pianist's 12th birthday.
"I like to be in every audition," Hutchins said, "and Kateryna's face just lit up when I took her into a room with two grand pianos – she couldn't believe she actually had the choice of which one to play. When she started playing, the room just fell silent."
After her standout audition, Kateryna was awarded a scholarship on the spot. The Royal Academy of Music's junior programme has nearly 500 students, and has trained some of the UK's greatest musicians, including Sheku Kanneh-Mason, Jacob Collier, and Elton John.
Around 70 percent of students on the junior programme will go on to study music at conservatoire or university following their time on the junior programme.
"I owe everything to my piano teacher"
At the Kyiv Lysenko State Music Lyceum, where Kateryna was studying when the war broke out, she took lessons with piano professor, Maryna Savchenko.
"I owe everything to my piano teacher," the young musician said of Savchenko. "She was a really important part of my musical and piano life; she will truly remain in my heart always".
Kateryna is one of over five million people who have been displaced from their homes into Europe since the war in Ukraine began in February 2022.
Before she managed to flee her home country, the young pianist recalls her home being damaged so badly that playing the piano was almost impossible, as the instrument was in a room so cold, "it felt like I was playing on ice".
Read more: Choirboy William, 10, says singing in a cathedral choir helps manage his arthritis pain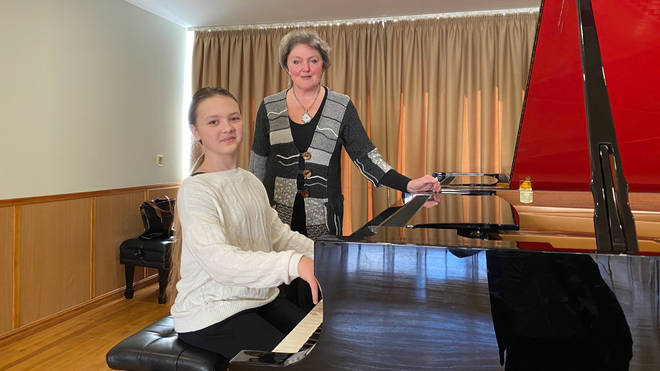 Kateryna's place at the Academy has been funded by the conservatoire's Ukraine Response Fund, a fund available to students of all ages that was set up to support students impact by the conflict.
A spokesperson for the Royal Academy of Music said they "wanted to ensure that talented musicians impacted by the conflict who needed a way to continue their musical education could come and study with us in London".
"In some cases, we've been able to offer early admission to provide some sanctuary and protection to students who have been forced to flee their home country.
"We have also supported a number of younger Ukrainian students who were in the UK to train with Junior Academy. This includes supporting with tuition fees and travel costs, helping them to access the best training."
Kateryna, who has now been a student at the Academy for over half a year, told Classic FM that she sees her scholarship "as a present from the people of England to me".