Choirboy William, 10, says singing in a cathedral choir helps manage his arthritis pain
31 January 2023, 17:32 | Updated: 31 January 2023, 17:34
We spoke to a 10-year-old choirboy living with juvenile idiopathic arthritis who says that singing helps him feel better.
William is a 10-year-old senior chorister at Ripon Cathedral, who has been singing with the historic cathedral choir for just over three years.
Like other boys his age, away from singing William enjoys playing with his friends, but finds some activities hard to participate in due to his condition. "I find it hard to do some sports, like playing football with my friends," William told Classic FM, "because of the pain I get in my hips, fingers, knees and toes".
William lives with juvenile idiopathic arthritis, an autoimmune condition which starts in children under 16 years old and causes joint pain and inflammation. Arthritis is one the biggest causes of pain and disability in the UK, and affects over ten million people of all ages.
However, William finds that singing is a great way of limiting his pain, and explained that music has the ability to, "make my pain go away and make me very happy".
Read more: Man living with Parkinson's disease: 'When I play piano, the tremors disappear'
Dr Benjamin Ellis, senior clinical policy advisor to the charity Versus Arthritis and consultant rheumatologist told Classic FM that, "the physical and mental health impacts of arthritis cannot be understated – it puts lives on hold, and it can stop people working, going to school, and living independently."
While William is still able to attend school thanks to a range of treatments, he says that writing can prove tricky, and he's sad that he's not able to join in with friends all the time on the playground because of pain.
In the above video, we meet William and his mum Sarah, who also has a type of arthritis. Sarah, who is a former police officer, lives with psoriatic arthritis – an autoimmune condition that affects about three in every ten adults who have psoriasis of the skin – and was able to spot the signs that her son could have arthritis when he was just a baby.
"From when he was a toddler," Sarah began, "William's feet were splayed inwards and he was generally quite stiff. Then when he was six, he ended up in hospital because one day, he just wouldn't put his foot down".
Sarah had suggested arthritis as a possible explanation for William's pain, but it took multiple consultants over 18 months before a rheumatoid doctor found the inflammation in his wrists and knees, pointing to a diagnosis of juvenile idiopathic arthritis. Previously, doctors had thought his pain could have been caused by sensory issues, as William is also autistic.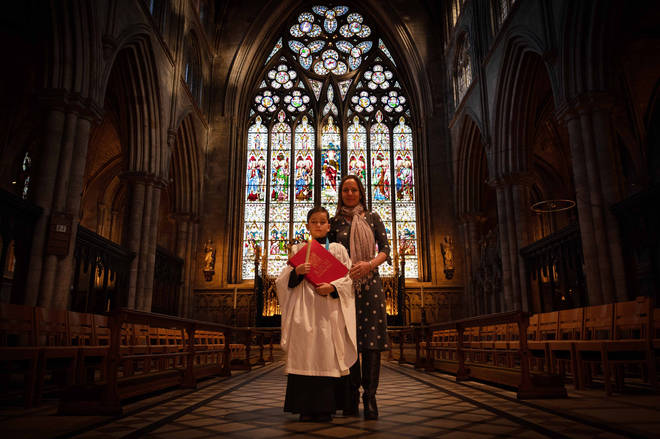 Singing to ease the pain
"One night we were driving past the cathedral", William recounted, "and it was all lit up, so I turned to mummy and told her I wanted to sing there".
Whilst his dad plays the piano, the family didn't have a connection to the famed North Yorkshire cathedral and its music scene prior to this, leaving Sarah apprehensive about taking William to sing there, particularly with regard to how his symptoms would affect his experience.
But she needn't have worried as William gleefully shared, "when I'm at the cathedral I like to feel the music through my feet", referring to the vibrations made by the rest of the choir and the centuries-old organ.
Dr Ellis, who also sings in a choir, the North London Chorus, told Classic FM: "Lots of studies have found physical, psychological and social benefits of singing for people with long-term conditions. Often people think about singing being helpful for people with breathing problems, but a 2020 study suggested that group singing could reduce pain and depression for people with a long-term health condition."
When singing in a cathedral choir, many musicians and churchgoers will know that the choristers have to stand up and sit down at certain times throughout the service. However, Sarah was impressed at how inclusive the cathedral was – not only allowing William to sit down whenever he needed to due to his pain, but also giving him a cushion to use during rehearsals and services.
"If anyone with arthritis, or anyone who has a child with arthritis is concerned about accessing a cathedral choir, or any type of music making, please don't hold back, because it can really really help," she said.
Read more: Study finds live classical music has huge emotional benefits for children
Ripon Cathedral has a boys and a girls choir, with up to 48 choristers between the ages of 8 to 13 years old taking part in these ensembles.
As well as singing, being a chorister at the cathedral allows for the young musicians to take part in other musical activities such as free singing lessons, group music theory classes, and a bursary which choristers can use to access instrumental lessons.
William plays the piano and the clarinet outside of his cathedral life, though does find it hard to play the former in particular due to his arthritis. While he would like to continue playing the instruments, singing is his favourite way to experience music without hurting his joints, and William says one day he'd like to sing with the Choir of King's College, Cambridge.
Dr Ellis concluded, "Singing can allow people with arthritis to engage with, explore and enjoy music, even when joint pain and stiffness have robbed you of the ability to use instruments other than your voice. William's story is a moving account of the joy and meaning that comes from being a choir member, and the real difference it's made in helping him live with and manage his arthritis."
For help and support with getting diagnosed, managing your condition, or waiting for joint replacement surgery, head to the Versus Arthritis website or call the charity's free helpline on 0800 5200 520.