Church volunteer confesses to setting fire to Nantes Cathedral organs
27 July 2020, 12:06 | Updated: 27 July 2020, 12:11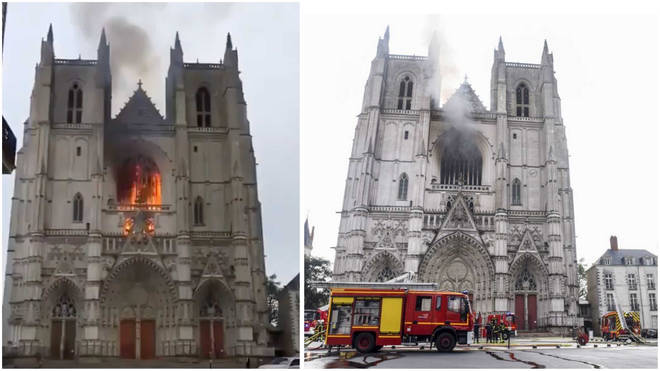 A church volunteer has admitted to an arson attack on the medieval cathedral in the French city of Nantes.
The fire that ravaged Nantes Cathedral, and destroyed its great Baroque organ, was started on purpose.
A refugee from Rwanda, who worked as a volunteer at the cathedral, has admitted to starting the blaze that also blew out the edifice's stained glass windows.
The unnamed man, who had been in charge of locking up the Saint-Pierre-et-Saint-Paul cathedral the night before the blaze, was arrested on Saturday night (25 July).
His lawyer, Quentin Chabert, says his client felt "relief" after admitting to the crime. Chabert told the Presse-Ocean newspaper: "He bitterly regrets his actions … My client is consumed with remorse."
A motive for attempting to burn down the building has not been given.
Read more: Fire ravages Nantes Cathedral in France destroying baroque organ, police suspect arson >
The 39-year-old refugee had been detained for questioning after the blaze but was later cleared of all suspicion.
He has now been charged, according to Nantes prosecutor Pierre Sennes, with "destruction and damage by fire". He faces up to 10 years in prison and could be fined €150,000 (£135,000), AFP news agency reports.
"He admitted during his first appearance for questioning before the investigating judge that he set three fires in the cathedral: at the main organ, the smaller organ and the electrical panel," Sennes said.
French authorities had said after the attack that they suspected arson, and that the blaze started in three different places.
Read more: Crowd sings 'Ave Maria' outside burning Notre-Dame Cathedral >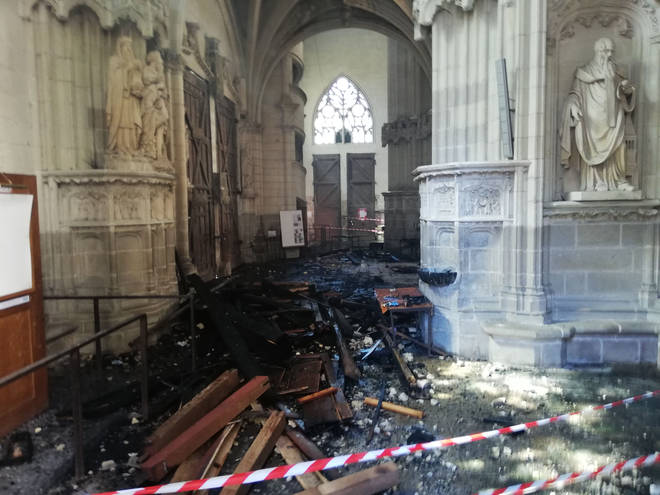 Read more: 'More can be done to prevent these disasters', says Notre-Dame organist >
100 firefighters tackled the fire and managed to extinguish it by Saturday afternoon, but not before it had ravaged the grand organ, stained glass windows and a 19th-century Italian painting.
Built in 1619, the organ had up until now survived the French Revolution, bombing during World War II, and another fire in 1972.
The destruction follows last year's fire at Notre Dame Cathedral in Paris, which claimed the roof and spire of the 12th-century building.