Notre-Dame fire: France calls for architects to design a new spire
17 April 2019, 16:45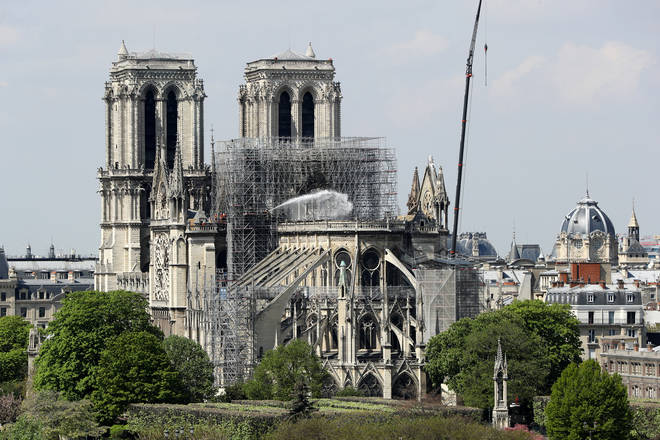 There has been an international call for architects to submit their designs for a new spire for Notre-Dame Cathedral.
Architects around the world will be invited to design a new spire, after it collapsed in a blaze that destroyed the 850-year-old cathedral's roof and upper window.
The fire, which broke out on Monday evening, 15 April, is thought to be linked to the structure's ongoing $6.8 million renovation project. Police are treating the fire as an accident.
Firefighters managed to save the main stone structure of Notre-Dame Cathedral in Paris, including the two bell towers, the organ and the iconic rose window.
Musical tributes pour in to honour the legacy of Notre-Dame Cathedral >
Will Notre-Dame be rebuilt?
The cathedral was built during the 12th and 13th centuries, and is considered one of the world's finest examples of French Gothic architecture.
President Emmanuel Macron has vowed the cathedral will be rebuilt "even more beautifully", adding that he wants the work completed in the next five years. Experts have warned the reconstruction could take decades.
Notre-Dame de Paris en proie aux flammes. Émotion de toute une nation. Pensée pour tous les catholiques et pour tous les Français. Comme tous nos compatriotes, je suis triste ce soir de voir brûler cette part de nous.

— Emmanuel Macron (@EmmanuelMacron) April 15, 2019
After the fire, French billionaire Bernard Arnault announced that he would be donating 200 million euros to help with the reconstruction, while fashion group Kering, founded by Francois Pinault, has offered 100 million euros.
André Rieu, the Dutch violinist and conductor, has offered to provide 700 tons of steel, originally used to build his famous Schönbrunn Palace replica, to "help erect the scaffold for the restoration of beautiful Notre-Dame".
Apple has also said they will make a donation. CEO Mark Cook wrote on Twitter: "We are heartbroken for the French people and those around the world for whom Notre Dame is a symbol of hope. Apple will be donating to the rebuilding efforts to help restore Notre Dame's precious heritage for future."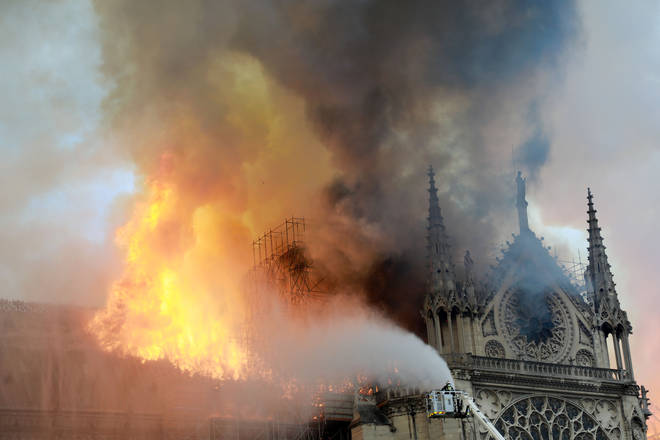 Music in Notre-Dame Cathedral
The Notre-Dame school of composers played a very important role in the history of music. Composers like Léonin and Pérotin led the development of polyphonic music in the 12th and 13th centuries.
Throughout the 19th and 20th centuries, the cathedral was renowned for its traditions of French organ and choral music.
It also boasts the largest organ in France, with five keyboards, 109 stops and nearly 8,000 pipes. The instrument, miraculously, was saved in the blaze.