Crowd sings 'Ave Maria' outside burning Notre-Dame Cathedral to honour its legacy
16 April 2019, 14:48 | Updated: 16 April 2019, 15:17
In the wake of the fire that has devastated Notre-Dame in Paris, people have been paying homage to the great cathedral with beautiful music.
Last night (Monday 15 April), a fire broke out at the Notre-Dame de Paris, devastating the 12th-century structure.
Firefighters rushed to try to contain the blaze, which is thought to be linked to its ongoing $6.8 million renovation project. The fire reportedly started on a piece of the building which was covered in scaffolding.
A number of videos have been posted on Twitter, showing people singing 'Ave María' as they watched the Notre-Dame burn.
This gets you in the heart. It's sadly ancient and beautiful.

Parisians singing as they watch the Notre Dame cathedral burn. What else can they do? pic.twitter.com/WoC2TgM9xZ

— Mike Galsworthy (@mikegalsworthy) April 15, 2019
Following the devastating news, people have been posting their own musical tributes to Twitter.
Organist Matt Nicholls posted a video of himself playing the glorious closing chords to Boëllmann's 'Prière à Notre-Dame'.
One user shared a video she filmed inside the cathedral last year, featuring a chamber choir singing music by Monteverdi and Carissimi.
One year ago this week my mother and I listened to a six-person choir sing Monteverdi and Carissimi in Notre Dame. Music soared in there. Light, too. pic.twitter.com/93VLztkjeA

— Lily/PARLOUR TRICKS (@lilycato) April 15, 2019
Video taken just last August when I led a group of @butleru students to Paris. The music inside Notre Dame seems particularly poignant today. My heart broke today watching this cathedral up in flames. pic.twitter.com/tviYBhRHX4

— Jill McKinney (@jillsmckinney) April 16, 2019
Twitter user Brindisi posted a video from a service she attended at the cathedral, a couple of years ago.
The clip gives us a glimpse of the beautiful stained glass rose window, which is now thought to have survived the blaze.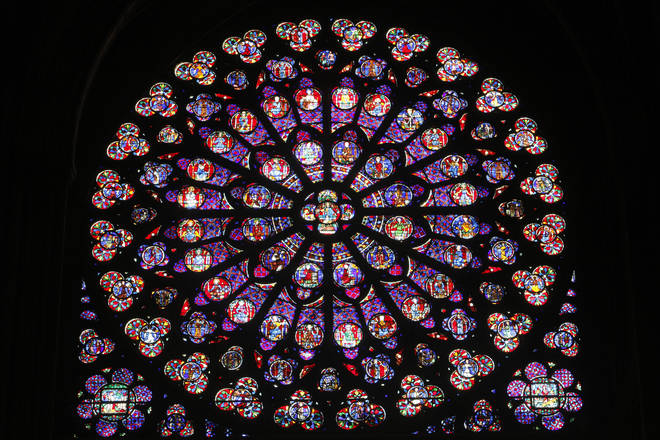 André Rieu, the Dutch violinist and conductor, has offered to provide 700 tons of steel, originally used to build his famous Schönbrunn Palace replica, to "help erect the scaffold for the restoration of beautiful Notre-Dame".
Deeply shocked by the dramatic images from Paris. We would like to provide our 700 tons of steel, used for the set of Schönbrunn Castle, to help erect the scaffold for the restoration of beautiful Notre-Dame.

Posted by André Rieu on Tuesday, 16 April 2019
The Notre-Dame school of composers played a very important role in the history of music. Composers like Léonin and Pérotin led the development of polyphonic music in the 12th and 13th centuries.
Throughout the 19th and 20th centuries, the cathedral was renowned for its traditions of French organ and choral music.
Notre-Dame Cathedral also contains the largest organ in France, with five keyboards, 109 stops and nearly 8,000 pipes. In 2012, after 10 months of restoration work, it was sounded in celebration of the cathedral's 850th anniversary.
Following fears over the fate of Notre-Dame's iconic instrument, Paris' deputy mayor Emmanuel Gregoire announced this morning that the organ has been saved.