GCSE Music exam entries drop by 12.5 percent since 2022, in decade-long decline
24 August 2023, 16:34 | Updated: 24 August 2023, 17:05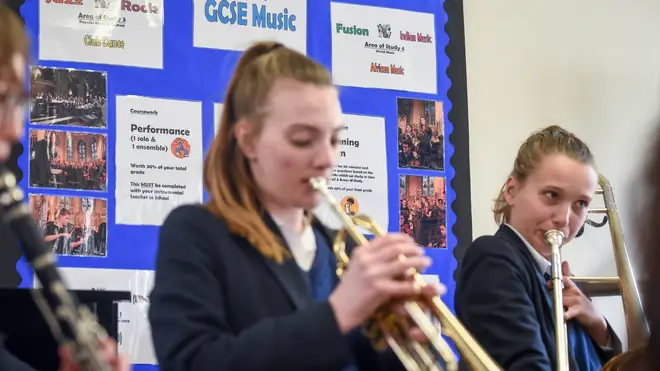 Professional bodies have expressed 'great concern' following a sharp decline in the amount of GCSE students taking music as an exam option.
Entries for GCSE Music have hit a record low, with the number of students taking music as one of their subject options falling by 12.5 percent since 2022.
The Independent Society of Musicians (ISM) has described the declining figures as "dramatic", and noted that since 2010, GCSE music entrants have fallen by a total of 36 percent.
"A 12.5 percent drop in GCSE music entries in just one year is clearly of great concern," ISM Chief Executive Deborah Annetts commented.
The figures follow a similar story for A-level music, where entries have fallen by 45 percent since 2010.
The music industry CEO said the findings followed "a pattern of decline spanning since 2010" when the English Baccalaureate (EBacc) was introduced. 
The EBacc is a selection of recommended GCSE subjects decided by the Department for Education. These subjects include English language and English literature, Maths, Science, Computer science, History or Geography, and a language.
On average, students will study eight GCSEs, so with the EBacc potentially deciding seven of these subjects for them, this leaves less room for them to choose a creative subject.
Read more: Music A-level exam entries in the UK fall by a staggering 45 percent to all-time low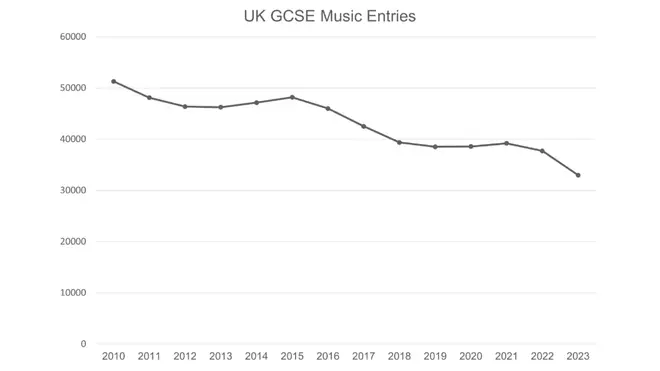 The stark drop in GCSE and A-level music entries since 2010 line up with the introduction of an accountability measure that ranks how far a child has progressed academically from primary school, to the end of secondary education.
Named 'Progress 8', the measure's results are then used to inform school league tables. EBacc subjects are weighted in Progress 8 scoring, and the ISM believes that because of this, fewer students are taking creative options.
The introduction of Progress 8 inspired the ISM's recent campaign #SaveOurSubjects, which launched in February of this year, and calls on the government to review and reform school accountability measures including Progress 8.
Read more: Andrew Lloyd Webber slams education disparity: 'Only 12 percent of state schools have an orchestra'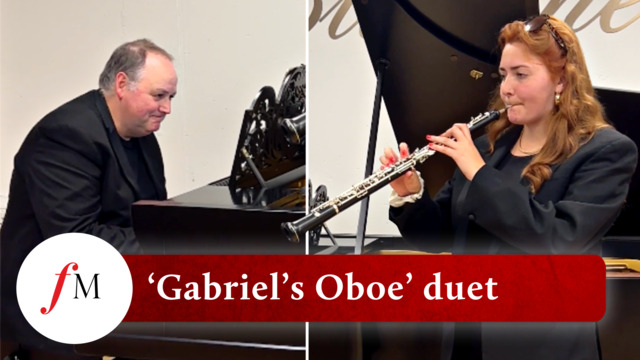 Tim Lihoreau and daughter Daisy play Ennio Morricone duet
While Annetts commented that she hoped students had received the results their hard work deserved, and praised teachers for their dedication, the chief executive also further explained her concern for the dwindling figures.
"As the ISM and many others have said for years, for a truly broad and balanced curriculum with music and creative education a cornerstone in our schools, reform of accountability measures such as the EBacc and Progress 8 is desperately required," Annetts commented.
"Studying music and creative subjects is not only good for student's education but without it, we put our important creative pipeline and the chancellor's hopes for growth in the creative industries at risk," the chief executive added.
"All students deserve access to high-quality music education in school."
Two days before the release of GCSE results this year, the Department for Education announced the launch of 15 new free-to-attend schools, which will benefit around 12,000 young people in some of the most disadvantaged areas.
One of these schools will be BRIT School North, a performing arts school for students aged 16-19 in Bradford. The school is based on the BRIT School in London, which since 1991 has launched the careers of a host of high-profile British talent including Adele, Imogen Heap and Amy Winehouse.
Jo Twist, Chair of the British Phonographic Industry (BPI) said the school was, "a positive signal that government recognises the critical importance of creative and specialist creative arts education.
"The UK is a world leader in music and across the creative industries and if we want this to continue, we must invest in talent and the highly transferable skills needed for a competitive economy."