The transformative free musical instrument scheme that Andrew Lloyd Webber wants in every secondary school
11 August 2023, 17:54 | Updated: 15 August 2023, 13:25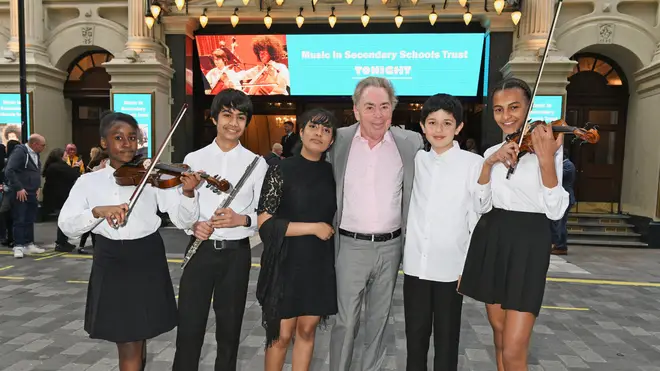 The Music in Secondary Schools Trust (MiSST) has helped 29 schools in the UK offer free instruments and lessons to their students.
Over the last decade, a community school in Walthamstow has seen an improvement in grades, for both students and school, after starting a programme where it gives each of its pupils free music lessons and access to instruments.
The Frederick Bremer School offers its pupils the opportunity to learn either violin, viola or flute during Years 7 and 8 thanks to the Music in Secondary Schools Trust (MiSST). Set up in 2013, the trust provides funding to 29 different schools across the country to offer free musical instrument lessons.
Lord Andrew Lloyd Webber, who supports the trust through his own foundation, told Classic FM's sister station LBC in June this year, that the Frederick Bremer School is just one example of the transformative nature of music.
"What music does in these schools," Lord Lloyd-Webber told LBC, "isn't actually necessarily about trying to make the children musicians. But what it does, is it really helps them as people."
Lord Lloyd-Webber has previously said that the Frederick Bremer School was at risk of closure before the music programme was brought in. In 2013, the school was given a 'Requires Improvement' grade in its Ofsted inspection but just two years later, this rose to 'Good'. As part of the reasoning for this rating, the inspection report made reference to the "excellent opportunities" provided to students via the Music in Secondary Schools Trust (MiSST) program.
Read more: Andrew Lloyd Webber slams education disparity: 'Only 12 percent of state schools have an orchestra'
While MiSST began in London, it now works with schools outside of the capital, and amongst its 29 partner educational institutions, has found homes in Warwickshire, Oldham, Middlesborough, Dorset, Bolton, Yorkshire and Lincolnshire.
The trust was started by Truda White, a head teacher who transformed her own struggling school in Islington by introducing classical music lessons to her students. It was her work as head teacher at Highbury Grove in Islington that first alerted Lloyd Webber to the trust.
"I read that Highbury Grove had turned around [thanks to this music programme] about eight years ago," Lloyd Webber told LBC.
"And I thought, I'd like to go and see this for myself. And I went to this extraordinary concert, which was amazing. And at that moment, I decided, look, this, this has got to be something that I joined forces with."
Lloyd Webber brought his own trust in to help fund the expansion of MiSST and its Key Stage 3 offering, which provides instruments and free music lessons to children starting secondary school, was named the 'Andrew Lloyd Webber Programme'.
Costing £200 per child a year to run, Lord Lloyd-Webber has been lobbying the government to roll out the trust's work to every school.
Read more: A hospital school is giving child patients a free violin to boost mental health
Today, the trust not only provides music lessons in schools, but the organisation has also begun offering a free Saturday school, based on the model of junior departments at UK conservatoires. Young musicians can come together to play in orchestras, sing in choirs, and take conducting or music production lessons.
In April 2023, MiSST celebrated its 10th anniversary at the Theatre Royal Drury Lane.
"I cannot tell you how moving it was," Lord Lloyd-Webber told LBC. "600 Kids, roughly, and they're all playing in different orchestras. From all over the country, and about a third of them had never ever been to London before.
"You watch them, and they're all playing and enjoying music. It's such a fantastic common denominator."
Acclaimed violinist Nicola Benedetti has been one of the trust's patrons since 2016, and MiSST also has a partnership with Classic FM's Orchestra of Teenagers, the National Youth Orchestra of Great Britain, giving its students even more opportunities.