Surge on spending on musical instruments brings music into lockdown homes
29 July 2020, 10:16 | Updated: 29 July 2020, 10:21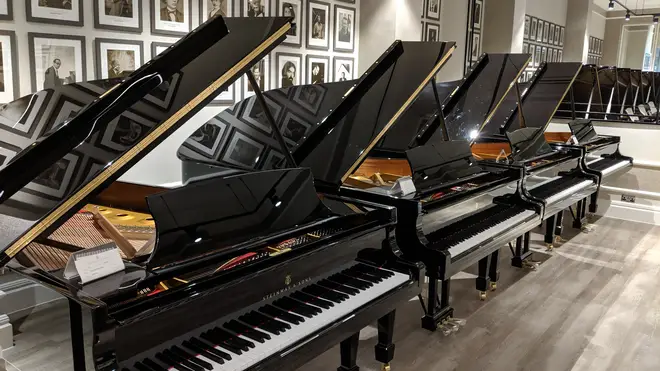 UK sales on instruments and music equipment, including pianos and guitars, rose by 80 percent between April and June, with people keen to pick up new hobbies and listen to more music while confined to their homes.
Musical instrument sales have been impacted positively by coronavirus lockdown, a local music shop has reported.
It's one of the coronavirus clichés: that many people spending more time in their homes – and unable to go out to pubs, restaurants, concert halls, theatres or other public spaces once the UK went into 'lockdown' – picked up new hobbies in their droves. From learning a new language, to reading Marcel Proust – and taking up ballet lessons in between – we've heard of many.
And it turns out that people's quests for hobbies have been musically-inspired, with UK sales up by 80 percent between April and June at the York- and online-based Gear4Music music shop.
Read more: Camilla, Duchess of Cornwall, is practising ballet to stay active during lockdown >
We've made it easy to start something new at home with our convenient bundles of equipment. 🎸🥁🎹🎤🎵🎛️

Guitar, bass, drums, piano, podcasting, recording, producing, DJing, and more!

Start something new, here 👉 https://t.co/4lrY3OuHGT pic.twitter.com/gBN8r5ZPi9

— Gear4music (@gear4music) March 26, 2020
According to Gear4Music's chief exec Andrew Wass, electric and acoustic guitar starter packs were a go-to for many people looking to pick up a new instrument. And electric pianos and keyboards were also right up there in terms of instruments people chose in this COVID-19 lockdown period.
Speaking to BBC, Wass pointed out that people over lockdown seemed keen to have a hobby "they can get into".
"Maybe they played music at school and have found themselves indoors and decided to come back to it," he said.
Read more: Classical music boosts mental health and wellbeing in isolation, study finds >
Home studio equipment has proved a big seller too, something we're not surprised by having seen so many of our beloved orchestras and other musicians recording online home performances.
"It seems everybody wants to be a podcaster and they're buying into really professional set-ups at home," Wass also suggested.
Royal Philharmonic Orchestra (RPO), has also found that across the UK people's music habits have changed as a result of lockdown. In a survey of 2,000 adults, the RPO found music has featured in almost all of our homes during quarantine (94 percent), with a quarter of adults saying they have listened to significantly more radio than before (23 percent).
People have also been enjoying online streams of classical music, with 14 percent of people 35 or under responding that they have watched concerts online.
Live music gear didn't sell as much over the period, understandably. In spite of this, total global sales were still up by over 60 percent at the shop.
Gear4Music describes itself as "the musician's superstore" and delivers all over the world.