"Every musician I know is now facing bankruptcy" – the impact of coronavirus cancellations on classical artists
13 March 2020, 21:20 | Updated: 17 March 2020, 12:10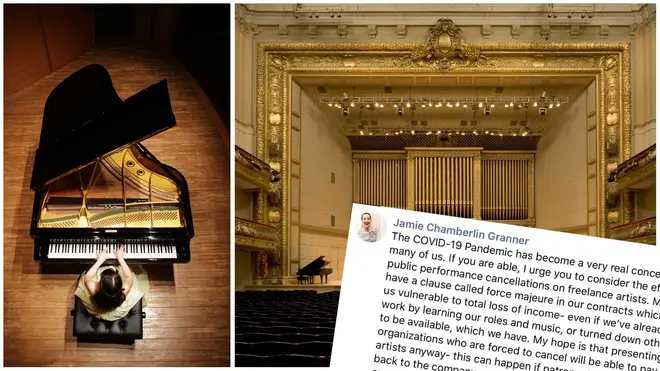 As the coronavirus pandemic impacts all parts of life, society, and the economy, musicians are left to feel the profound financial, artistic and emotional impacts.
The coronavirus pandemic has brought huge disruption to daily life, to many around the world. Concert halls are closed, gatherings cancelled, and large sectors of the economy are paralysed. Many members of the classical audience are self-isolating or just staying home.
All the major classical music events cancelled due to coronavirus so far >
Everyone we talked to agrees that the public's health and people's safety comes first at this time. However, freelance and touring musicians, who rely on performances for their livelihoods, are feeling a deep impact from the cancelled performances, scrapped tours and the resulting loss of income and opportunities.
"We cannot pay our rent, we cannot buy food"
Classic FM spoke to violinist Miriam Davis on Friday afternoon.
"A few minutes ago I had tonight's performance of Mendelssohn's Violin Concerto, for which I spent 4 months preparing, cancelled with just 4 hours notice.
"This follows yesterday, the cancellation of every other concert in my diary for the next 2 months.
"I've turned down other work to practise. We often prepare for months with payment only expected at concert at the end.
"On top of the sadness and anxiety of the virus situation, every musician I know is now facing bankruptcy. We cannot pay our rent, we cannot buy food, and we see no relief from this situation.
"I'm personally heartbroken not to be playing the piece tonight. It's a time of human anxiety and suffering, and live music is one of the few things which could bring small solace, I was grateful today for one last chance to offer some beauty, peace and joy in this world. Now, that too has gone."
Ysaye 2nd Sonata - Miriam Davis Violin - UNEDITED - June 2019
"If we don't work, we don't get paid"
British Mezzo-soprano Jennifer Johnston told us of the shockwaves cancellations and disruption will send through the music industry.
"The current situation, with most cultural organisations worldwide shutting down for a period, is unprecedented and will cause most self-employed performers to face major financial issues, even bankruptcy.
"Most performers live life on a financial knife-edge because if we don't work, we don't get paid, and we aren't catered for even under the current statutory sick pay regime.
"Clearly, everyone's health is important, and so no-one is opposing the shutdowns, but nonetheless there is grave concern that not only are there severe financial implications for individuals, but also arts organisations themselves will struggle, having lost ticket revenues or income from touring, or, in the case of agents, commission from contracts carried out by their artists.
"We will feel shockwaves as a result for a long time to come."
"I can't return home"
We also heard from Australian flautist Ana de la Vega, who is currently on the road, touring in Europe. She said she was struggling to comprehend the impact of a rapid string of cancellations and the deep emotional impacts of sudden travel restrictions.
"I'm feeling the sadness, disappointment and stress of the past days. I've been on the road and trying to keep it going, not knowing what is happening, and one by one having our concerts cancelled.
"I'm touring to promote a CD with oboist Ramón Ortega Quero. We've been working on this for more than a year. This is what we do and live for, and we just wanted to play and share music.
"On tour, I'm separated from my family and I've just learnt that I can't return home to Scandinavia without putting myself, my husband and two-year-old daughter in quarantine.
"After these cancellations, I have no further performances until June and which to me feels like both means nothing financially and nothing for the soul. Emotionally that's really complex, and hard to explain."
Ana's new release of Haydn and Stamitz is a wonderful one, and was Classic FM's Drive Discovery a few weeks ago. Please do buy a copy in support of the project she spend years creating.
'I try not to be all doom and gloom'
Guitarist and conductor Michael Poll writes:
"Unlike most workers who have one job or freelance for one platform, I depend on a broad portfolio of work for inspiration and solvency. This is uncertain in the best of times – I don't know another artist not concerned that it could all dry up one morning due to injury, disaster, or act of God. Covid-19 is now eating away at the heart of the spring and possibly the summer season, so the biggest projects that I count on and the smaller ones that are more regular are in serious jeopardy.
"But I try not to be all doom and gloom, so I'm refocusing on the chance to develop new repertoire, polish my writing, and record a new project. But I get a lot of energy from playing out in the world, so I can't say it's not a challenge!"
A suggestion about how to support
Greek-American soprano Jamie Chamberlin took to Twitter to share a plea on behalf of artists struggling with canceled performances and uncertain incomes.

In an Instagram post, Chamberlin said: "Most of us have a clause called force majeure in our contracts which leaves us vulnerable to a total loss of income, even if we've already done work in learning our roles and music".
She suggested if ticket holders and patrons wanted to support artists and creative organisations at this time, they could donate their refunded ticket price back "Most artists do not have a significant safety net for this type of income loss", she said.