'CATS': Taylor Swift, James Corden and Idris Elba rehearse choreography in exclusive behind-the-scenes preview
11 September 2019, 15:16
Tom Hooper's quirky film adaptation of Andrew Lloyd Webber's hit musical is just on the horizon – and this new footage is an exciting hint at what's to come.
Whether you're a fan of musicals or not, chances are you will have heard of Cats – and this December, the world gets to experience the very first film adaptation of Andrew Lloyd Webber's iconic West End show.
Featuring well known songs from the original stage production, including 'Memory' (made famous by English singer and actress, Elaine Paige), the movie's standout score was always going to need a stellar cast.
We already knew that pop superstar, Taylor Swift, Luther actor, Idris Elba, and Gavin & Stacey's very own James Corden were set to appear in the film – alongside Royal Ballet principal dancer, Francesca Hayward.
Read more: When will 'Cats' the movie be released? >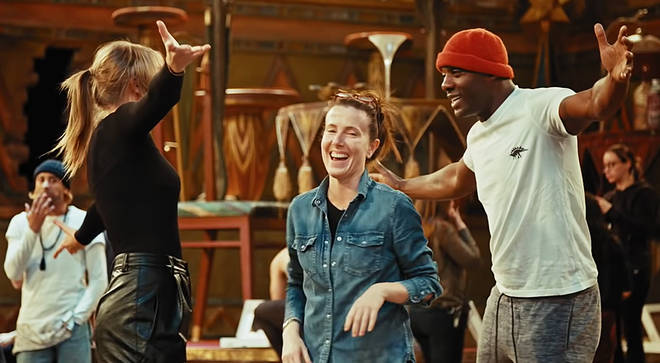 But now, we've been given a quick glimpse of their choreography in a new, behind-the-scenes preview at "cat school" (watch video above).
That's right, "cat school" – where humans are magically transformed into all-singing, all-dancing, felines.
Swift, who happens to be a self-confessed cat obsessive, will be playing the part of Bombalurina, a flirtatious creature with a distinct red coat.
In the video, the 'Shake It Off' singer says she can't believe she's involved in the musical adaptation: "If you told me I was going to get to be a cat for work…WHAT?"
Read more: We just watched the Cats movie trailer and died nine times >
Corden, set to play Bustopher Jones, adds: "You're going to take a load of people and they're going to pretend to be cats. If you just say it out loud, it's bonkers. But that's where the most fun happens, really."
He also recently joked on The Ellen DeGeneres Show about his 'method' preparation for playing a cat, saying: "I'm like Daniel Day-Lewis. I immerse the character. You know what I mean? I've just been living as a cat. I don't use the bathroom. I have a litter tray."
Even Elba, one of 50 people named for "making London awesome" in a 2018 edition of Time Out, admits the movie is taking him out of his comfort zone.
He said: "I'm observing all the cats, and I'm singing and I'm dancing with the best dancers in the world, so I'm a little intimidated!"
Directed by Tom Hooper (Les Misérables, The King's Speech), the forthcoming film also stars Dame Judi Dench, Ian McKellen, Jennifer Hudson and Jason Derulo.
Cats is being released in UK and US cinemas on 20 December 2019.