This string duet cover of Taylor Swift's Shake it Off will fill you with joy
17 November 2014, 14:22 | Updated: 11 January 2017, 14:26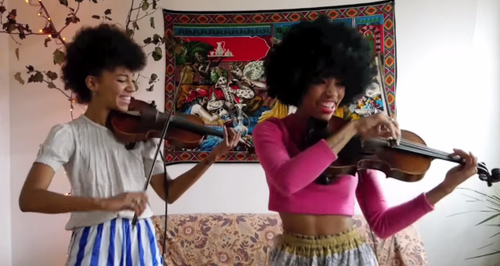 Violin and viola duo Chargaux covered Taylor Swift's number one hit - and had a whole lot of fun while they were at it.
The video for Taylor Swift's catchy Shake It Off kicks off with the star dipping her pointe shoe into classical ballet. Now a string duo have taken Swift to the next classical level with their remix of the superstar's massive hit.
String duo Chargaux (Charly on violin and Margaux on viola) met at Berklee College of Music in Boston and started out busking at subway stations before making a splash at the SXSW festival and recording an EP with the very promising title Broke & Baroque.
They describe themselves as 'interdisciplinary artists' and have also put their unique stamp on Rossini's William Tell overture.
Here are our three favourite things about this video:
They are just as excited as we are about their remix
And who can blame them?
They can't resist dancing along
They're only human, after all
This dance move
We'll be practising that one.
And here's what kicked it all off
Taylor Swift reinterpreting Swan Lake
So sit back and enjoy Chargaux playing Shake it Off on violin and viola:
And here's Taylor Swift's original: