Study says 83 percent of Brits under 25 engage with orchestral music
18 February 2020, 12:59 | Updated: 18 February 2020, 13:47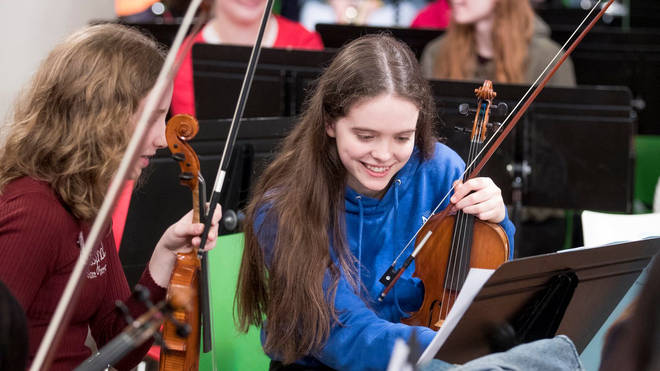 A new study has found that half of young people in the UK are listening to orchestral music, suggesting that more people are encountering symphonic music through the rise of gaming and digital platforms.
A study has shown that 83 percent of British people under 25 are 'encountering' and 'engaging' with orchestral music. The research covers all areas where people may be exposed to the sound of an orchestra, streaming music online, films, gaming, alongside traditional places such as concerts and learning an instrument.
The research, conducted by Maru/Blue for the Royal Philharmonic Orchestra, analysed findings taken from a sample of 2,019 adults. It found almost half of young people in the UK (46 percent) currently use popular streaming platforms, such as Spotify and YouTube, to listen to their favourite orchestral tracks, compared with just 15 percent of over 65s – dispelling the common misconception that only the mature demographic takes an interest in the genre.
And as well as streaming music online, three quarters of all British adults now have an active relationship with orchestral music, with a quarter attending live concerts regularly.
There's no sign of young people slowing down when it comes to picking up a new musical instrument – under 25s are twice as likely than the national average to be learning an instrument (including the piano), with one in eight claiming to have a 'good knowledge' of music after studying it in some capacity.
Read more: Huge younger audience increase for Classic FM, as 610,000 under 25s listen every week >
Other ways in which people are being reached by orchestral music include playing video games, watching TV and films, listening to CDs and vinyl, and listening to the radio (more than a third of adults).
Speaking to Classic FM, Managing Director of Royal Philharmonic Orchestra, James Williams, said: "The results of this survey suggest a bright future for orchestral music, and inspires organisations such as the Royal Philharmonic Orchestra to continue developing our diverse approach to programming, education and embracing technology to ensure the widest possible audience has the opportunity to experience great orchestral music."
He has also said: "In 2020, it is easier than it ever has been to access and enjoy a wide range of music. In many ways, as people stumble across the vast expanse of all music, it's no surprise that some of the greatest music ever written will start to feature on people's playlists – whatever their age. 
The news complements recent RAJAR (Radio Joint Audience Research) results, with promising new figures showing a huge younger audience increase for Classic FM, as 610,000 under 25s listen every week.
With 59,000 more Brits aged 10-24 listening to Classic FM in 2019, compared to the year before, there's no denying orchestral music is reaching plenty of young ears.
Classic FM's then Senior Managing Editor, Sam Jackson, said: "The entire Classic FM family is delighted by these audience figures, which demonstrate the continued relevance of classical music to a very broad audience.
"With its highest market share for over 12 years, Classic FM has cemented its position as the world's biggest classical music radio station. I'm particularly heartened by the continued growth in listening among our youngest demographic, proving that classical music can be enjoyed by everyone – no matter what their age, experience or background."