The 10 biggest tear-jerkers in classical music
19 July 2023, 21:06 | Updated: 19 July 2023, 21:09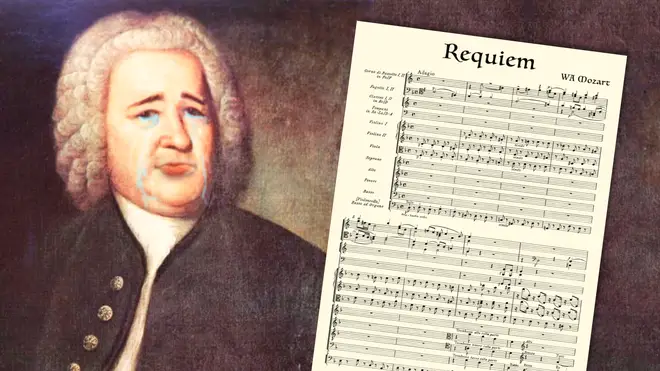 Looking for sad instrumental and vocal music? Here are some of the most beautiful and heart-breaking pieces ever written.
Classical music has the power to express and connect with the deepest emotions.
From moments of tragedy, to loss and grief, we plumb the depths of operas, symphonies and choral music to find the aching beauty of the saddest and most tear-inducing moments of music. Take a deep breath and come this way...
Puccini – 'Sono andati?' from La Boheme

Because this is an opera, someone has to die. Unfortunately for poor Mimì in Puccini's La bohème, it's her. It's the depths of winter and Mimì is riven with consumption in their cold Bohemian flat – but here, she and Rodolfo find the depths of their love. A few moments later, young Mimì meets her tragic end, to Rodolfo's pained cries...

Read more: The best Puccini operas of all time

Mozart – Requiem

It might be nice to think that the rather more dramatic scene depicted in Amadeus (1984), where Mozart on his death bed blurts out his last ever composition to an eagerly transcribing Salieri, was exactly how it happened. However, it's widely accepted now that it was a rather more sedate affair – Mozart slipped away in the night, and a fellow composer, Franz Sussmayr, assembled the broken fragments and finished it off. Still, it's a deep and devastating listen, full of drama, anguish and pathos. Take a deep breath and listen as one of the greatest geniuses the world has ever known is committed to eternity.

Read more: 10 best pieces of music by Wolfgang Amadeus Mozart

Claudio Abbado - Mozart Requiem - Lacrimosa

Elgar – 'Nimrod' from the Enigma Variations

Each of Elgar's 14 Enigma Variations is inspired by one of his friends or family – which perhaps doesn't sound like a sad topic… But the beautiful, moving melody of the ninth variation in the set, 'Nimrod', is a soaring tune that has a deep feeling of sadness at its core, as well as an aching grandeur. Over the years it has struck a chord with audiences looking for a way to express sadness, loss and grief and is regularly performed at Remembrance Day services.

Elgar's Nimrod – Carducci Quartet

Samuel Barber – Adagio for Strings

You might know this one from some of the key scenes in Oliver Stone's Vietnam epic Platoon, as well as countless TV shows. The slow, gradually unfolding music first written for String Quartet in B minor, but was also arranged by the composer for string orchestra, as well as choir. Whatever the orchestration, there's never a dry eye in the house.

Vienna Philharmonic – Barber: Adagio for Strings, Op.11 (Summer Night Concert 2019)

J.S. Bach – Come, Sweet Death

With a title like that, it's unlikely that you'll be skipping down the street with this pumping from your AirPods. No, for this Bach we recommend some dark clothing, a stiff drink and possibly some more gentle sobbing. Good luck, everybody.

Read more: 10 of Bach's all-time best pieces of music

J.S. Bach: Come, Sweet Death (Arr. for 5 Cellos)

Henryk Gorecki – Symphony of Sorrowful Songs

If any piece deserves the label 'modern classic', it's this. The three-movement masterpiece was composed in Poland in the 1970s, but found huge popularity and resonance in the 1990s. In the haunting second movement, Gorecki set words etched into the walls of a Gestapo prison cell by an 18-year-old girl during the Second World War. The results are as chilling as they are moving.

Yordan Kamdzhalov. The shocking 3rd "Symphony of Sorrowful Songs" by Górecki (excerpt) - no words...

Henry Purcell – Dido's Lament

This is the heartbreaking conclusion of Purcell's opera Dido and Aeneas, when Dido's life ends after a separation from her beloved. It's one of those pieces that sounds so simple on the surface, but has an uncommonly deep emotional power. Over a repeated ground bass, the lament's long lines immediately hit the heart. Then comes a pleading 'remember me' motif, which is repeated over and over, with almost unbearable emotional impact.

Purcell Thy hand, Belinda - When I am laid | Eva Zaïcik - Queen Elisabeth Competition 2018

Tchaikovsky: Symphony No. 6

Almost everything Tchaikovsky wrote has an element of autobiographical sadness to it – but his final symphony takes emotional torment to another level. Dedicated to his nephew, with whom he was controversially in a secret relationship, it is shot through with regret, sadness, resignation and deep loneliness. Listen to the heart-wrenching fourth movement below.

Read more: 10 great masterpieces by Tchaikovsky

Tchaikovsky: Symphony No. 6, 'Pathétique'

Verdi – V'ho ingannato, from Rigoletto

Right – to bring you up to speed, Rigoletto's daughter has been stabbed and placed in a bag. Rigoletto has been given said sack thinking it contains the body of his nemesis, The Duke of Mantua. He opens the bag to discover his dying daughter dressed as a man (don't ask) instead. Verdi has them sing this heartbreaking, tender duet together as she dies. The curtain falls as the father cries out in rage and grief.

Giuseppe Verdi - Rigoletto (Opera in three acts with Juan Diego Flórez)

Fauré – Requiem

For centuries, Requiems were often full of drama, anguished cries and moments of terror. But Fauré's mass for the dead was different. He chose to move away from the fire and brimstone, and instead create a rich, meditation on loss and grief, full of long, beautiful melodic lines. The result is a true choral balm. If it's all too much, Fauré is here with a deep musical embrace.

VOCES8: Requiem, Op. 48 by Gabriel Fauré