15 most famous opera songs and arias
27 January 2023, 11:34 | Updated: 27 January 2023, 13:40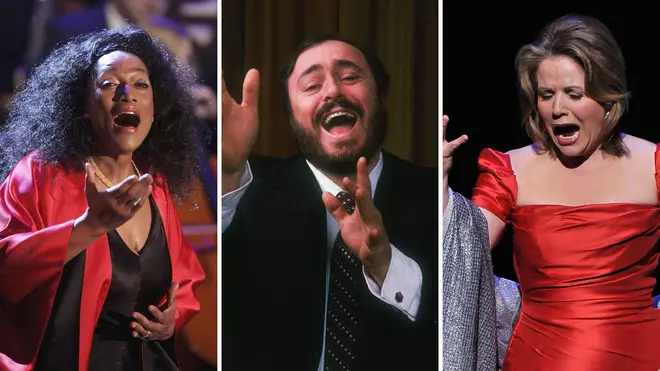 Opera is home to some of music history's most hummable tunes. And we've cherrypicked 15 of the absolute best.
From its role in airline commercials and World Cup stadiums, to Oscar-winning films and record-breaking Netflix series, opera has become part of our popular culture landscape, its catchy melodies and hummable choruses taking the genre far beyond the hallowed halls of the opera house.
Strictly looking at aria and song (you can find the greatest overtures just here), we determine these to be opera's all-time biggest belters. You may not know their names, but the tunes will certainly sound familiar...
(and if you fancy an evening out featuring at least a few of these hits, there are limited tickets available for Classic FM Live – a celebration of opera's greatest hits at the Royal Albert Hall)
O mio babbino caro - Puccini

The Everest of tearjerking soprano arias, 'O mio babbino caro' has been recorded by all the greats from Renée Fleming to Montserrat Caballé, and is one of the most performed pieces of opera music of the last 100 years.

From Puccini's comic opera Gianni Schicchi, the aria encapsulates the desperation of Schicchi's daughter, Lauretta. "O my dear papa, have pity," she cries, pleading with her father to help her marry the love of her life, Rinuccio.

Read more: The 15 most famous tunes in classical music

O mio babbino caro performed by Susanna Hurrell

Largo al factotum - Rossini

Perhaps better known as 'the Figaro aria', this is from Rossini's sheer delight of an opera, The Barber of Seville.

Many today will recognise it from the opening credits of Mrs Doubtfire, in which Robin Williams delivers an unforgettable rendition of what is a fiendishly tricky sing, in the guise of a cartoon bird. There's even a hip-hop remix of the baritone aria that went viral a few years ago thanks to the multi-talented Babatunde Akinboboye.

Il Barbiere di Siviglia: "Largo al factotum" (Peter Mattei)

Habanera - Bizet

'Habanera' is from Bizet's 1875 opera Carmen, an treasure trove of catchy melodies, from its barnstorming orchestral Prelude to the foot-stomping 'Toreador's Song'.

Carmen, the fiery and mercurial title character, sings that her heart cannot be so easily won; the opening line of her aria is, 'Love is a rebellious bird that none can tame'.

The French aria is actually based on an older melody, 'El Arreglito ou la Promesse de marriage' by the Spanish composer Sebastián Iradier, born some 30 years before Bizet – have a listen to it here.

Carmen - Habanera (Bizet; Anna Caterina Antonacci, The Royal Opera)

Nessun dorma - Puccini

If Puccini's aim was to bring opera to the masses, 'Nessun dorma' from Turandot has safely triumphed beyond all measure. Over the last few decades, the King of tenor arias has been reshaped into a roaring electric guitar solo by the legendary Jeff Beck, a pop-opera social media hit by Queen's lead singer Adam Lambert, and a talent show mainstay.

But, whether you think it's the greatest rendition or not, Pavarotti's impassioned cries of 'Vincerò!' ('I will win!') at the 1990 World Cup without doubt helped it become the crowd-pleasing standard that the aria is today.

Read more: The time Aretha Franklin stepped in for Pavarotti, and sang 'Nessun dorma'

Andrea Bocelli - 'Nessun Dorma' (live at The Global Awards 2018)

Queen of the Night - Mozart

The ultimate aria for opera's villainess supreme, 'Der Hölle Rache' ('Hell's Vengeance') has worn many hats over the years – from Diana Damrau's terrifying authentic portrayal of the raging Queen of the Night, to this rather bizarre Volvo advert that removes any sense of fear from the coloratura soprano piece.

It's originally from Mozart's opera The Magic Flute, and is one of today's best known operatic arias.

Read more: What are the lyrics to the 'Queen of the Night' aria?

Watch this incredible soprano sing 'Queen of the Night' while performing aerial acrobatics

Libiamo ne'lieti calici - Verdi

Verdi's rousing 'Drinking Song' from his much-loved opera La traviata is what's known as a brindisi, a lively song that encourages the consumption of wine. Its literal meaning is 'Let's drink from the joyful cups', and its infectious musicality makes it ever so easy on the ear.

Read more: 10 of the greatest opera overtures of all time

La traviata: 'Brindisi' ('The Drinking Song') – Glyndebourne

Ombra mai fu - Handel

Also known as Handel's 'Largo', this is the opening aria in the composer's opera Xerxes (Serse). Its soaring melody has given it a lease of life beyond the opera house; those who fondly remember the 1995 TV adaptation of Jane Austen's Pride and Prejudice will recall a rather strangled rendition by Mary Bennet at the piano, as she proclaims to the room, 'Slumber dear Maid, Green bows will cover thee…'.

The original text 'Ombra mai fu' literally means 'never was a shade' and is a hymn of praise from Xerxes to a plane tree – likely inspired by a plant Handel saw in London, during his time in England's capital.

Handel: Ombra mai fu (Serse); Christopher Lowrey, countertenor, Voices of Music 4K UHD

Voi che sapete - Mozart

Mozart's much-loved 1786 opera The Marriage of Figaro has given us some of today's most hummable melodies, including 'Non so più' and the wonderful mezzo-soprano solo 'Voi che sapete', sung by the opera's famous trouser role, Cherubino.

Once again, it makes a standout appearance in the 1995 Pride and Prejudice, this time from Lizzy at the piano, who sings an English version of the aria as Darcy looks on in adoration.

Accessible Arias: 'Voi che sapete' sung by Rinat Shaham, from Mozart's The Marriage of Figaro

Flower Duet - Delibes

Whether you know it as the tune from the British Airways ad, or the serene soprano duo moment from Delibes' Lakmé, 'The Flower Duet' is an undeniably lovely tune that has permeated popular culture. A musical bunch of flowers, in the opera it tells of the title character and her servant collecting flowers by a river.

Delibes: Lakmé - Duo des fleurs (Flower Duet), Sabine Devieilhe & Marianne Crebassa

Belle Nuit, ô nuit d'amour - Offenbach

Also known as 'Barcarolle', this sublime and extremely hummable duet for soprano and mezzo is from French composer Jacques Offenbach's opera, The Tales of Hoffmann. Its lilting rhythm, intended as in the style of a Barcarolle to mimic the lulling movement of a gondolier, gives it an almost lullaby-like feeling, as if one was peacefully drifting down a Venetian canal.

It recently made an appearance in Netflix's hit series Bridgerton.

Fatma Said, Marianne Crebassa – Offenbach: Barcarolle: Belle nuit ô nuit d'amour (Contes d'Hoffmann)

Song to the Moon - Dvorak

Dvořák's most successful opera Rusalka is a dark fairytale about a water nymph who falls in love with a prince, and exchanges her voice for the gift of legs, in order to be part of his world. If that story is sounding familiar, Hans Christian Anderson's The Little Mermaid was written just 67 years prior and holds many parallels to the Czech opera.

By far the most famous moment is the divine Act 1 aria 'Song to the Moon', in which Rusalka asks the moon to tell the prince of her love for him.

Lascia ch'io pianga - Handel

A popular concert piece today, particularly among treble (boy soprano) singers, the heartfelt plea for liberty 'Lascia ch'io pianga' ('Let me weep') is famously heard in Handel's 1711 opera Rinaldo.

But the melody was actually born some six years earlier, as a sarabande in his opera Almira. Handel revised it for an aria in a 1707 oratorio, under the name 'Lascia la spina, cogli la rosa', before it went on to take up its most famous position in Rinaldo. It's since been featured in many films.

Read more: 10 of Handel's greatest works

Sull'aria - Mozart

Along with the absolutely joyous Overture, 'Sull'aria' is yet another musical gem from Mozart's The Marriage of Figaro. A duet between the Countess and Susanna, it recounts the contents of a deceiving letter, just one phase of the farce that is Mozart's rib-tickling opera.

Many will know it today for its role in The Shawshank Redemption, when Andy Dufresne walks into the Warden's office and plays a recording of the Duettino across the main speakers to the entire prison. "To this day, I have no idea what those two Italian ladies were singing about," Red (Morgan Freeman) memorably says later in the film. But, he adds, "For the briefest moment every last man in Shawshank felt free."

Read more: 15 most memorable films about classical music

Sull'aria - Le nozze di Figaro - Mozart (Jennifer France & Kirsten MacKinnon)

La donna è mobile - Verdi

Verdi's tenor showpiece from his 1851 opera Rigoletto is a sprightly affair, that demands virtuosity from its performer. Literally 'Woman is Fickle', the aria details the apparent ever-changing nature of women in the eyes of the Duke of Mantua.

Soon after the aria's first public performance, Venetian gondoliers took a fancy to it and began singing it on their boats.

Rigoletto: Juan Diego Flórez sings 'La donna è mobile'

Dido's Lament / When I am Laid - Purcell

Arias don't get much more heart-wrenching than this. 'When I am Laid in Earth', otherwise known as 'Dido's Lament, is an aria of unmatched melancholic beauty from Purcell's 17th-century opera Dido and Aeneas, performed by Dido at the moment she dies.

The falling phrases in the melody, coupled with the mournful cries of 'Remember me' make it one of today's most memorable opera melodies, and it's even been covered by Annie Lennox.

Dido's Lament

Dido's Lament is just 💔💔😭😭 Composed by Purcell and performed by soprano Mary Bevan, lutenist Elizabeth Kenny and cellist Joseph Crouch.

Posted by Classic FM on Thursday, July 30, 2020
Want to see your favourite opera aria in the Classic FM Hall of Fame 2023 Top 300? Vote for it here.